Center Yourself: 2017 SLAS Annual Report
At the center of today's many changes, challenges and choices are SLAS members, the principal stakeholders in the unique and united community of professionals who thrive at the intersection of applied and basic life sciences discovery and technology. Relevant, collaborative and future-focused describe SLAS in 2017. To the benefit of more than 18,000 members worldwide, significant strides forward were made to enhance SLAS operations and the Society's resource-rich menu of programs, products, services and events.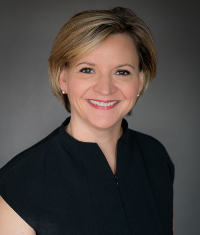 By Vicki Loise, CMP, CAE
SLAS CEO
Topping the list of achievements in 2017 was the launch of the 2017-21 SLAS Strategic Plan. Rooted in the unique scientific interests of its members, this refreshed roadmap redefines and prioritizes the Society's opportunities for success.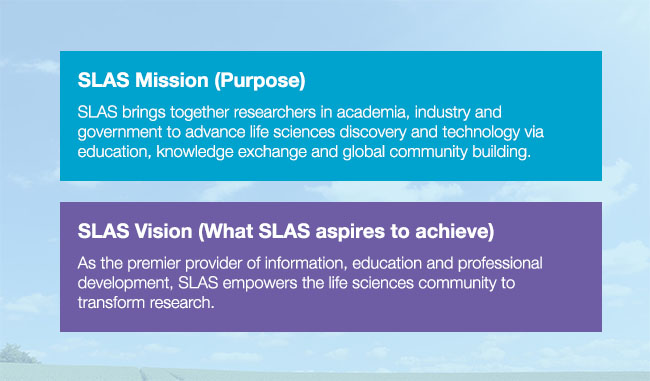 To drive the promises and possibilities of the strategic plan, SLAS welcomed Vicki Loise as its new CEO. An experienced non-profit management veteran, Loise provides a passion for excellence and years of success and experience in guiding the practical implementation of meaningful strategic visions, establishing and building international collaborations, and fostering effective and efficient management infrastructures.
With its stars in alignment, SLAS looks forward to a bright future and looks back at a successful 2017 with gratitude to a legion of enthusiastic volunteer leaders, motivated members and a high-performing professional team.
2017 At-a-Glance
As has become tradition, the highlight of the year came when 5,000+ people from 42 countries convened in Washington, DC, Feb. 4-8, for the incredibly successful 2017 SLAS International Conference and Exhibition (SLAS2017). Participants gathered to learn from 140 podium presentations, 400+ poster presentations, 300+ exhibitors, 20 short courses and two keynote speakers. A host of networking events rounded out the conference experience with a spectacular Tuesday Evening Celebration at the Newseum.
Technical presentations were organized within seven highly-relevant educational tracks, including Advances in Bioanalytics, Biomarkers and Diagnostics; Assay Development and Screening; Automation and High-Throughput Technologies; Cellular Technologies; Data Analysis and Informatics; Drug Target Strategies; and Micro- and Nanotechnologies.
Honors awarded during SLAS2017 include:
2017 SLAS Innovation Award to Elodie Sollier-Christen, Ph.D.
SLAS2017 Student Poster Awards
2017 SLAS Journal Achievement Awards
The inaugural class of SLAS Fellow Members was introduced at SLAS2017. This diverse group of 38 distinguished contributors represent some of today's most accomplished scholars, scientists, innovators and entrepreneurs. SLAS applauds the many ways their contributions have helped shape and build the Society over the years.
In addition to the annual SLAS International Conference and Exhibition, several more intimate regional events in Europe united hundreds of members for intensive exploration of focused topics, including compound management (Berlin, Germany), chemical biology (Copenhagen, Denmark) and high-content screening (Madrid, Spain).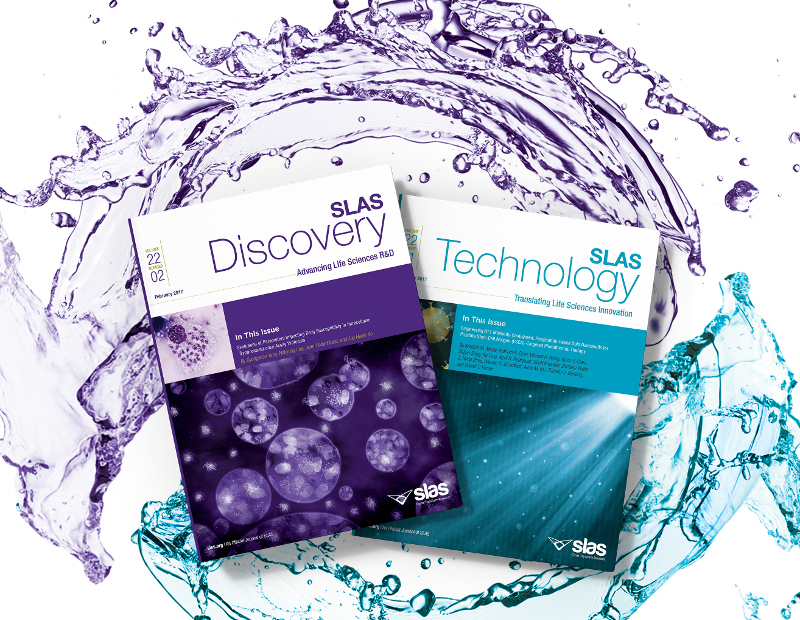 The SLAS journals began their 23rd year of publication with new names. The Journal of Biomolecular Screening (JBS) became SLAS Discovery (Advance Life Sciences R&D) and the Journal of Laboratory Automation (JALA) became SLAS Technology (Translating Life Sciences Innovation). Thanks to the hands-on efforts of nearly 1,000 authors, reviewers and editors, 200+ new articles successfully completed the peer-review process and were published in the SLAS journals in 2017, increasing the reservoir of knowledge in the SLAS journal archives to 4,000+ articles.
Likewise, the SLAS Webinar Library continued to grow in 2017. Four webinars were presented live throughout the year, increasing the collection of presentations for on-demand viewing by SLAS members to 55. These in-depth discussions address topics ranging from 3D cell culture to biospecimen sample collection and high-throughput acoustic mass spectrometry. Likewise, new information was captured and catalogued within SLAS LabAutopedia, further boosting the breadth and depth of this important resource. An all-new, all-inclusive ePoster Gallery was launched to enable anytime searchable access to 1,200+ digital presentations from SLAS2017 back to SLAS2013.
Twenty-five new real-life stories of inspiration, adaptation, innovation, confrontation, collaboration and frustration were added to the SLAS Electronic Laboratory Neighborhood e-zine, increasing its accessible archive to 200+ original, in-depth profiles.
SLAS serves as an important and officially recognized voice of authority in life sciences discovery and technology. Illustrating this leadership in 2017 was the reaffirmation through 2021 of the five ANSI/SLAS Microplate Standards by the American National Standards Institute (ANSI). Their reaffirmation of these standards followed a comprehensive and very detailed re-evaluation process led by a committee of highly-engaged SLAS volunteers who represent the points-of-view of manufacturers of microplates, manufacturers of instruments that use microplates, industrial and academic users of microplates and others who have interest in the topic. Together, these volunteers thoughtfully reassess the technical accuracy and appropriateness of the Standards and ensure that SLAS operates in full compliance with ANSI Essential Requirements.
SLAS and its members were well represented throughout the year with an active presence at the Gordon Research Seminar on Microfluidic Phenomena and Global Challenges (Barga, Italy); ELRIG Drug Discovery 2017 (Liverpool, UK); and the LRIG Midwest (Madison, WI), LRIG Philadelphia (PA) and LRIG New England (Boston, MA) chapter events.
The robust SLAS network of more than 18,000 life sciences discovery and technology professionals spans a diversity of scientific specialties and priorities, with a global reach from Austin, Texas, to Zürich, Switzerland — and it's always just one click away in the SLAS Member Directory (now with enhanced functionality) and through SLAS social media channels (Facebook, Twitter, YouTube, LinkedIn Americas and LinkedIn Europe).
Hundreds of new scientific job opportunities were announced through the online component of SLAS Career Connections in 2017. At SLAS2017, the program presented a menu of practical workshops, resume reviews and one-on-one mentoring sessions for job-seekers at all levels of their careers.
Come Transform ResearchTM is well known as the SLAS tagline and the SLAS Graduate Education Fellowship Grant brings this tagline vividly to life. With $100,000 (paid over two years), this important grant helps bright, new ideas move forward along the cutting edge of innovation. In 2017, the award was earned by Julea Vlassakis, an enterprising graduate student from the University of California, Berkeley, to help her build an assay that explores actin complexes to helps researchers find answers to never-before-asked questions. Also in 2017, SLAS provided a second year of support to the inaugural 2016 grant recipient, Erik Werner of the University of California, Irvine, and his pursuit of a more user-friendly high-throughput screening concept that features an indexed droplet array and microscale valve system to enable the addressable release of individual droplets.
Building on its commitment to fostering emerging innovations and innovators in life sciences discovery and technology, SLAS unveiled an all-new SLAS Visiting Graduate Researcher Grant program. Designed to complement the existing SLAS Graduate Education Fellowship Grant program, this new program will open doors for degree-seeking graduate students in Europe and North America to participate in mentored or independent research projects with faculty members at external host institutions. A stipend will cover a student's living expenses for research exchanges ranging from four weeks to six months. During this time, a visiting student will participate in research projects that enhance his or her own interests and advance his or her skills and scope of knowledge. Students will not be asked to do entry-level work or duplicate previous research experiences.
SLAS also was proud to support emerging market leaders with SLAS Innovation AveNEW. At SLAS2017, eight promising young companies earned exhibit space and other opportunities for visibility in front of 5,000+ current and prospective customers and collaborators who explored the Exhibition.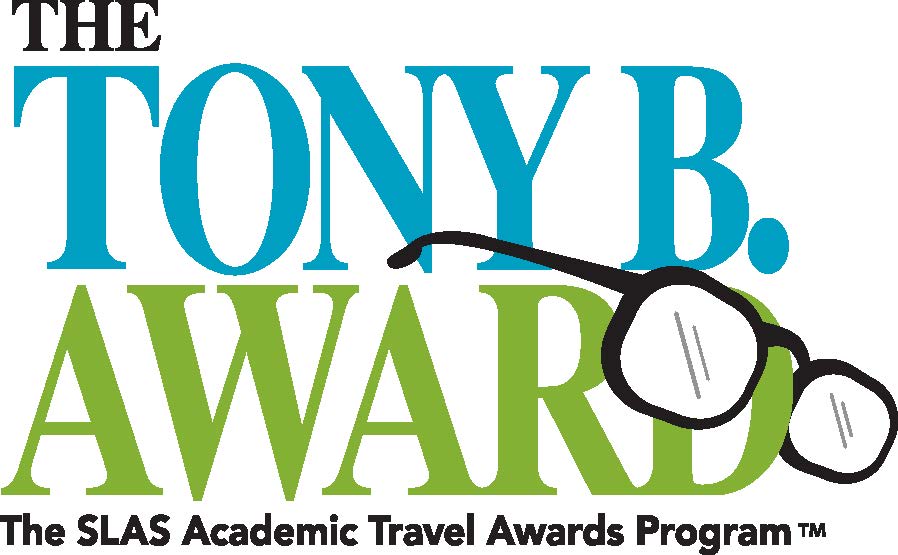 SLAS Tony B. Academic Travel Awards continued the SLAS commitment to fostering the next generation of scientific thought leaders in 2017. Sixty-two students, post-docs and early career professionals from around the world earned funded participation in the annual SLAS International Conference and Exhibition, bringing the total number of Tony B. award recipients to 337 since 2010.
Behind the scenes in 2017, SLAS continued to steadily invest in the efficiency and effectiveness of its technology infrastructure. Enhanced database functionality increased ease-of-use for members; the SLAS journals' migration to an all-new online platform improved the reader experience and integrated services to improve author support; and content at SLAS.org became accessible anytime with rigorously responsive design to improve viewership on any web-enabled device.
Members of the SLAS Board of Directors serve three-year terms of service, and SLAS is grateful to those who completed their tenure in 2017:
Joining the SLAS Board of Directors for 2018, 2019 and 2020 are:
Members of the SLAS Americas and SLAS Europe Council also serve three-year terms, and those who completed their tenure in 2017 were:
SLAS Americas
Hansjoerg Haas, Thermo Fisher Scientific, Burlington, OH (Canada)
Craig Schulz,Amgen, Thousand Oaks, CA (USA)
Aaron Wheeler, University of Toronto, Toronto, ON (Canada)
SLAS Europe
Marc Bickle, Max Planck Institute of Molecular Cell Biology and Genetics Dresden (Germany)
Katy Kettleborough, MRCT Centre for Therapeutics Discovery, Herts, (UK)
Joining the SLAS Councils for 2018, 2019 and 2020 are:
SLAS Americas
Mike Berke, Amgen, Thousand Oaks, CA (USA)
Jonathan O'Connell, FORMA Therapeutics, Watertown, MA (USA)
Joe Olechno, Labcyte Inc., San Jose, CA (USA)
SLAS Europe
Geert Van Minnebruggen, VIB, Ghent (Belgium)
Ute Vespermann, Corning, Münster (Germany)
17,935 individuals from 93 countries came together to create the SLAS life sciences discovery and technology community in 2017. With backgrounds and priorities as diverse as their geographic origins, they all shared a desire to Come Transform Research.TM
UNITED STATES / 70.20%
EUROPE / 17.98%
Austria, Azerbaijan, Belgium, Bulgaria, Croatia, Cyprus, Czech Republic, Denmark, Estonia, Finland, France, Georgia, Germany, Greece, Hungary, Iceland, Ireland, Israel, Italy, Kazakhstan, Latvia, Liechtenstein, Luxembourg, Netherlands, Norway, Poland, Portugal, Romania, Russian Federation, Slovenia, Spain, Sweden, Switzerland, Turkey, Ukraine, United Kingdom.
ASIA / 8.76%
Afghanistan, China, Hong Kong, India, Indonesia, Iraq, Islamic Republic of Iran, Japan, Jordan, Dem People's Rep of Korea, Macao, Malaysia, Mongolia, Pakistan, Philippines, Saudi Arabia, Singapore, Sri Lanka, Taiwan-Province of China, Thailand, United Arab Emirates, Uzbekistan.
OTHER NORTH AMERICA / 1.71%
Canada, Cuba, Mexico, Puerto Rico.
OCEANA / 0.64%
Australia, New Zealand, Papua New Guinea, US Minor Outlying Islands.
AFRICA / 0.40%
Egypt, Ethiopia, Gambia, Ghana, Libyan Arab Jamahiriya, Morocco, Nigeria, Sierra Leone, South Africa, Sudan, United Republic of Tanzania, Uganda, Zimbabwe.
CENTRAL AND SOUTH AMERICA / 0.31%
Argentina, Brazil, Chile, Colombia, Ecuador, Peru, Uruguay, Venezuela.
Global regions defined by the United Nations.
As a 501(c)3 nonprofit scientific organization, SLAS provides world-class education and collaboration opportunities to its stakeholders -- its members who pay dues, participate and contribute their expertise and enthusiasm to the Society. On their behalf, SLAS carefully manages its resources to ensure organizational stability, operational excellence and sound investments in growth and development.
2016-2017 Revenue
Where the Money Came From
2016-2017 Expenses
Where the Money Went
What We're Worth
At June 30, 2017, SLAS had net assets of $8,035,000 of which $6,568,000 were designated as reserves by the SLAS Board of Directors.
The world of science never stops evolving and neither does SLAS. Investments of creative thoughts and energy in 2017 are queuing-up as promising new initiatives that will convert to new and improved member programs and services in 2018 and beyond. These innovations include the first SLAS Visiting Graduate Researcher Grant program award; a streamlined leadership infrastructure to enable even more nimble and strategically-focused governance; focused education initiatives that combine meetings in Europe and the U.S. with peer-reviewed science in the SLAS journals; and SLAS Ignite, an initiative developed specifically to accelerate research objectives through collaboration between SLAS members.
More information will be announced as it becomes available, so watch SLAS.org and the weekly SLAS Point-to-Point and monthly SLAS Euro-Point-to-Point e-newsletters to keep pace with these and other new opportunities.
SHARE THIS ARTICLE