Innovation Award
Research that Ignites a Reaction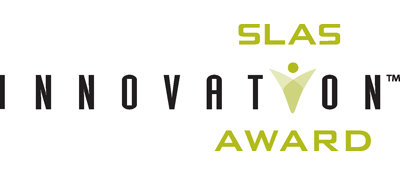 Congratulations to the SLAS2021 Innovation Award finalists. SLAS Innovation Award final presentations will take place Tuesday, January 26 between 10:30 a.m. – 1:00 p.m. and 3:30 – 5:30 p.m. Visit the Event Scheduler for exact presentation times.
Lee Cronin
A Universal Chemical Processing Unit for Chemical Synthesis - The Chemputer (Automation Technologies)


Sisi Chen
Defining the Breadth and Specificity of Drug Response in Heterogeneous Immune Cell Populations ('Omics)


Michael Recht
Droplet-Based Microfluidic Optical Calorimeter (Micro- and Nanotechnologies)


Hee-Sun Han
Drop Microfluidics for Virus Studies (Micro- and Nanotechnologies)


Stefan Schneider
Organ-on-a-Disc: A Platform Technology for the Automated and Parallelized Generation and Culture of Microphysiological 3D Tissues Based on Centrifugal Forces (Automation Technologies)


Josh Gibson
CellPreserve: A Platform to Enable Longitudinal Cell Studies (Precision Medicine and Diagnostics)


Sebastian Eggert
An Open-Source Technology Platform for Automated Manufacturing and Screening of 3D Cell Culture Models (Automation Technologies)


Weian Zhao
A High-Throughput Respiratory Viral Antigen and Antibody Profiling Platform for COVID-19 Surveillance and Therapeutic Discovery (Precision Medicine and Diagnostics)


Ming Yao
A Multi-Well Plate-Based High-Throughput Technology for Toxicity Screening Under Various Oxygen Environments (Cellular Technologies and Micro- and Nanotechnologies)


Dan Nomura
Reimagining Druggability Using Chemoproteomic Platforms (Advances in Bioanalytics and Biomarkers)
The SLAS Innovation Award is a $10,000 cash prize recognizing the work behind one exceptional podium presentation. This award honors research that proves to be exceedingly innovative and contributes to the exploration of technologies in the laboratory, exceeds a benchmark or milestone in screening or the lead discovery process or demonstrates an advanced and integrated use of mature technologies.
Hear from Past SLAS Innovation Award Winners
SLAS2020 Innovation Award Winner: Joseph de Rutte
Spotlight on Christian Soitu, Oxford University, 2019 Innovation Award Recipient