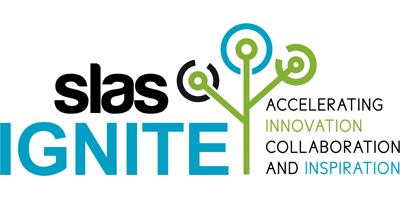 SLAS Ignite underscores the Society's foundational commitment to collaboration, enabling scientists, academic researchers and business development professionals to build relationships as potential strategic partners. Together, SLAS facilitates connections that result in pioneering new research, new products, innovative breakthroughs and commercialization opportunities for all involved.
SLAS Ignite programming features academic collaboration presentations showcasing the latest research partnerships between academia and industry, panel discussions focused on entrepreneurship, career development and diversity and the celebration of the SLAS Ignite Award given to the best start-up company featured on Innovation AveNEW at the SLAS International Conference and Exhibition and SLAS European Conference and Exhibition.
SLAS Hosts Innovation AveNEW at ELRIG Drug Discovery 2021
SLAS is now taking applications for an Innovation AveNEW section of the ELRIG UK Drug Discovery 2021 event at ACC Liverpool, UK on 19-20 October. Ten spots are available and one company will be selected to participate in Innovation AveNEW at the SLAS2022 International Conference and Exhibition in Boston or SLAS Europe 2022 in Dublin. Other benefits include:
Full conference registration
Travel and accommodations paid by SLAS
Complimentary on-demand access to SLAS entrepreneurial workshop
Opportunity to record an episode of the SLAS New Matter podcast
This is a rewarding opportunity for start-ups and emerging life sciences and technology companies to gain additional visibility for their innovative ideas.
The deadline to apply for the ELRIG UK 2021 Innovation AveNEW has been updated to 1 October.
BioSpain 2021 Innovation AveNEW companies named!
SLAS is excited to announce the six companies that will be participating in the BioSpain 2021 Innovation AveNEW session, 29 September – 1 October:
ARRAYS FOR CELL NANODEVICES, SL (A4CELL)
BBD BioPhenix USA LLC - Biobide USA