SLAS Members Collaborate to Manage a Pandemic
The past two years have proven "impossible" is not a word used by the SLAS community. SLAS members illustrated a new era of opportunity and advancement in science. They explored, learned, hired, trained and worked tirelessly to change the global pandemic into something manageable, and collaborated to save lives. Listen to and read the stories of just a few of our members who had critical roles in the pandemic response, from building new testing facilities and new diagnostics, to enabling and producing a vast amount of storage and automation capabilities. This is SLAS.
COVID-19 Infographic Resources
SLAS has created a series of infographics to help explain the technical and often complex terms discussed during the COVID-19 pandemic. These infographics will help illustrate, in very basic terms, the scientific research behind the ongoing work that is being done in labs worldwide to better understand the nature of the virus, diagnose and manage patients, develop vaccines, and discover more effective ways to stop the pandemic and save lives.
We invite you to share these infographics widely with your networks, family members, friends, and on your social media channels. Check back as we add more to this library.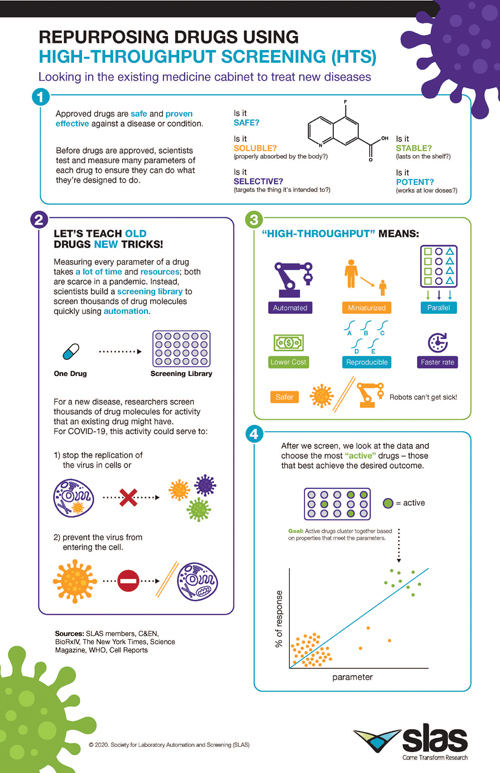 Old Drugs are New Again
Learn how researchers use high-throughput screening (HTS) to determine whether existing drugs can be repurposed as possible treatments for COVID-19.
This infographic is available in the following downloadable formats: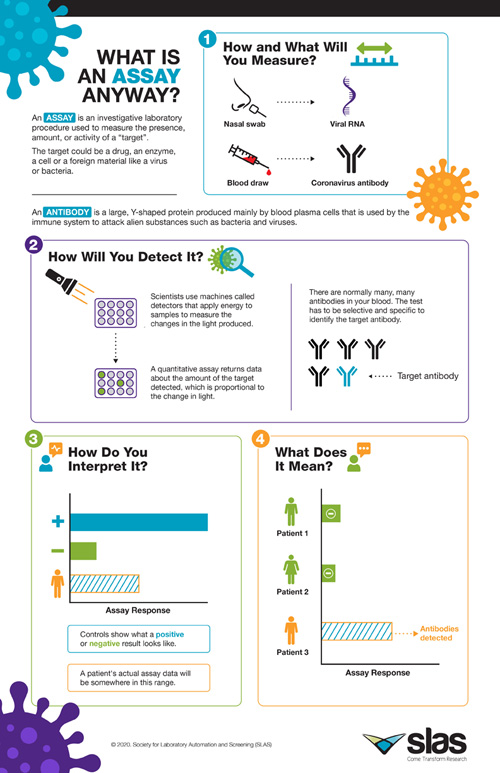 What is an Assay?
"What is an ASSAY anyway?" explains the term and significance of the word "assay," which is a basic and standard procedure in laboratory medicine and critical to the activities going on in countless labs today.
This infographic is available in the following downloadable formats:
Other SLAS Resources
Visit the SLAS CONNECTED group, COVID-19 Resources, for additional insight, content and discussions on relevant COVID-19 resources support requests.