Part 1: SLAS Community Engages in the COVID-19 Fight

April 28, 2020
One thing is certain after a non-scientific and quick poll of those in the SLAS community doing their part to address SARS-CoV-2. There has never been a more welcome – and necessary – time for collaborative science, and members of the SLAS community are all in. If we missed you in this two-part snapshot, please let SLAS know what you are up to and we'll get the word out on SLAS social media channels. You also can join the COVID-19 Resources community on SLAS CONNECTED.
---
The SLAS community is doing what it always does. Stepping up.
Individuals and companies are bringing their unique skillsets to navigate the science behind the outbreak. To produce diagnostics, assays, equipment. To work long hours every day to move us closer to resolution. To care for themselves, their families, their communities.
"Our diverse SLAS community includes talented individuals in academia, business, government, technology, biotech and pharma, and each has a role to play as we navigate SARS-CoV-2," says SLAS Scientific Director Mike Tarselli. "This two-part article showcases some of these amazing individuals and offers a quick glimpse into their involvement. I sleep better at night knowing of their efforts to fight this pandemic. I hope you enjoy their responses!"
Editor's Notes: The responses featured in this article were gathered in the second and third weeks of April. Check out Part 2 of the article here!
Jan Eickhoff, Ph.D., Head of Assay Development & Screening, Lead Discovery Center GmbH, Germany

Jan Eickhoff indicates that Lead Discovery Center's (LDC) work is focused on different small molecule therapies and antibody-based therapies for COVID-19 research to help patients of the current outbreak, or future coronavirus epidemics.
"Our workload or financing did not change, but COVID-19 has changed the way we work," Eickhoff says. "We introduced social distancing to our company by splitting essential functional teams into subteams, with separation by space (moving to different labs or offices) and time (early shift/late shift; working on weekends). In addition, we introduced modified hygiene rules (wearing masks, hand disinfection, maximum number of people per room, minimal distances). There is a maximum on flexibility for employees with children not able to go to school or daycare (weekend work, extra holidays) and especially co-workers at special health risk (home office). In practicality, this means that, for example, some use very early/late hours at home to catch up with their work. External and internal meetings are being held via tele/videoconferences. Most of our academic collaboration partners have shutdown, meaning that external experiments are not performed anymore."
What's ahead? "In 6-12 months, politicians need to find a balance between social and economic restrictions and keeping down virus infections," he states. "We can prepare for future infections by adapting early infection monitoring and patient tracking/separation methods from some Asian countries. A vaccine would definitely help. However, LDC is focusing on other promising antiviral therapeutic strategies (autophagy among others), avoiding strain specificity and providing treatment of future coronavirus epidemics. Efforts for vaccine and therapeutics development would profit very much from international coordination; however, as there is no central organization for this, it will be difficult."
Phil Gribbon, Ph.D., Assistant Head of Department, Fraunhofer IME, Germany

It was discovery of a poster at SLAS2017 that set Fraunhofer IME on the road to their current extensive involvement in COVID-19 research, says Phil Gribbon. That poster by Josh Bittker and Aravind Subramanian from the Broad Institute of MIT and Harvard, prompted Fraunhofer to establish a mirror set of this collection which eventually contained around 3,500 compounds which have undergone clinical investigations (marketed drugs, phases 1 -3, and withdrawn) across 600 indications, in addition to 2,000 pre-clinical and bioactive compounds.
"Our mirror set arrived in July 2019, after great assistance from the folk at SPECS who helped to assemble and quality control the compounds," says Gribbon. "Our first idea was to use the collection mainly for rare or neglected disease projects. However, when the SARS-CoV-2 outbreak surfaced in the New Year, we found ourselves in an ideal position with a highly qualified set of compounds to become involved in COVID-19 response." Working with a team from the Goethe University Frankfurt, they established an enhanced medium-throughput image-based phenotypic assay for identifying inhibitors of viral induced cytotoxicity, and screened the whole collection. The assay was run under Biosafety Level 3 and used a virus isolate from an individual who was exposed to SARS-Cov-2 in the Wuhan region of China. The results are in a preprint publication, currently under review.
Gribbon advises that this study extends upon the work of expert virologists and colleagues in Frankfurt, who have outlined their own finding in the New England Journal of Medicine and a Nature Research preprint.
Fraunhofer also is an integral part of Exscalate4CoV, an EU Horizon-2020 funded consortium of 18 institutions from seven European countries striving to identify molecules that could work against the virus by using advanced screening and computational techniques. Collaborating intensively, especially with institutions in Italy, they are helping to develop target-based assays against several viral proteins. These assays then will be used to screen the repurposing library as well as compounds submitted by the wider community. Additionally, they are collaborating in E4C with scientists from Leuven, Belgium, who are using complementary phenotypic assays to identify additional drugs.
"The exercise to identify useful drugs for COVID-19 repurposing is bit like a giant jigsaw puzzle, and we have been able to contribute one or two small pieces," Gribbon explains. "To fully understand the potential of the compounds, we need the additional pieces coming from colleagues working on the same problem around the world. The rigorous application of the scientific method, including peer review and confirmation of findings by different laboratories, is essential to help eliminate non-useful drug candidates and progress those with real potential. Even though we are in difficult times, this is a tried and tested way of solving problems. To facilitate this process, we've been working with colleagues at the European Bioinformatics Institute to make available the data from our screening efforts. That will maximize the exposure of what we've done and allow other scientists to reproduce (or disprove) the findings. It also gives them a chance to reanalyze the data in the context of their own datasets and possibly come up with alternative and potentially more relevant conclusions. We're part of a huge effort, and it's a community effort. It's not necessarily about being first; it's about taking the time and space to be sure that what you've done is of sufficient quality and remembering that applying good scientific practice while being and open and transparent will help to solve this problem."
Matthew Hamilton, Chief Executive Officer, Hamilton Storage, United States

"It's definitely a new climate with lots of unfamiliar waters but we are fortunate to be able to help combat this," says Matt Hamilton of the pandemic. "It challenges us in new ways."
Hamilton indicates they remain 100 percent operational internally with proper social distancing and safety for their employees. With travel and other restrictions due to the pandemic, it is the logistics that become tricky. "How do you get the technology to a lab or to a site; how do you get it installed," he notes. "We have virtual installations where you can walk users through the necessary steps to have the products working in the lab without major intervention on the site. It's changed us, but we still are moving forward."
Key to Hamilton Storage's business model is providing efficient solutions with personnel and process safety aspects top of mind. "Both are critical, and this is where automation shines," Hamilton says.
Testing is where they are seeing the most action in their business. "We sell the technology to enable faster testing," Hamilton explains. "We have products on the front end and have other platforms on the lagging end and those are the big automated storage systems for millions of samples. Those are on hold a bit. Everybody is fighting at the forefront so that's where our small benchtop level of technology is really adding value and allowing the research and technology to kick it up a notch. We enable users to perform testing faster, to do it safely, to stay flexible. Our technology is out of the box yet at the same time flexible, so users can adapt it to their needs. We're enabling them to do more with what they already have."
Hamilton notices another interesting dynamic happening in the industry and in his regular interaction with customers – that of amazing cooperation and collaboration. "Everybody seems to be working together. The questions that we would normally get are not really there anymore. It's more about a collaborative environment where customers say, here's what my goal is – how can I get there quickly and efficiently? Do I need to adapt myself? How can I modify my concept, idea or vision to work with what's available and still achieve the same results? We're seeing so much more collaboration and positivity in trying to find a rapid solution that has legs for the future, but also satisfies their daily core business. It's been encouraging to see people so open-minded, so willing to work with new ideas and to be understanding of what automated platform solutions can and cannot do."
Hamilton adds that COVID-19 challenges are providing transformational changes in the industry, and that automation will come out on top. "The learnings from COVID-19 will be how to futureproof your lab or research to account for something of this scale that could happen again. That means reducing that burden of repetitive and high-risk manual aspects so you can react in a manner that doesn't overwhelm the business or the supply chain. I have to say that automation has proven its value time and time again."
Thom Hughes, Ph.D., Chief Scientific Officer and Anne Marie Quinn, Chief Executive Officer, Montana Molecular, United States

Montana Molecular initiated social distancing measures on March 15, say Thom Hughes and Anne Marie Quinn. "The first cases were just showing up in Montana, so we developed a plan to keep our team safe and healthy," says Quinn. "Our standard lab practices are heavy on sterile technique, because we deal with so many different kinds of cell cultures. Two scientists chose to keep working in the lab, keeping their distance and fastidiously following our standard operating procedures for sterility. Our order fulfillment was reduced to shipments going out twice a week, and this was moved to a part of the building that would limit contact with the people working in the lab. Like most companies, we revved up teleconference meetings."

Hughes says teleconference conversations immediately turned to ideas and discussions about developing live cell assays for COVID-19 drug screening. "We have a lot of experience with developing BacMam vectors and realized that BacMam would be an ideal system to make pseudo virus because it is safe to use and does not replicate in humans," he explains. "The BacMam pseudo virus is simply BacMam that is engineered to express Spike protein on its surface. The idea is that researchers who are screening for neutralizing antibodies or compounds that block interactions with the ACE2 protein would expose a 'pseudo host' mammalian cell to the pseudo virus and do initial screening with an easily scalable workflow in BSL-1 or 2 facilities. Genetically-encoded fluorescent reporters for viral entry expressed in the pseudo host would be a simple no-wash signal that could be read on automated plate readers, flow cytometry or fluorescence imaging systems."
The Montana Molecular platform is designed to be flexible, and BacMam vectors will be available for expressing ACE2 and TMPRSS2. Users can make their own host cells that mimic airway cells, using simple cell lines like HEK 293 that are compatible with primary screens, or use primary cultures of lung or airway cells in secondary screening. The pseudo host cells will also be able propagate the real SARS-CoV-2 virus, and could be used for screening in a BSL-3 setting.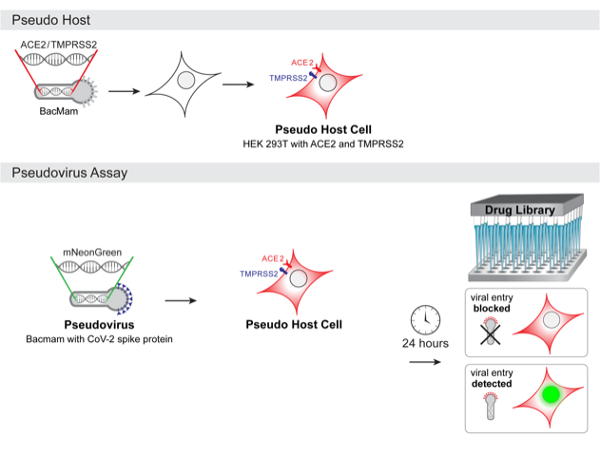 "A potential advantage of a genetically-encoded pseudo host/pseudo virus system is that the results are captured in the context of real enveloped viruses and living mammalian cells responding to a viral assault," Hughes says. "Another advantage is that the pseudo virus could easily be adapted to mimic other strains of coronavirus with variations in the Spike protein host interaction sites. Researchers would be able to integrate different versions of the Spike protein into their screening workflow to look at drug efficacy and specificity too."
Hughes and Quinn say the good news is that the COVID-19 pandemic has taught everyone a lot. "However, preparation for future outbreaks is a multifaceted problem that depends both on informed policy decisions and the availability of tools that report on the biological effects of infection so that the healthcare system has treatment options," Quinn states. "At this point, drugs for COVID-19 that we know are safe and effective are needed now. An arsenal of flexible tools to support therapeutic and vaccine development is one piece of the puzzle where Montana Molecular can help."
Julio Martin, Ph.D., Director, Biology Head of Kinetoplastids DPU, GSK Tres Cantos, Spain

Julio Martin details fighting the virus on at least three fronts. "Professionally, my company has expanded its manufacturing efforts for front-line antiviral respiratory medicines and increased supply chain for needed reagents and supplies, as well as contributing in partnership with other pharma companies (e.g., Sanofi) to the discovery of a vaccine and collaborating with Spanish, Belgium and United Kingdom National Health Systems in PCR testing of SARS-CoV-2 for monitoring of population and subjects from clinical trials. My colleague Sergio Senar has made available machine learning models to identify molecules from public repositories. And on a more personal note, my son Arturo works with 3D printers at IMDEA Materials to produce face shields for first responders." He indicates how proud he is of these young professionals.
"These are not times for competitions but for coalitions," he continues. "Something I have learned thanks to this pandemic is the power of solidarity. Likewise, I've realized how much we can harm ourselves due to the invasive and aggressive exploitation of the planet, and the vulnerability of elderly, poor or excluded population due to their way of living and restricted access to the health system. These are certainly points for reflection. Massive and flexible cooperation has been the evolutionary advantage of the human being as species (thought taken from Yuval N Harari). I wish this health crisis makes us reassess our principles and not forget this. In the times of artificial intelligence, I issue a plea for more natural intelligence. It all starts with us."
Heather Tomlinson, Ph.D., Director, CDx, Promega Corporation, United States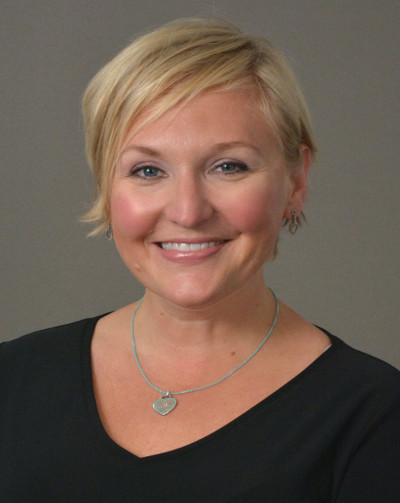 Promega has responded to unprecedented demand since early January for its viral RNA extraction products and RNA amplification products, says Heather Tomlinson. "We have scaled up manufacturing, and in some cases, begun to work very closely with our customers on their current and ongoing demand to ensure we can keep their labs operating as efficiently as possible," she notes. "In addition, our custom manufacturing production has ramped up to support large scale manufacturing and kitting for diagnostic companies developing and marketing COVID19 diagnostic tests with Promega Inside." The company supports approximately 26 COVID-19 test kits and 500 clinical labs worldwide.
Compared to one year ago, Promega has experienced an approximate 10-fold increase in demand for both finished catalog and custom products that Promega manufactures and supplies for COVID19 testing. "Beyond meeting the immediate demand for diagnostic testing reagents, Promega continues to support researchers using our broad portfolio of genomics, proteomics and bioluminescent assay products for infectious disease research, vaccine and therapeutic development," Tomlinson says. "As many of these customers pivot their research and drug discovery and development programs to COVID-19, Promega is engaging with these researchers to ensure we can meet their immediate and longer-term needs."
Tomlinson believes one of the most important needs over the next six months will be to understand who has immunity to the virus. "For that, serological testing will be critical," she says. "We are evaluating new applications of our bioluminescent portfolio for potential application in this area. Appreciating the needs ahead, the FDA has a fast track for reviews to support emergency use authorization. This encourages evaluation of many different technology platforms in order to understand different applications, including broad population testing, getting healthcare professionals back to work and assessing antibody production to determine who can be a donor of convalescent sera for sick patients. There most likely will not be a one-size fits all solution. We all have learned a lot about the importance of the availability of high-quality reagents and raw materials for diagnostic testing. Experiencing a global pandemic with availability of modern scientific techniques has taught us that having the ability to scale up production while maintaining high quality standards is key. The efforts around quality tools may take longer but that is what we need to foster dependable results and more importantly, a safe future."
---
Sidelines
Learn about the Lead Discovery Center GmbH
Montana Molecular Live Cell Assays for COVID-19 Drug Screening
GSK Actions as Global Response to COVID-19
Promega COVID-19 Support Runs the Gamut