Part 2: SLAS Community Engages in the COVID-19 Fight

May 8, 2020
Members of the SLAS community have stepped up big time at numerous stages to provide scientific expertise, thought leadership and hands-on sweat equity to address global SARS-CoV-2. If we missed you in this two-part snapshot, please let SLAS know what you are up to and we'll get the word out on SLAS social media channels. You also can join the COVID-19 Resources community on SLAS CONNECTED.
---
Did you miss part 1 of this two-part snapshot? Read it now. Please note that the responses featured in this article were gathered in the second and third weeks of April.
Tom Gilman, Chief Executive Officer and David Dambman, Chief Technology Officer, Biosero, United States

The Biosero executives say many large pharmaceutical and biotech companies have shifted the bulk of their work to COVID-19 research and response. "Faced with this very urgent crisis and the vast volume of therapeutics, blood and antibodies to study and test, they have realized that lab automation is vital," Tom Gilman says. "If they haven't already implemented mobile robotics or automation into their labs, they've realized now is the moment, because we are all racing against time to save as many lives as possible."

In many cases, labs need counsel on how to create an automated lab ecosystem, David Dambman says. Laboratories may have the core instruments, but not the peripherals, to feed samples into those instruments or move samples to the next point. To meet the numbers and their goals, labs have to automate the entire process, and Biosero is advising labs on how they can achieve full automation.
"For example, Biosero has helped Dr. Thomas Rogers, assistant professor of medicine, and Dr. Dennis Burton, co-chair Department of Immunology and Microbiology, at Scripps Research Institute to automate their compound library screening process," Gilman explains. "Working with equipment the institute already had, Biosero created a custom automation platform operated by Green Button Go software to screen 14,000 compounds already approved by the United States Food and Drug Administration (FDA) for their therapeutic potential against COVID-19. The automation scheduling and data analysis software allowed the research team to rapidly shift its lab resources and expertise to execute the high-throughput screening process needed to run the cell infection assays in the Biosafety Level-3 (BSL-3) lab."
"The demands on labs have multiplied vastly since the pandemic started," Gilman says. "Labs are working to cure, prevent and test a killer virus that takes more lives every day. They also are buried under a tremendous amount of workload. The number of samples labs have to process is enormous. The secret to speed is automation. Whether researchers are testing FDA-approved drugs for their impact on COVID-19 or testing the virus's response to antibodies, lab automation is helping them move much more quickly."
In addition, Dambman says, automation increases accuracy and, of particular value in a pandemic, lab automation systems can minimize, or even omit the need for human contact with samples. Instrumentation and mobile robotics can move samples around a BSL-3 lab instead of people, protecting technicians from exposure to a deadly virus. Also, the less human contact with a sample, the less risk there is for contamination of the sample. Lab automation software also enables miniaturization, which saves time, conserves materials and reduces costs. Lastly, automated systems are superb at gathering and recording data. Data is critical as researchers build a store of data for vaccine candidates that will be subject to thorough review and compliance measures.
"We've seen how essential information and data sharing across countries, states and cities have been to predict and respond to COVID-19," Dambman says. "When labs use automation, they can gather, synthesize and analyze data more quickly and use it to make better decisions. To help, Biosero is offering free software to scientists and researchers."
Michael Mouradian, Ph.D., Director of Robotics, Hamilton Company, United States

Planning early, product flexibility and a nimble infrastructure have allowed Hamilton Company to be there for their customers says Mike Mouradian. When they saw positive COVID-19 results coming out of China in December/January – before SLAS2020 – an all-hands-on-deck meeting to discuss international travel was the company's first step in its ever-evolving approach. "During this pandemic, we've established a way to meet customer needs quickly. We saw increase in demand, and we built up our infrastructure," says Mouradian. "Hamilton Company President and CEO Steve Hamilton has enabled vertical integration, so he has capabilities inside the campus in Reno, Nevada and in Bonaduz, Switzerland, that he's able to turn on and turn off as needed – like capacity, expansion and warehousing space. This allows Hamilton to be quick and responsive to meet the growing need. We do not see any shortages in the supply chain, which is great for those we support, but it is the busiest we have ever been."
Mouradian says providing hardware and consumables for testing is the biggest need right now, and Hamilton platforms allow multiple chemistry kits to be run on the same instrument. For research and clinical customers, Hamilton instrumentation offers higher-throughput, less risk and traceability of all samples to provide streamlined solutions, with flexibility. Many laboratories are trying to do their part. He notes, for example, "In the Bay Area, the University of California, Berkeley, was able to convert its existing Hamilton equipment from testing research samples to testing COVID-19 samples. This, along with a new equipment purchase, allows that lab to run 3,000 patient samples each day. One of our pharma customers retrofitted several of their R&D tools for COVID-19 testing for their clinical laboratory. Likewise, MD Anderson retrofitted some of their existing systems and bought new instruments as well to increase the throughput of their testing."
Customers old and new seem comfortable buying new equipment to meet the need for COVID-19 testing knowing that when this pressing need is over, Hamilton will help them convert the equipment for other uses. "The extraction and testing equipment that we're providing has long-term use," Mouradian says. "We feel that eventually the general population will need to be tested. Recommendations are to look at more ELISA-based and next generation sequencing-based instrumentation, so we're already developing two more assay ready workstations to provide for the next phase of testing. We want to be intelligent about what we're providing and also not burden laboratories with equipment that they don't need."
"While many other businesses are shut down during these unprecedented times, it has been personally rewarding that Hamilton Company is keeping its people working and has even started hiring to meet increased need. Hamilton has been hiring for production line, manufacturing and shipping expansion. Similarly, it has been a phenomenal experience to witness the Hamilton team unite together to deliver on all of these solutions," Mouradian says. "Hamilton's COVID-19 response throughout the entire organization has truly been extraordinary."
Julia Schaletzky, Ph.D., Executive Director, Center for Emerging and Neglected Diseases, University of California, Berkeley, United States

After 10 years doing high-throughput screening at a biopharmaceutical company, Julia Schaletzky moved to a director position at the Henry Wheeler Center for Emerging and Neglected Diseases (CEND) at the University of California, Berkeley, where she was tasked with driving the Center's mission of making innovative and substantial contributions to global disease response. Her directives were to educate potential innovators, connect researchers from diverse disciplines and invest in research through the best and brightest minds at UC Berkeley. About two years into this role, she was greeted by the novel COVID-19 eruption.
"I first learned about SARS-CoV-2 in mid-January from epidemiologists attending the 12th Annual CEND Symposium," Schaletzky says. "These were people who had actively worked on the 2003 SARS outbreak, and they were quite concerned about what they were learning about SARS-CoV-2. I knew we had to prepare."
Schaletzky and her three-person team jumped into action, first by gathering information, engaging experts and organizing educational forums. Next was an all-out effort to bring diagnostic capacity to the UC Berkeley campus, where philanthropic efforts resulted in free testing for students, staff and faculty. In tandem, they fundraised $1 million to launch the COVID Catalyst to provide seed funding for high-risk projects and bridge funding for lower risk projects likely to attract long-term government funding.
"I was extremely frustrated by the fact that 10 weeks into a known devastating situation, I knew of not one lab that had received government funding to study transmission dynamics or the biology of the virus to develop badly needed vaccines, therapeutics or rapid diagnostics," Schaletzky says. "Emergency bridge funding was sorely needed as many laboratories that have great funding are hampered by the type of funding they have. For example, most NIH grants are earmarked only for the project you pitched and can't be used for something else – even something as necessary as combatting a global pandemic."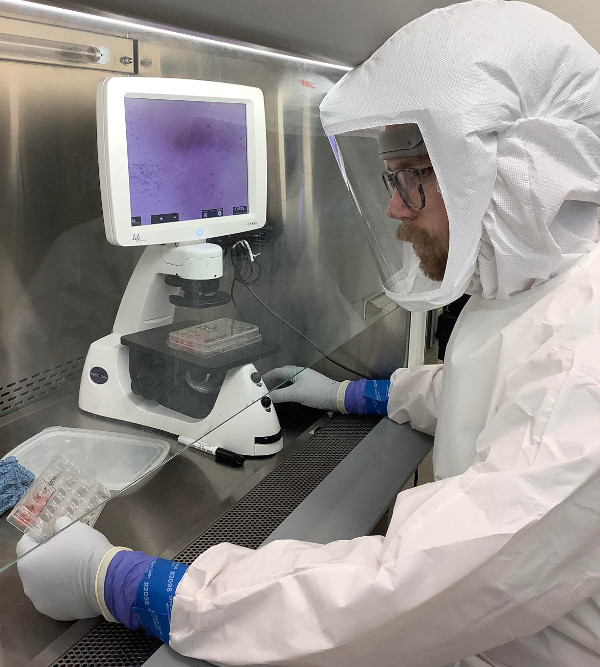 Schaletzky also oversees the UC Berkeley Drug Discovery Center (DDC), and indicates that they are currently running about 10 high-throughput screening projects focused on novel COVID-19 therapeutics. The DDC, with access to a biosafety level 3 laboratory through a collaboration with noted infectious disease researcher Prof. Sarah Stanley, also is serving the community as a central reagent repository. "We are providing storage and sample management and will ship reagents to users worldwide," Schaletzky says. Pictured here is Eric Van Dis in the BSL3 lab testing effects of compounds on COVID. Photo credit: Sarah Stanley.
CEND organized and hosted a hackathon in late March to address numerous issues arising from the pandemic. Hackathon winners included a low-cost at-home COVID diagnostic test based on a nucleic acid amplification reaction RT-LAMP (Reverse Transcription-Loop Mediated Isothermal Amplification) assay and a low-cost, open source ventilator that runs for under $300. CEND also raised donor funds to ship personal protective equipment (PPE) and testing kits for Makerere University Uganda, a collaborator facing severe testing and PPE shortages, extremely limited hospital care and slow and bureaucratic WHO support.
"All eyes are on scientists now, looking for where the cure is going to come from," Schaletzky says. "Therefore, I feel it is important to not only play a role in that solution but also to keep the public informed about work being done, obstacles encountered, accomplishments made and barriers to progress." To that end, she has penned a few op-eds and been interviewed countless times for radio, television and print and online publications. "It's been clear to me throughout our short time working on this that once we accomplish our COVID-19 goals, we need to step back through the various rules and regulations that slowed the response and assess what really is necessary."
Peter Simpson. Ph.D., SLAS Board Member; Chief Scientific Officer, Medicines Discovery Catapult; Head, Alderley Park Lighthouse Lab, United Kingdom

Medicines Discovery Catapult (MDC) was tasked by the U.K. government to coordinate the establishment of three large-scale national COVID-19 Lighthouse Laboratories that provide tens of thousands of patient and key worker tests per day. On behalf of MDC, Peter Simpson has the responsibility as director for one of these national labs in Alderley Park, Cheshire, England.
"The Lighthouse Labs network is a partnership with the Department of Health, Medicines Discovery Catapult, with U.K. Biocentre and the University of Glasgow," Simpson says. "Their development is being closely supported by both the U.K. National Health Service (NHS) and Public Health England. It is becoming the biggest diagnostic lab network in British history, in order to test for coronavirus. The Lighthouse Labs now allow frontline staff and their families to be tested and to allow those that test negative to return to work. As capacity in the labs has rapidly increased, testing is being rolled out widely now to additional key worker groups. This will provide a clearer view of the number of COVID-19 cases to ensure the critical frontline staff can get back to work as quickly as possible and provide insight into the pandemic."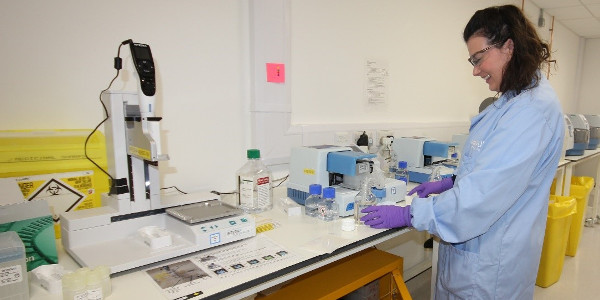 Simpson reports that the Lighthouse Lab at Alderley Park was created in three weeks and three days through great cross-organizational collaboration. "Many scientists, facilities professionals and engineers stepped up and added a full-time job to their existing roles to make this happen. Particularly central have been experts from AstraZeneca and Alderley Park Ltd working closely with MDC scientists. We now have volunteer scientists in the labs from 15 universities and 10 companies. I have been humbled by the attitude, professionalism and commitment to this critically important cause of experts from the pharmaceutical, academic and clinical community."
Providing updates on the COVID-19 situation for the U.K. drug discovery community also has been an important aspect of MDC's response. The company's aim is to help the community during this challenging time to channel important work and resources; one way is by creating and nurturing a dedicated MDC COVID-19 microsite. "Connecting the community at a time where most of us are working over distance is also an important aspect," Simpson says. "A nine-part weekly webinar series MDC Connects was launched to cover key aspects of the drug discovery process, from the experts at MDC and our CRO network partners."
Simpson adds, "MDC remains fully committed to the success of our ongoing projects with our collaborators, as well as interacting with the research community on future new collaborative projects where possible. To be better prepared for future infectious disease pandemics, I believe all countries need to consider the longer-term role of rapidly-built facilities and knowledge and how to ensure the existence of a diagnostics capacity that can responsively meet future needs. Once this crisis truly passes, I would love to see an increased international commitment to open innovation and collaboration in developing diagnostics assays at an early stage of future pandemic development and cross-organizational cooperative agreements as to how to best rapidly address emerging health challenges (diagnostics, therapeutics and vaccines). We must be fully prepared and ready to act."
---
Sidelines
Update: COVID Catalyst Awardees Announced
Biosero Provides Free Green Button Go Software License for COVID-19 Response Efforts
Hamilton Solutions for the Novel Coronavirus SARS-CoV-2
Wired: How the UC Berkeley Lab Became a Pop-Up COVID-19 Testing Center