Micro-Credentials Program
To help you (and our industry) stay current and grow, SLAS has developed a new micro-credentials program exclusively for the life sciences industry. We've put together a set of micro-credential courses carefully curated by renowned life sciences industry and academic subject matter experts.
You take the coursework from the same professionals that shape our industry, learn a defined set of skills, test and verify competency. Once complete, you'll earn a digital micro-credential badge and will be ready to put your new knowledge and skills to work. Because it's online and on-demand, you learn when you want, how you want, and at your own pace.
When it's time to give your career an edge Go Micro!
Earning a Micro-Credential from SLAS helps you:
Experience a professional development program that is created by SLAS, the leading voice of the life sciences industry


Gain the in-demand skills, training, and know-how that current or prospective employers desire


Remain current and relevant in the expanding and ever-changing life sciences industry


Learn and earn a micro-credential on your own terms. Our online micro-credentials program is designed to be a flexible professional development program. We meet the professional learning and training needs of our community at every career stage.
How do Micro-Credentials Work?
Micro-credentials are competency-based "mini" qualifications that demonstrate a learner has gained the required knowledge and a defined set of applicable skills to demonstrate ability in a given subject area. Micro-credentials offer learners a pathway to learning that is narrower in range and more flexible than traditional qualifications like diplomas or degrees.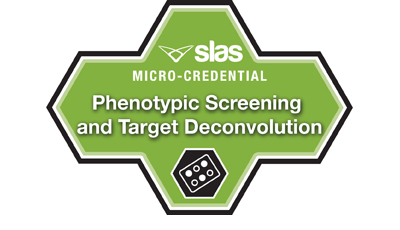 By pursuing this professional learning opportunity, researchers and the organizations to which they belong will have the competency to better determine where phenotypic screening could be enabling. Those who earn a phenotypic screening and target deconvolution digital micro-credential badge will also be equipped to design and implement robust programs of work to maximize the chances of project success.
Learning outputs of this online education program that will improve skills are:
Understanding of the principle and concept of phenotypic screening and the key considerations in determining when to choose it as a drug discovery strategy for projects.
Knowledge of the key tactics and capabilities in use for phenotypic screening.
Awareness of where phenotypic screening has been used successfully including an understanding of success factors and risks.
Practical application of the knowledge gained during the micro-credential to develop a robust phenotypic drug discovery project proposal.