Amazing People Doing Amazing Things!
By Emilio Diez Monedero, Ph.D.
April 21, 2020
As SLAS CEO Vicki Loise and I noted in a recent communication to the SLAS community, 'SLAS is practicing the art of the pivot.' Remaining committed to our mission, SLAS – like everyone else – is adapting its plans to the reality of a world addressing COVID-19. And that can bring uncertainty, lack of control and a certain amount of educated guesswork.
---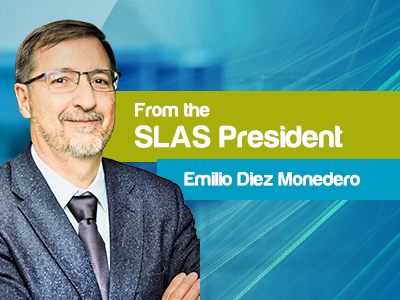 That said, sometimes we need to step back, still our minds and pursue those positive moments. We may be streaming more movies, playing music and cleaning that closet we've always meant to get to while keeping our loved ones near as we seek to create safe spaces for them, our community, our world.
These are all good things. But today I would like to challenge you to schedule a time each week to get to know one of the amazing people within our SLAS community who are doing amazing things. You can start by listening to New Matter: Inside the Minds of SLAS Scientists – an SLAS podcast series with about 20 interviews (and growing) conducted by SLAS Scientific Director Mike Tarselli. Tarselli gets you into the minds of experts from the worlds of sample management, big data and other life sciences and technology fields.
For example, in a recent podcast, Tarselli speaks with Richard Eglen, Ph.D., a dynamo in our field and former SLAS president. Eglen is a consultant and advisor for a range of organizations from private equity to smaller biotech since his recent retirement from Corning Life Sciences. It was great to hear him speak about the rapid advancements in science, stating how he's seen time and again that what was maybe a poster or a single talk in one conference suddenly comes up to be a whole session track in the next two or three conferences. Or, his amazement at the turnover he's seen the last 10 years in the drug discovery, diagnostics and technology industries where massive consolidation means that many of the names at the SLAS conference even 10 years ago are no longer there. Listen to the podcast to get Eglen's take on where the field will be in another 10 years!
Then, there is the podcast with SLAS2020 Innovation AveNEW exhibitor Synthace Ltd. Arne Vandenbroucke, senior automation engineer, explains their software product, Antha, which helps scientists by lowering the barrier of entry to existing laboratory equipment. He says obtaining a spot on the AveNEW provided Synthace with a 'stage' and an opportunity to meet their customers and collaborate with equipment manufacturers at the conference. As with all Innovation AveNEW exhibitors, Synthace is a small company, and its focus is assay characterization, media optimization and large molecule bioprocesses. Learn more in the podcast.
I'll tell you about one more podcast, and then you'll have to go to New Matter: Inside the Minds of SLAS Scientists to see what else is available! It's one of my favorites, as I truly enjoy learning about the science, approaches and enthusiasm put forth by our innovative students. SLAS2020 Student Poster Competition winners – Choon Leng So, School of Pharmacy, The University of Queensland; Shingo Honda, The University of Tokyo; and Sunil Singh, University of Akron – are featured. They talk about their work detecting calcium signaling differences, detecting inhibitor-resistant virions and the development of 3D human models. You'll think back to your early days in the field after listening to this one.
I hope you take my challenge to meet a new member of the SLAS community each week. It will be one more way these unfamiliar times become opportunities for good.
Also, I would like to encourage you to visit the SLAS webpage regularly to be informed about the latest Society news, see symposium updates, learn about the COVID-19 resource group, etc. You can find direct links to some interesting things you can find on our website below. There is no better time than this to check it out! Stay well and enthusiastic my friends!
SLAS Discovery and SLAS Technology – Are you looking to confer with someone who is doing similar research? Head to the SLAS journals, do a search by topic and then reach out.
SLAS Electronic Laboratory Neighborhood E-Zine – Since mid-2011, the SLAS e-zine has been the place to learn about the people behind the science. The e-zine showcases innovators and tracks their journeys while offering tips to help others.
SLAS APPLIED – Launched early in 2019, SLAS APPLIED serves as an easy-to-access repository of SLAS conference, journal, symposium, webinar and other educational materials. You'll hear directly from those amazing people within our SLAS community who are doing amazing things!
SLAS CONNECTED – This online networking center began late in 2019 to offer the SLAS community a safe and secure place to have conference-like discussions online and year-round. We're early in the stages of engagement that then will allow CONNECTED to reach its potential for collaboration, networking and problem-solving.