SLAS Education for You: Anytime, Anywhere, Any Circumstance
By Emilio Diez Monedero, Ph.D.
March 16, 2020
There is no better time than this, when the world is facing extraordinary circumstances due to the pandemic caused by the virus SARS-CoV-2 (COVID-19), to highlight the importance of online applications that enable us to stay in contact, carry out many of our work activities and also continue with our self-training and education.
---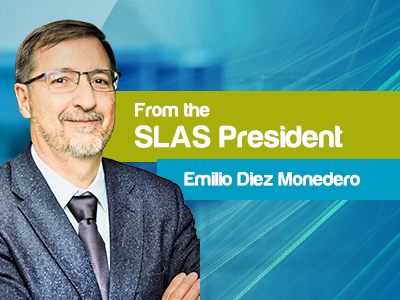 The message planned for this month's From the SLAS President was about the advantages of using APPLIED, the online tool available from SLAS to access scientific presentations from past conferences, webinars, etc. And, obviously, this message is now more relevant than ever!
Due to the current situation, many of us throughout the world are confined in our homes with travel and local mobility restrictions. Maybe this is a good time to access the exceptional discoveries, ideas and advances presented at SLAS2020 by the very best in our fast-moving scientific and technology environment. While I was an active participant in San Diego, I did miss some interesting sessions and presentations that now I have started to see through APPLIED. Also, I am planning to revisit some others now that the dust has settled from SLAS2020.
For example, I enjoyed the talk by Thierry Dorval from the Institut de Recherches Servier entitled "A Systematic Medium-Scale Comparative Study of 2D vs. 3D Models using High-Content Imaging Approaches." The talk was about their work in trying to optimize 3D HCS assays with the aim to perform medium-throughput pharmacological screening in oncology. Dorval illustrated very well the type of work required to ensure an appropriate validation of the assay, and also the limitations that they still have with current technologies.
Another example is the talk by Andrea Peier from Merk entitled, "Nanoclick Assay: A High-Throughput, Target Agnostic Cell Permeability Assay that Combines NanoBRET Technology with Intracellular Click Chemistry." Peier introduced the development and performance of a very elegant assay to measure cellular permeability of therapeutic peptides. She illustrated the value of the assay in several programs at Merk aimed at disrupting protein-protein Interaction of intracellular targets. This is a very promising assay for helping with the development of drugs for these difficult targets.
These two talks are just an example of the variety of presentations that you could see among the 118 SLAS2020 presentations now available in APPLIED, the SLAS Online Learning Center:
95 presentations across 10 scientific tracks, including six Innovation Award finalists
Keynote Address: "How AI is disrupting Pharmaceutical R&D" by Jackie Hunter, Ph.D., D.Sc., BenevolentAI
Keynote Address: "Digitizing Chemical Synthesis and Discovery using Chemputers" by Leroy Cronin, Ph.D., University of Glasgow
Four Ignite Academic Collaboration presentations
Three Ignite panel discussions
14 Ignite Award finalist presentations from Innovation AveNEW participants
This full SLAS2020 package is free to all SLAS2020 full conference registrants for six months following the conference. It also is available for those who couldn't make it to San Diego. For a modest variable fee, SLAS Premier members and SLAS Basic (non-dues paying) members and non-members are able to access the SLAS2020 recorded content. Presentations include audio synched to the presenter's PowerPoint slides.
APPLIED, launched early last year, serves as an easy-to-access repository of SLAS conference, journal, symposium, webinar and other educational materials. Other new additions besides the SLAS2020 presentations include:
Detangling Variegated Data to Drive Scientific Innovations – a March 2020 webinar with Sridhar Iyengar, Ph.D., Elemental Machines (this will be available by the end of March)
The Materials for Tomorrow, Today – a February 2020 webinar from Alán Aspuru-Guzik, Ph.D., University of Toronto
2019 SLAS Americas Sample Management Symposium – 13 presentations
SLAS Technology and SLAS Discovery journal podcasts – free to all
Be sure to visit APPLIED regularly for new content!
SLAS is very conscious of the impact that the current situation is having on us day to day, and might have in our community as well, including conferences and other face-to-face activities. SLAS CEO Vicki Loise and the rest of the SLAS professional team are monitoring the situation and will keep us updated on any changes that might be required in the schedule of activities at SLAS.
Finally, I would like to wish you the best during these difficult times. Stay safe with your families and follow the instructions of the authorities in your different countries and communities. Eventually this pandemic will pass, and we will go back to normal life. I can't wait to see many of you at upcoming SLAS events.