By Emilio Diez Monedero, Ph.D.
July 13, 2020
As I was reading the SLAS e-zine story on the growth of Andrew Alliance – a Waters Co., a statement from Piero Zucchelli really hit home. "It (SLAS2013) was a one-shot opportunity: the only physical event we could afford to attend." His was a start-up company with great energy, desire and commitment to develop a solution, but its resources were limited. Piero knew that getting his product in front of our SLAS audience was his route to success.
---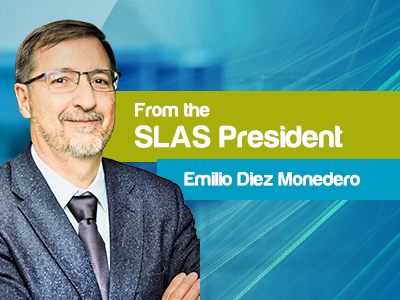 Like Piero, I know that working collaboratively with my SLAS colleagues is a clear way to a solution.
Later in the e-zine story, Piero adds that "People become SLAS members to communicate and interact. Being an SLAS member and participating in the exhibition gives us invaluable tools for growing our company. For us, the SLAS International Conference and Exhibition is an event we cannot miss because this is where we meet partners, colleagues and customers."
SLAS enthusiasts have experienced this magic formula ever since the Society was formed 10 years ago. And, SLAS leaders have continued to build upon this formula to provide opportunities for talented individuals to gain access to the brightest minds in the industry today. It is what makes SLAS so valuable.
I have heard time and time again over the years from fellow scientists about how an SLAS presentation or journal paper provided them with a new, or expanded, direction to consider for their research. That thought is usually followed by details about how they connected with the presenter or author to ask questions, bounce ideas and debate approaches. This sort of interaction spurs new thoughts and better outcomes.
It happens similarly on the product side of our business as well. Ideas for new technologies to advance life sciences discovery and technology pop up in various ways, and often the innovator struggles to take that idea to market. A formal SLAS initiative of which I am especially proud helps with this: SLAS Innovation AveNEW. It is a program designed specifically to enable emerging, start-up companies the opportunity to actively engage and participate in SLAS's world-class event, helping them to grow and scale their business and to connect directly with purchasing influencers and decision-makers from around the world.
SLAS Innovation AveNEW provides a venue for positive, collaborative interaction and exposure for their product and/or service concept – without the financial burden. Innovation AveNEW participants receive no cost kiosk exhibit space in a specially designated area on the exhibit floor, assistance with travel expenses and entry to SLAS Ignite entrepreneurial workshops and presentations. Of course, this is in addition to the access to thousands of practicing life sciences researchers, purchasing decision-makers and potential business partners that kiosk offers. Many of us more seasoned scientists love to visit Innovation AveNEW to experience the energy and enthusiasm it offers and perhaps be that person that provides a new spark!
At SLAS2020, 16 start-up companies had this opportunity; eight at SLAS2019; seven at SLAS2018; and many others for years before! In fact, SLAS initiated this popular program with eight companies at the inaugural SLAS2012 Innovation AveNEW. In 2019 we added the SLAS Ignite Award to further incentivize Innovation AveNEW participants to hone their business approach and value proposition, prepare for successful conference engagement and ultimately, convince a panel of judges of their potential for success in the life science marketplace. I invite you to listen to some previous Innovation AveNEW participants, and learn how this exposure helped their companies move forward:
Iscaffpharma Highlights Technology & Innovation AveNEW Opportunity
Synthace's Experience with Innovation AveNEW
2019 Ignite Award Winner: SEED Biosciences
The application deadline is October 12, 2020. NOTE: Up to 24 participants will be invited!
Stay safe, and stay in touch with your fantastic SLAS colleagues!
* SLAS is moving forward cautiously and optimistically with our scheduled in-person events, heeding all regional guidelines for group gatherings. We are monitoring all aspects of event logistics while developing alternative (virtual) forms of knowledge sharing. SLAS is committed to providing a safe meeting space, high-quality education and meaningful networking opportunities for all attendees, whether in person or on a virtual platform, as circumstances warrant. We look forward to convening in person but will do so only if we can provide a safe and appropriate meeting venue as well as suitable accommodations for travelers.