Why Serve on the SLAS Board of Directors?
By Emilio Diez Monedero, Ph.D.
June 19, 2020
With the SLAS Nominating Committee deep into its work to select three individuals to join the 2021-2023 SLAS Board of Directors, it got me thinking about my time on the Board. It also had me pondering about what makes a good Board member and why already-busy professionals should commit to serving SLAS in this way. My experience on the SLAS Board has been phenomenal, and I would do it again if given the chance!
---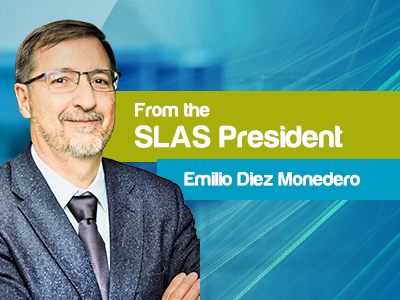 My term began in 2018, along with colleagues Peter Simpson, Ph.D., and Severine Tamas-Lhoustau, M.S. In previous years, I learned many things by being an SLAS volunteer in different roles but being on the Board is really very different from the other roles. You get to see the difficulties of managing a complex and large Society and, more importantly, you are a part of a team tasked to make important decisions that impact the future of SLAS. That is rewarding in itself! An important benefit is also the additional network you build that becomes useful both personally and professionally.
SLAS policy directs the SLAS Nominating Committee to "choose Candidates who will meet, foster and fulfill SLAS's strategic direction and mission. Candidates should have dutifully completed relevant recent services for/on behalf of SLAS (e.g., involvement in a volunteer and/or stipend activity such as standing and/or ad-hoc committees, short course instructor, podium and/or poster presentation, publishing, content reviewer, content recruiter and/or other activities deemed appropriate by the committee). The committee should seek to ensure the final slate presented to the Board includes a diverse mix of leadership candidates representing SLAS's current and targeted geographic boundaries, vertical industries and regions (as defined in the Bylaws)."
We work as a team in virtual meetings, with two to three face-to-face meetings a year (in usual, non-COVID-19 years). The environment is casual and with a good atmosphere where we trust and respect each other. This is important so everyone feels free to speak up. Since what we decide has repercussions on the future of the Society and impact on what members receive from SLAS, we need to make sure every voice is heard. It also is important that everyone stays behind Board decisions, regardless of their personal opinion.
There are tools in place to help incoming Board members prepare for their roles and, of course, fellow Board members are eager to assist. I think it is important to help new Board members understand the dynamics of the Board itself, and its relationship to councils, committees and the professional team, so they understand Board responsibilities and accountabilities. There is a good Introductory package that the SLAS CEO provides each new Board member that I think is very useful. In a more high-level overview, I like to think about the Board as being focused on long-term strategic initiatives vs. the different councils and committees and the professional team, which are focused on short- to mid-term strategic direction and, obviously, on the day-to-day operations.
If you desire to serve on the SLAS Board you must believe in and enjoy serving the community. In addition to the satisfaction of doing good, solid work, we also enjoy interacting with one another and with the talented SLAS professional team. And we've been known to have some fun, especially in our face-to-face meetings that usually occur concurrently with the SLAS conferences in the U.S. and Europe.
Many thanks to this year's SLAS Nominating Committee chaired by Ian Shuttler, Ph.D., Tecan and members Alastair Binnie, M.Sc., Bristol-Myers Squibb; Jörg Kutter, Ph.D., University of Copenhagen; Sue Lunte, Ph.D., The University of Kansas; Robyn Rourick, M.Sc., Genentech; and Ute Vespermann, Ph.D., Corning Life Sciences. Your sharp attention to selecting the best candidates positions the Society for good years ahead.
If you would like to submit your name for consideration, take a look at the materials on the SLAS website. If you have any questions or comments on the process, please reach out to SLAS Chief Executive Officer Vicki Loise at vloise@slas.org, or by calling +1.630.256.7527, ext. 100.
SLAS is moving forward cautiously and optimistically with our scheduled in-person events, heeding all regional guidelines for group gatherings. We are monitoring all aspects of event logistics while developing alternative (virtual) forms of knowledge sharing. SLAS is committed to providing a safe meeting space, high-quality education and meaningful networking opportunities for all attendees, whether in person or on a virtual platform, as circumstances warrant. We look forward to convening in person but will do so only if we can provide a safe and appropriate meeting venue as well as suitable accommodations for travelers.