By Hansjörg Haas, Ph.D.
August 19, 2021
Last month, my message focused on the power of SLAS to drive learning within the life sciences community through our fall symposia events. This month, we'll continue conversation on that power as I review the new SLAS Micro-Credentials Program.
---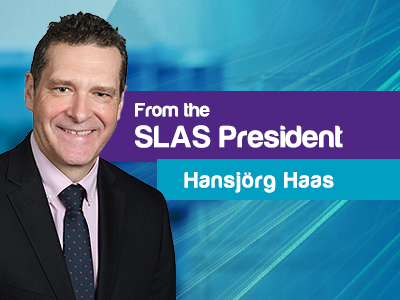 The National Education Association defines micro-credentials as short, competency-based and a means to demonstrate mastery in a particular area. Micro-credentials have picked up steam this last year as professionals in all industries clamored for ways to stay current and grow while often working in isolation and robbed of the usual ability to seek advice, guidance and challenge on a regular basis from nearby colleagues.
Think short course, think journal article, think special interest group, think conference presentation, think experts – and then roll them up into an online and on-demand program that allows you to learn when you want and at your own pace. The end goal? You gain the skills, training and know-how that current or prospective employers desire and you remain current and relevant in the expanding and ever-changing life sciences industry. You earn the right to display a badge that identifies your expertise and competency. You learn from the best of the best at SLAS and gain the confidence to utilize new skills and techniques.
The SLAS Micro-Credentials Program launched this month with its first offering – phenotypic screening and target deconvolution. The subject matter experts sharing their knowledge on this important topic include:
Ellen Berg, Ph.D., Eurofins Discovery and Alto Predict LLC
Marc Bickle, Ph.D., Institute of Translational Bioengineering, Roche
Beth Cimini, Ph.D., Broad Institute
David Egan, Ph.D., Core Life Analytics
Matthias Fassler, Ph.D., Genedata AG
Peter Horvarth, Ph.D., Institute of Biochemistry, BRC
Beverley Isherwood, Ph.D., Syndicates, Medicines Discovery Catapult
Annika Jenmalm Jensen, Ph.D., Karolinska Institutet
Terry Kenakin, Ph.D., Dept. of Pharmacology, University of North Carolina School of Medicine
Jonathan Lee, Ph.D., Phenotypic Drug Discovery Consultant
James Pilling, Ph.D., AstraZeneca
Alleyn Plowright, Ph.D., Wren Therapeutics
Markus Schirle, Ph.D., Novartis Institutes for Biomedical Research
Brinton Seashore-Ludlow, Ph.D., Karolinska Institute/SciLifeLab
David Swinney, Ph.D., Independent Drug Discovery Consultant
Fabian Vincent, Ph.D., Pfizer, Inc.
These subject matter experts help you to understand the principles and concepts of phenotypic screening and the key considerations in determining when to choose it as a drug discovery strategy for projects. They share their knowledge of key tactics and capabilities in use for phenotypic screening. They provide awareness of where phenotypic screening has been used successfully including an understanding of success factors and risks. You can then demonstrate practical application of the knowledge gained during the micro-credential program to develop a robust phenotypic drug discovery project proposal.
Once you have listened and studied the information offered, you take a five-question assessment to ensure you have achieved the learning goals and are ready to put your new knowledge and skills to work!
The SLAS Knowledge Content and Delivery Council has been working hard to design a micro-credentials program that can deliver what you have always expected from SLAS – tools to take the next steps toward your career goals. It is the council's intent to continue adding micro-credential topics this year, in 2022 and for years to come. Look for a CRISPR-related micro-credential soon!
SLAS is committed to providing quality education and continuous learning opportunities to the community. You can count on it.