SLAS Innovation AveNEW – It's a Game Changer!
By Hansjörg Haas, Ph.D.
September 15, 2021
Remember those days of walking an exhibition to look for that specific product or new technology that would be just the right fit to take your work to the next level? Throughout its rich history, SLAS always has been at its best when facilitating these connections.
---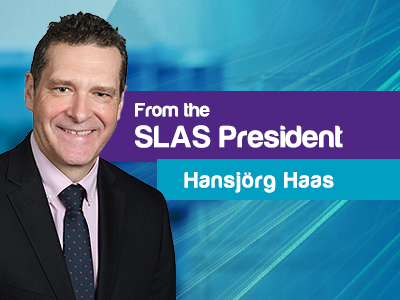 The virtual world we've been living in has made these interactions much more difficult. But, it has not made them impossible. SLAS has, and continues to, put opportunities in place for our people to be successful.
In this month's column, we're going to take a deep look at a strategy put in place well before the COVID-19 pandemic challenged the world. SLAS Innovation AveNEW was initiated to provide free-of-charge exhibition space, travel and hotel accommodations to life sciences start-ups and emerging companies to connect with global purchasing influencers and decision-makers. SLAS Innovation AveNEW was originally offered annually at the SLAS International Conference and Exhibition only. This year, we've expanded this program and made opportunities available at a number of SLAS symposia and partner conferences to strengthen and support our entrepreneurial community.
At our two major events in 2021 alone, 25 companies were awarded a spot on SLAS Innovation AveNEW – see the 14 at SLAS2021 and the 11 at SLAS Europe 2021. SLAS Innovation AveNEW applications remain open for the following events:
ELRIG Drug Discovery 2021 – Deadline September 27 (10 spots)
SLAS2022 International Conference and Exhibition – Deadline October 11 (24 spots)
Past participants say it best:
"Collaboration is the culture of SLAS and everyone who is a part of it. It's where the idea for our first product came from." Craig Vincze, CEO, Clickbio, 2016 Innovation AveNEW participant
"The SLAS Innovation AveNEW program has been instrumental in giving our start-up visibility in the field and critical feedback from our customers. If you are a new business in the lab
automation community, you have to look into the Innovation AveNEW and SLAS Ignite programs." Coleman Murray, Ferrologix, 2019 Innovation AveNEW participant
"Being selected was a major opportunity for us. This attraction got people to really visit the area – a steady stream of people coming up who were interested. I was there alone, I worked hard and had really interesting discussions with a lot of people. My advice for other start-ups is to take the opportunity to be seen at this conference and apply for Innovation AveNEW." Per Setterberg, Iscaffpharma, 2020 Innovation AveNEW participant
"Neurix SA is working on organoids that simulate brain tissue for compound screening and neuroscience research, or brain in a dish. It was good to participate in SLAS Innovation AveNEW it's worth it for young entrepreneurs." Sebastien Mosser, Neurix SA, 2021 Innovation AveNEW participant
"This is the first year that it's (SLAS International Conference and Exhibition) been virtual. You need to make an effort to interact with folks; you can't sit and wait. Just like with in-person, you get so much out of just walking up to someone and saying 'how are you' and 'can I help you with something?' It's no different in the virtual perspective." Dan DeAlmeida, LabVoice, 2021 Innovation AveNEW participant
There's another opportunity we've launched this year to further invigorate ongoing conversations between vendors and technology users – the Technology Idea Exchange on SLAS CONNECTED. This is an open forum and designed to be a place to have those "conference-like" conversations year-round. Join the community now and get ready for an upcoming conversation with SLAS 2015 Innovation Award winner and SLAS Fellow Jonathan Wingfield, Ph.D., of AstraZeneca.
SLAS Innovation AveNEW and the Technology Idea Exchange are just two of the many ways that our Society provides opportunities to move life sciences forward. If you are a start-up looking to engage with our community, apply for the Innovation AveNEW opportunity. If you are working in the field and looking for the next big thing, be sure to meet with SLAS Innovation AveNEW participants to see what is coming!