SLAS is pleased to offer a Journal Author Toolkit to help accelerate the dissemination and impact of your published papers. Below you will find a variety of tips, templates and visual aids to help you promote your articles through various channels including social media, email and blogs.
Maximize your Visibility
Opportunities for Authors
Register for Kudos to explain, share and measure the impact of your published papers.

Protect your scholarly identity by registering for an ORCID unique identifier so editors, funding agencies, publishers and institutions can reliably recognize you in the same way that ISBNs and DOIs identify books and articles.

Give an SLAS FYI Talk: A three- to five-minute recording that summarizes and highlights your latest and greatest projects, research and developments with the global SLAS life sciences community.

Search Engine Optimization (SEO) can help your article appear higher in search results (i.e., Google). Here are some pointers to improve your search result ranking:

Strong keywords in your titles and headings (descriptive and specific to your article).
Interlink your article with other content on the web (citations and data repositories).
Make sure your authorship information is complete.
Pay special attention to your image and table captions (use strong keywords).


Podcasts can be a great way of connecting with your community. Reach out to our journal editors to be included in a future episode of our dedicated journal podcasts so your readers can meet the people behind the science. Reach out to publishing@slas.org if you would like to be a featured guest on one of our journal podcasts:
Listen to SLAS Discovery Author InsightsListen to SLAS Technology Authors Talk Tech
Write a news piece to promote your innovative findings – for your personal blog (WordPress, Tumblr, etc.) as well as your institution's blogs/news centers (where an opportunity is available). Universities and academic departments love sharing the wins of their researchers. Check-in with your institution to see what opportunities are available to circulate your work and relevant commentaries.

Include references to your previous work in new articles, however, do consider the self-citation ratio (suggestion: keep at less than 20% of all references).

Events:
Present your research at upcoming SLAS conferences and events.

SLAS 2023 Sample Management Symposium

October 12 - 13, 2023
Washington, D.C., USA

SLAS 2023 Data Sciences and AI Symposium

14 - 15 November 2023
Basel, Switzerland

SLAS2024 International Conference and Exhibition

February 3 - 7, 2024
Boston, MA, USA

SLAS 2024 Building Biology in 3D Symposium

April 16 - 17, 2024
Jupiter, FL, USA

SLAS Europe 2024 Conference and Exhibition

27 - 29 May 2024
Barcelona, Spain
Getting your research noticed:
Browse Elsevier's quick tips for getting noticed!

Download Now

Elsevier Researcher Academy:
Explore the free skills-based video modules offered by Elsevier; designed to bridge the gap between academic achievement and professional success:
Social Media:
More than two million articles are published yearly, with an expected increase of 2-4% annually. It is therefore crucial to promote your article effectively, to reach your peers.

Social media is an important component of article promotion, with one-third of all scholars active on Twitter. People interact very differently across each social media platform; explore our social media tips and graphics to help you create interesting and engaging posts across social platforms

Top tips for social media:

Share links to your articles (use Bitly to shorten links).
Post regularly and respond promptly.
Use images in your posts (these can include stock images, graphical abstracts or even short videos).
Know the influential people in your field.
Engage with others in discussion.
Materials
As your research has been published Open Access, you have no barriers to sharing your research. Use some of the suggested materials and tips below to share your research with your peers.
Email Signatures:
Copy and paste either snippet of text below into your email signature to promote your article in your day-to-day communications.
SLAS Discovery:
My paper on [insert subject area(s)] was just published open access in SLAS Discovery – access [here – hyperlink to article].
[Insert article title and hyperlink], just published open access in SLAS Discovery.
SLAS Technology:
My paper on [insert subject area(s)] was just published open access in SLAS Technology – access [here – hyperlink to article].
[Insert article title and hyperlink], just published open access in SLAS Technology.
Social Media Graphics:
Download the graphics below to promote your articles on social media, via email or on your personal websites. Graphical abstracts or figures pulled directly from your article are also effective visuals to share online.
For SLAS Discovery Authors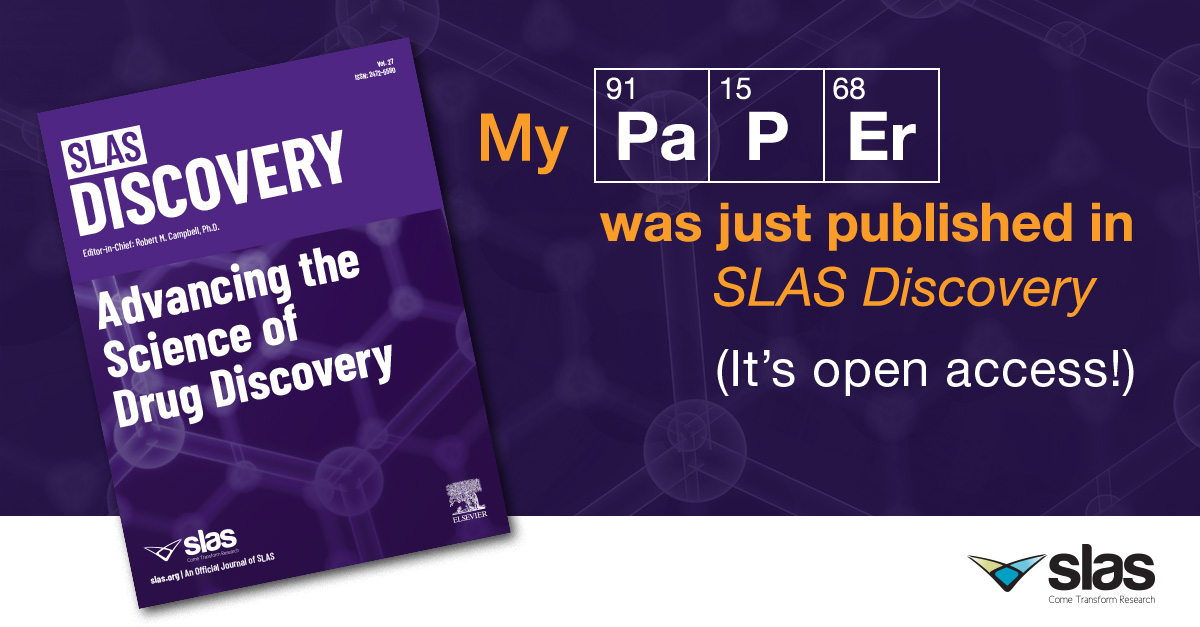 Download for:
For SLAS Technology Authors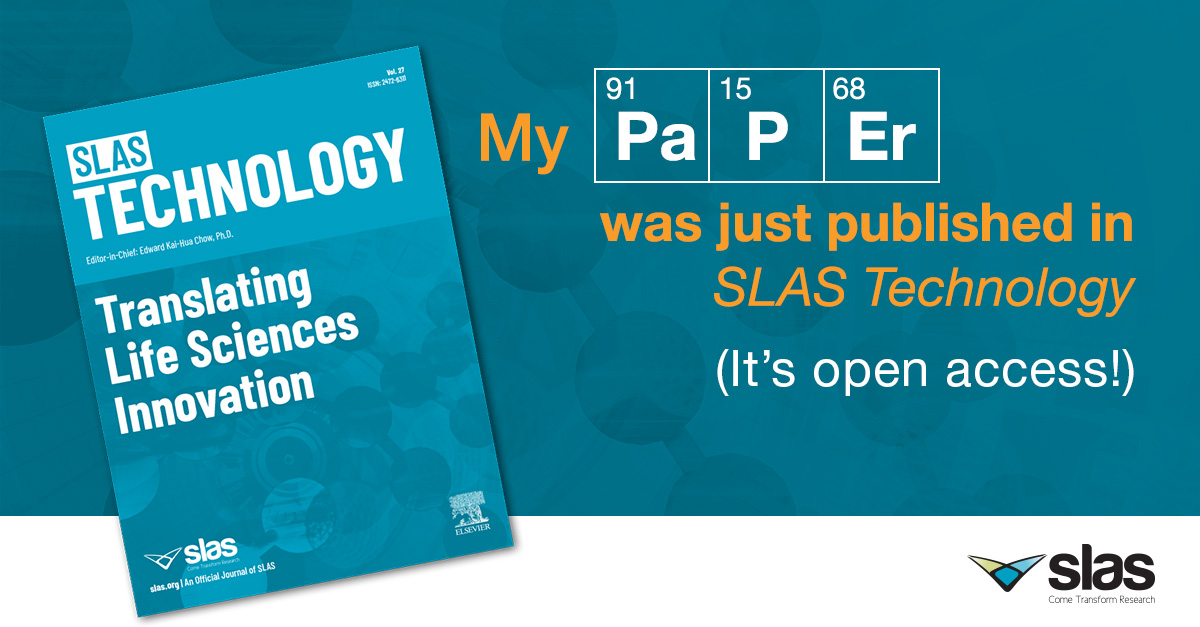 Download for: