First SLAS Visiting Graduate Researcher Explores Paper-Based Microfluidics and Peptide Labeling for Mass Spectrometric Detection

September 17, 2018
Finding your feet in research sometimes means traveling in unfamiliar territory. For Kelci Schilly, the first SLAS Visiting Graduate Researcher, the journey leads from creating tools to search for extraterrestrial life to diagnostics for disease detection as she expands her growing repertoire of research accomplishments.
---
"There are good and bad days in the lab, but to keep pushing through you have to think about what you want out of life and how things that you experience are helping you get there and make certain you have a solid support system throughout it," says Kelci Schilly, B.Sc., a graduate research assistant in the Department of Chemistry at the University of Kansas (Lawrence, KS, USA), who recently earned the 2018 SLAS Visiting Graduate Researcher Program grant.
SLAS is a part of the solid support system for young researchers. As one of two graduate student grants offered by SLAS, the SLAS Visiting Graduate Researcher Program offers North American or European degree-seeking graduate students an opportunity to conduct short-term doctoral research or participate in a mentored or independent research project with a faculty member at a different institution. This SLAS grant allows Schilly to work in the laboratory of SLAS President Sabeth Verpoorte, Ph.D., at the University of Groningen (The Netherlands) to broaden her understanding and advance her research in paper-based microfluidics and peptide labeling for mass spectrometric detection.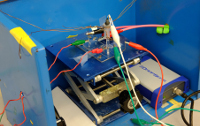 The exchange provides additional training and exposure to techniques to support Schilly's current work in the laboratory of SLAS Nominations Committee member Susan Lunte, Ph.D., who develops analytical methods to probe conditions of cellular nitrosative stress in the context of neurodegenerative conditions such as Alzheimer's disease. To test for nitrosative stress, Lunte's group uses microfluidic separations that feature small sample volumes, short analysis times and the potential for miniaturization for point-of-care analysis.
During the three-month research exchange, Schilly will learn, evaluate and apply a paper-spray ionization procedure currently in use by the Verpoorte group for introduction of peptide samples into a mass spectrometer. The ultimate goal of her thesis project is to develop a mass spectrometric detection method to determine the extent of mitochondrial protein nitration in the blood of Alzheimer's patients, shown in preliminary studies to indicate the severity of the disease.
The successful method will isolate the mitochondrial proteins from white blood cells, which Schilly will digest and then label with a fluorescent reagent developed at KU that selects nitrotyrosine residues. This reagent includes a cis-diol affinity tag for selective isolation of the derivatized proteins. The resulting derivatized peptides can be captured on a boronate affinity matrix for fluorescence and/or mass spectrometric detection. Schilly's proposed work will integrate the steps of this procedure into a microchip format.
Lunte and Schilly acknowledge that the three-month time frame is a challenge to completing an entire project, but they feel confident that much will be gained from the experience in the long run. "Kelci's project has many different parts," says Lunte. "The piece that Sabeth's group can help us with is introducing the sample into a mass spectrometer to identify specific amino acid sequences that are related to Alzheimer's disease. Because our lab does more work with peptides than Sabeth's, she is interested in using a different analyte in their device. In the end, we hope to write a manuscript together about our research experience."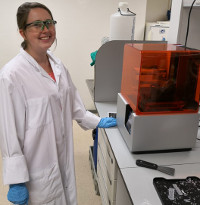 Schilly is excited about the potential learning experience in Verpoorte's lab. "I would recommend that graduate students apply for the SLAS Visiting Graduate Researcher Program because it gives you the opportunity to travel to another lab, meet new researchers and learn from their work," says Schilly, who intends use her new knowledge of the cutting-edge technologies to expand microfluidic fabrication and detection methods in the Lunte group.
Lunte and Verpoorte, who have collaborated in the past, anticipate increased research capabilities for both groups as a result of the visit. Lunte comments that Schilly is an excellent candidate for the SLAS grant. "Kelci received this opportunity because of her ability to collaborate and communicate with team members. She is a natural leader and has proven that she is comfortable working in diverse research environments," says Lunte, adding that a recent example of this was an internship Schilly completed last year at NASA's Jet Propulsion Laboratory (JPL) in Pasadena, CA (USA).
"This SLAS grant opens a door for students to broaden their experiences," continues Lunte, who also is a member of the review panel for the 2018 SLAS Graduate Education Fellowship Grant, which she helped to establish. "I encourage students to study abroad and discover how research is conducted around the world. I tell my students that it's good to be a stranger in a strange land to really get to know yourself well. You can't send someone abroad who is in a shell; they wouldn't benefit from the experience. Kelci is very open, a good student and a good listener who will go, bring back new ideas to share and implement in our lab," she continues.
Verpoorte agrees, adding, "I am especially proud to be hosting Kelci at the University of Groningen. The entire SLAS grants and awards program is very important for exposing our next generation of researchers to new opportunities in the life sciences. I look forward to seeing this program succeed for Kelci and SLAS."
Lunte is grateful for the SLAS grant program not only because of the opportunities that it offers, but also because of the caliber of students who apply. "The graduate students we see through the applications are exemplary of the best that the next generation of life sciences has to offer," Lunte says. "Like Kelci, they are great collaborators and scientists who are quite productive."
Research on the Road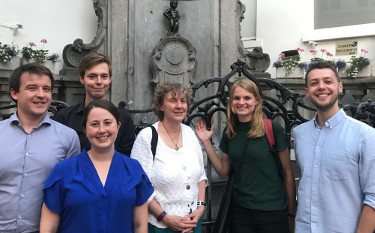 Schilly made a pre-assignment trip to the 2018 SLAS Europe Conference and Exhibition in June and visited with Verpoorte and her new colleagues from the lab in which she will work. The team developed helpful work lists and short-term projects that Schilly hopes to accomplish before she travels to Groningen in September 2018.
"Basically, I wanted to tie up and optimize aspects of my work to take to Groningen," says Schilly. One chore was to develop a method to enrich samples of nitrated peptides. "Traditionally the group with which we collaborate here at KU, the research group of Christian Schöneich, Ph.D., enriches samples using large scale liquid chromatography with a boronate affinity column. I'm trying to miniaturize that and get that boronate matrix into a format that we can integrate with devices fabricated by the Verpoorte group."
Schilly is accustomed to busy summers. During her internship at JPL in 2017, she contributed to the search for extraterrestrial life through the development of a portable analyzer for amino acids, the structural building blocks of all life on Earth. The analyzer employs a simple chemistry method that uses a liquid-based technique known as capillary electrophoresis to separate a mixture of organic molecules into its components. According to news articles from JPL, the method is 10,000 times more sensitive than current methods employed by spacecraft like NASA's Mars Curiosity rover.
While it was an exciting experience, being a part of the project was not without challenges, notes Schilly. "I was two years into my program at KU and fairly comfortable with my research. Then I traveled to JPL for two months, and it felt as if I started from ground zero in many aspects. As the new person, you're at the bottom of the lab learning all new techniques, such as conventional capillary electrophoresis and fluorescent derivatization reactions, and trying to quickly accomplish research in a whole new environment. Such experiences, however, are beneficial to your development as a scientist."
A Lover of Latin, Greek and Trail Running
Whenever she hits a roadblock, Schilly takes to the trail, running off the stress of the lab in fresh air. "I'm not very fast, but I enjoy running," Schilly says. "It's my go-to when experiments aren't working, and I need to leave the lab and clear my mind. After I go for a run, I'm refreshed and ready to try again. Typically, things will work then."
Another pastime Schilly uses to refocus her thoughts is reading Greek and Latin texts. Latin is a long-time love of Schilly's. She first pursued it in high school, then continued it in college at the University of North Carolina at Chapel Hill (UNC), where it so consumed her that she added Greek studies to her academic schedule and earned a double major in the Classics.
"During my undergraduate years, reading Latin and Greek texts was an escape. I worked on chemistry homework until I got frustrated, then switched to Greek and Latin homework," she says. After moving to KU for graduate school, she joined a Latin reading group to keep her skills fresh and goes there to take a break from science.
"It's nice to meet people outside my program," she says. "Getting that double major was a lot of work with balancing lab courses and the intense reading requirements for Greek and Latin, but I think studying the humanities gives you a stronger background in writing and communication. It goes beyond what you can get in traditional science classes where you learn through formulaic lab reports."
She describes reading Latin and Greek as a unique way to develop critical thinking skills. "Parsing Greek sentences is quite analytical. It requires you to piece together rules and try different combinations to determine what adjective will go with what noun," Schilly says. "Sometimes there are multiple options that leave it to the reader to decide how to interpret that sentence. Besides, knowing Latin and Greek roots is great for your scientific vocabulary!"
Her undergraduate years at UNC also revealed an affinity for academic life in the lab of Mark Schoenfisch, Ph.D., where she assessed the bactericidal efficacy of nitric oxide releasing polymers and became a teaching assistant. "This was my introduction to the world of nitrosative stress. We studied what nitric oxide can do, how the balance can either be beneficial, acting as a bactericidal agent, or harmful–too much of it, and it can begin to attack your own cells," she says. "My experiences in Dr. Schoenfisch's lab renewed my excitement for chemistry and gave me opportunity to learn outside of the classroom. I gained more confidence in my abilities as an analytical chemist, and teaching solidified my decision to go to graduate school."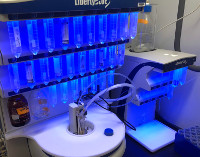 At Schoenfisch's suggestion, Schilly applied for graduate school at KU to work with Lunte, who also works with nitrosative and oxidative stress. "The more I looked into KU's program, with its strong focus on bioanalytical chemistry, and how the analytical chemistry groups intertwine with biology, the more I wanted to pursue studies there," she says. On a personal level, she also appreciated the Lunte group's focus on developing methods to understand neurodegeneration.
"My grandmother was diagnosed with Alzheimer's disease when I was in college," she notes. "I want to use analytical chemistry to better understand how these diseases are progressing and contribute to the bigger picture of Alzheimer's research."
Schilly describes Lunte as a brilliant scientist and mentor. "She really knows how to push her students to be the best and give them great opportunities to get out into the world, meet other people and experience research in different labs," Schilly says. "That's how you determine what career you want to have."
Brushing up on Life Sciences in Brussels
Adding to her growing list of out-of-the-lab experiences was the 2018 SLAS Europe Conference and Exhibition, held in June in Brussels. Not only did it give Schilly a great opportunity to meet and make plans with her new lab mates from the University of Groningen, it also opened her eyes to the global scientific community.
"It was different than any other conference I've been to," Schilly says. "It was great to see how all these people from different countries and backgrounds came together for this meeting and to see that community on a larger scale. I enjoyed listening to other scientists share their research and technologies that they're developing. It was interesting to learn more from presentations outside of my particular area of expertise."
Lunte was glad that Schilly had the opportunity. "SLAS International Conferences are a wonderful experience for graduate students–especially those who are close to graduation," she observes. "Students can participate in workshops and short courses to learn new techniques, register for one-on-one mentoring sessions where they can review their resume with a life sciences professional who works in an area the student may want to enter, and listen to leaders from industry and government who present those sides of the profession. A lot of other meetings that students attend only have an academic focus."
Grad Students: Apply Now for SLAS Grants Program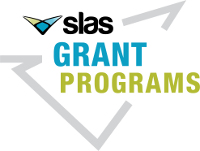 Advance your research with financial support from the SLAS Grants Program, which is now accepting applications for 2019 awards. The SLAS Graduate Education Fellowship Grant facilitates educational opportunities for outstanding students pursuing graduate degrees related to quantitative biosciences and/or life sciences research. The SLAS Visiting Graduate Researcher Program offers North American or European degree-seeking graduate students an opportunity to conduct short-term doctoral research or participate in a mentored or independent research project with a faculty member at a different host institution. The deadline for both applications is Dec. 10.
---
Sidelines
Apply Today! Apply for the SLAS Graduate Education Fellowship Grant
From the Jet Propulsion Laboratory: 'Chemical Laptop' Could Search for Signs of Life Outside Earth
2018 SLAS Graduate Education Fellowship Grant Winner Santosh Paidi: SERS Diagnostic Assay Concept
From SLAS Discovery: Special Issue on Advances in MALDI Mass Spectrometry for Drug Discovery