Arkin, Datwani and Haas Named to SLAS Board of Directors

January 27, 2019
With amazing careers spanning all areas represented by the SLAS community, Michelle Arkin, Ph.D., Sammy Datwani, Ph.D. and Hansjoerg Haas, Ph.D., join the SLAS Board of Directors at SLAS2019. Along with six current SLAS Board members, Arkin, Datwani and Haas will further the SLAS mission to bring together researchers in academia, industry and government to advance life sciences discovery and technology via education, knowledge exchange and global community building.
---

Arkin is a professor and researcher with close to 20 years of experience in academic pharmaceutical science, specifically in the areas of chemical biology and drug discovery. She currently is professor of pharmaceutical chemistry and research director of the Small Molecule Discovery Center at the University of California San Francisco (UCSF). Arkin also is actively involved with the editorial boards of several scientific journals, as a member and reviewer for numerous organizations and mentor in the area of drug discovery. Since 2014, she's been involved with SLAS in a variety of positions including associate chair and chair for the Drug Target Strategies conference track, member of the Scientific Advisory Committee and SLAS2018 co-chair. Arkin earned her B.A. from Bryn Mawr College (Bryn Mawr, PA), Ph.D. from the California Institute of Technology (Pasadena, CA) and completed a postdoctoral fellowship in protein engineering with Genentech Inc. (South San Francisco, CA).

Datwani, currently with Labcyte Inc. (San Jose, CA), is a chemical and biomolecular research and development engineer leader with more than 20 years of experience working with cross-functional groups and multi-national companies managing and delivering novel life science tools and microdevices designed to advance human health. More specifically he specializes in instrumentation, fluid mechanics, microfluidics, laboratory automation, genomics, systems integration, consumables development, surface chemistry and more. Datwani has served on the SLAS Innovation Award judging panel (2012-2019), as a track chair and associate track chair for the SLAS International Conference and Exhibition and in numerous other roles for prestigious scientific organizations. Datwani received his B.S. and Ph.D. in chemical and biomolecular engineering from the Johns Hopkins University (Baltimore, MD) and his M.S. in chemical engineering from Columbia University (New York, NY). Datwani was recently elected and inducted into the Class of 2018, College of Fellows of the American Institute of Medical and Biological Engineers. He currently is faculty member in the Department of Biomedical, Chemical, and Materials Engineering at San Jose State University (San Jose, CA).

Haas has more than 20 years of experience as a large market laboratory automation, robotics and life sciences change agent. As the senior director and general manager of Thermo Fisher Scientific (Burlington, Ontario, Canada), he oversees strategic and financial planning, marketing and product development, including commercial execution, service and go-to-market strategies for the Laboratory Automation Business Unit. Haas is a seasoned volunteer of SLAS and current member of the Governance Task Force. In addition to being a past chair of the Americas Council, Haas was a member of the Association for Laboratory Automation (ALA) Board of Directors that implemented the merger between it and the Society for Biomolecular Sciences (SBS). He received his M.Sci. and Ph.D. from Justus Liebig University (Giessen, Germany).
Why did you become a member of SLAS, and what have you found most beneficial from your membership?
Arkin: I was involved with SBS and became re-involved with SLAS when invited to participate as a speaker and then as a member of the SLAS Scientific Program Committee (basically, I owe everything to Marcie Glicksman). Last year, I co-chaired SLAS2018 with the incomparable Tim Spicer. The annual SLAS conference is one of my favorites each year. I lecture in the Assay Guidance Workshop for High-Throughput Screening and Lead Discovery on Saturday and enjoy seeing my colleagues from a range of disciplines and careers. The balance of attendees – from pharma/biotech, technology industries, academics and government labs – is refreshing. SLAS conferences offer an overview of technology development for drug discovery (broadly scoped), and it has been exciting to see the innovative technologies and scientific applications that the SLAS community is developing.
Datwani: I first became a member of ALA in 2002 when I attended the annual conference. Subsequently, I also joined SBS. These are the two organizations that merged to form SLAS. It was at these annual conferences I was able to share the innovative work in my industrial roles in the areas of microfluidics and high-throughput screening enabling laboratory automation for drug discovery and other applications. Seventeen years later as an SLAS member, I find that SLAS provides key resources (journals, exhibitions, workshops, technical meetings) and a high level of exposure to innovative new technologies. Finally, and most importantly, membership provides access to the people and the opportunity to meet and network with fellow scientists and engineers, all with a common goal to advance life sciences and diagnostics for greater impact to healthcare.
Haas: I joined SLAS in 1997, when I moved to Canada to establish a laboratory automation business for CRS Robotics (now Thermo Fisher Scientific). The LabAutomation show in Palm Springs (now SLAS) was the first exhibition and conference I attended with my newly created team. Robotic screening had just started to become a viable tool in drug research and SLAS was the major industry event in North America. However, the event was always more than just a show/conference; it conveyed the feeling of a community and that was my reason for joining the organization. SLAS was back then, and even more so today, an excellent resource for new technologies, scientific discoveries, business connections and collaboration.
How have your work background, and life experiences in general, prepared you to step into this new role as a Board member?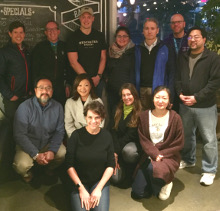 Arkin: I have spent half my career in biotech and half in academia, so I have some range of experiences and involvement in both communities. In my current position, I am heavily involved in consortium-based drug discovery and pulling interdisciplinary teams together. I have enjoyed learning many areas of biology through these collaborations and developing educational tools for scientists getting into drug discovery. Being a professor and facility director also has been a crash-course in leadership training. I will bring to the Board my enthusiasm for bold new science and my (hopefully endearing) habit of asking strategic questions.
Datwani: I believe that my background and past experiences provide a unique compass. My career has focused on understanding the fundamentals of small volume fluid physics and integrating key technologies enabling life sciences applications to advance areas such as drug discovery, proteomics, genomics, personalized medicine and label-free high-throughput technologies. I have spent almost two decades with extensive leadership experience gained through a series of progressively responsible positions at early stage start-up companies: Caliper Life Sciences (now part of Perkin-Elmer); Eksigent Technologies Inc. (now part of Danaher Corporation); and currently at Labcyte Inc. These experiences will help me to serve in the mission of building on programs to drive SLAS's technical excellence and dedication to innovation.
I was born and brought up in Hong Kong and educated in the British school system before completing my formal education in the United States. My work role combined with my association with international meetings and consortia affords me the opportunity for global travel to attend technical symposia and business meetings; build vendor relationships; nurture collaborations; and engage partnerships. I firmly believe that the next wave of growth is to further globalize SLAS, so I can see my new role building on new opportunities to globalize the SLAS footprint and help to scale our organization with excellence.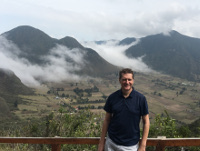 Haas: Laboratory automation is my passion and an essential part of my professional life. I spent my entire career in this field working for companies in Europe and North America. Being involved as an active volunteer since the early days of SLAS, I have gained a deep understanding of its core values. Over the years, I held numerous positions as member of the Finance Committee, member of the ALA Board, chair of the SLAS Americas Council and recently the Governance Task Force. During my Board membership with ALA, we initiated and completed the merger between ALA and SLAS. Our industry is a dynamic space, and as such, I went through several mergers and acquisitions, both as the acquirer and the one being acquired. Through these experiences I learned how to work with teams of different backgrounds, cultures and perspectives to create a common platform for collaboration and synergistic growth.
As a newly elected SLAS Board member, how do you see yourself contributing to the SLAS purpose to advance life sciences discovery and technology through education about scientific research, and to serve as a public forum for the exchange of information?
Arkin: First, a shout-out to the Scientific Program Committee, which has been doing a great job at expanding the reach and scientific depth of the SLAS conferences. The committee tracks what sessions people attend, and adjusts the next conference accordingly. However, we also try to keep in mind that it is good to be ahead of the curve, and that we should continue to include topics that start out as the avant garde, e.g., organs-on-a-chip and artificial intelligence, and become central to drug discovery technology.
In terms of communities, in recent years our Scientific Program Committee has done a great job of bringing in academics from a range of disciplines from engineering to cell biology to drug discovery technologies. We have had an emphasis on small molecule therapies in the past, and I would encourage continued expansion into the technologies that enable biologics and cell therapies and the applications of high-throughput technologies into systems biology and synthetic biology.
Datwani: My focus is to serve SLAS by engaging and nurturing people and programs to exchange information; those that help the Society remain nimble, inspire the next generation of engineers and scientists and provide a professional environment where members can communicate, educate, interact and better serve the life sciences global community. Specifically, my continued involvement with novel technologies in start-ups, as well as my continued involvement with the SLAS Innovation Award Committee will enable me to grow technical advancements in the life sciences to further advance discovery and technology.
Furthermore, I have recently been elected to the College of Fellows of the American Institute of Medical and Biological Engineers (AIMBE) and invited to the National Academy of Engineering's Global Grand Challenges Summits and other technical meetings. I plan to leverage my leadership and involvement in these organizations to help SLAS become even stronger by enabling connections to improve our global footprint.
Haas: My lifelong career in laboratory automation and employment at a large organization in this sector provides me with a broad market perspective and early exposure to industry and market trends. With major advancements in technology and science in the digital age, our industry and community undergo change at an unprecedented rate. As a member of the Board, I will do my very best to ensure that SLAS is aware of the challenges of this transformation and prepared to adjust to the industry's changing needs.
What is most exciting to you about taking on this new responsibility?
Arkin: SLAS has been a great organization to be involved with – it is well-run and clear in its mission. I look forward to working with the Board, member volunteers and SLAS professional team that have made the organization what it is, and to learning about the inner workings and challenges of leading an international society.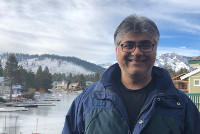 Datwani: With new responsibilities come new challenges, which in this case is not to just serve SLAS members, but to better engage them in activities that match their passion. SLAS's community of 19,000+ have skills and expertise ranging from technical to leadership to advocacy to education, but multiple partnerships are needed to build new initiatives and programs, along with efficient avenues to best implement ideas. This is especially important as our profession grows in number and diversity. My goal is to facilitate these programs and initiatives.
Haas: Laboratory automation has never been as important to companies in achieving their research objectives as it is today. While automation technologies were mainly deployed in the past to gain higher speed and throughput, nowadays demands are shifting to precision, repeatability and the capture of knowledge via data interpretation. In this digital age, there is an increasing need for instrumentation, robotics and higher hierarchy systems to be seamlessly interconnected. While laboratory automation may have previously been utilized as a tool in select areas, companies are now starting to consider laboratory automation as a business strategy. It is very exciting to be part of SLAS as Board member while this transformation is taking place.
Where do you see SLAS making the greatest impact in the next two years? The next five years?
Arkin: There are big shifts in biology and the innovation ecosystem. In biology, I was struck at the 2018 meeting by the focus on human-relevant in vitro models at both the exhibition and scientific program; clearly, cell technology has taken its place alongside hardware in pushing high-throughput biomedical research. As for the ecosystem, academics are playing an increasing role in developing high-throughput biology/technology and utilizing technology in the pursuit of innovative therapeutics, diagnostics and devices. We will continue to integrate technology and biology communities through formats such as Ignite, where academics present collaboration-ready projects.
Datwani: With our presence in innovation, discovery, technology and automation – I envision a large impact where we will start to leverage insights in big data, artificial intelligence in concert with novel capabilities such as gene editing, next generation sequencing, precision medicine and synthetic biology to bring new therapies and opportunities to advance healthcare. I would also like to see membership growth similar to that which we have witnessed in Europe over the past few years to occur also in Asia. This could be achieved through meetings and conferences as well as engaging both the academic and industrial communities.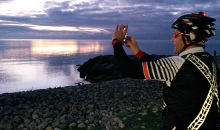 Haas: Our industry is undergoing major changes, one of which is the shift from small molecule to large molecule drug portfolios. Therefore, research devices and instruments that previously had not been part on an automated workflow need to become integration-ready. This can be a major challenge for both the researchers as well as the technology providers. An example of one of these groups currently faced with increased automation and integration demands are the analytics groups in pharma and biopharma. While traditional screening groups are well established and versed in automation, others need to learn quickly and can benefit from our organization through sharing of experiences, knowledge and joining our community. I'm passionate about working with the SLAS Board on recognizing industry trends and proactively approaching research groups with automation needs to broaden the member base and reach of our Society over the next few years.
What would you tell someone who is considering becoming a member of SLAS?
Arkin: The annual conference is a big science party! Come for the insightful program and the exciting exhibition floor; stay for the events and the camaraderie. You don't need to be a member to publish in the journals, but I also encourage people to read and publish in SLAS Discovery and SLAS Technology. It is important to have respected journals to disseminate new methodologies, early drug discovery efforts and the like.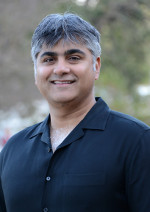 Datwani: Jump in with two feet! This is a unique organization which has excelled at bringing together top tier scientific advancements, forward thinking industry professionals and very high-level academic representation – all with the common goal to advance human health through scientific discovery and technology. SLAS conferences include many opportunities for volunteering – so get involved and become part of the SLAS community. Working with the professional team has been a great experience for me through various committees (poster judging, Innovation Award judging, scientific program and others). Also, I have served as a scientific reviewer for JBS (now SLAS Discovery) as well as an author for JALA (now SLAS Technology). These opportunities have allowed me to grow my technical knowledge base and my professional network, which have helped in my career progression.
Haas: If you are in search of laboratory automation, discovery technologies or screening, this is the place to be! Besides providing vast domain-specific knowledge to the latest advances in technology and science, you meet a truly unique community of scientists and industry professionals. SLAS is not only about technology and science; it is also a group of researchers and technology providers that work together and collaborate like hardly any other industry association. Automation and screening are based on integration and collaboration to make instruments, software, consumables and assay technologies work seamlessly. This is part of our culture and a core value of our Society.
When not involved in work/SLAS activities, how do you like to spend your time?

Arkin: I am writing this from the North Shore of Kauai! So, at the moment, I'm thinking about spending time with my teenage kids, kayaking, hiking and swimming. At home in Northern California, I also like to spend time with my lab and colleagues. I'm a daydreamer, which finds productive form in walking, cooking, meditating, going to museums and traveling.
Datwani: Being with family and friends is how I spend time outside of professional obligations. My wife and I enjoy our three children and participating in their various activities such as soccer, dance, Scouts and coding. I am an avid tennis player and enjoy the great outdoors, international travel, cooking and trying new foods – living in the San Francisco Bay Area certainly offers many options to explore!

Haas: Having immigrated to Canada with my wife, my immediate family (wife and two sons) is an important part in my life. Besides this, I am avid road cyclist and ride with a group of friends in the early morning hours (5:30 a.m. start) before work. A couple years back, my younger son and I picked up scuba diving. Our most recent highlight was a liveaboard trip to the Galapagos Islands.
Is there anything else you would like the SLAS ELN readership to know about you?
Arkin: I want to know what you are excited about and where you think research is headed – introduce yourself at the next SLAS meeting and tell me what is on your mind!
Datwani: I am truly honored and excited to work with the other members of the Board of Directors to drive the initiatives that we will put in place to support the growth and future direction of SLAS.
Haas: I have always enjoyed working with the SLAS team and am looking forward to serving on the SLAS Board, providing my insight and helping to set direction for the future. With our rapidly changing industry, we are at critical juncture of growing the organization and providing a home to new members in this science, technology and automation community.
---
Sidelines
Datwani in SLAS Technology: Technologies That Enable Accurate and Precise Nano- to Milliliter-Scale Liquid Dispensing of Aqueous Reagents Using Acoustic Droplet Ejection
Soccer Parents: Sideline Etiquette
Arkin in SLAS Discovery: A Liquid Chromatography/Mass Spectrometry Method for Screening Disulfide Tethering Fragments
Datwani Inducted into Medical and Biological Engineering Elite