Ready to Serve the World: SLAS2019 Student Poster Winners Showcase Innovative Life Sciences Research

June 10, 2019
Inspiration and determination fuel the scholars who earned top honors in this year's competition. As they unlock the secrets of infection control, disease detection and develop innovative platforms for research, the winners of the SLAS2019 Student Poster Competition draw deeply from their life experiences to excel in life sciences.
---
Meet the winners of the SLAS2019 Student Poster Competition. Captured in their research is development of the first novel, organic multifunctional micellar particles for therapeutic and theranostic applications; a challenge to the current methods used to capture 3D images of C. elegans using line excitation array detection (LEAD) fluorescence microscopy; and a novel, flexible and robust electrochemical sweat chloride sensor, capable of detecting abnormal levels of chloride in human sweat. What drives the winners behind the research is determination to serve the world and supply aid to those afflicted with incurable disease.
Sudip Mondal, Ph.D., took up this quest after both of his parents were diagnosed with cancer at the peak of his academic career. "When I step into a hospital and meet patients who are suffering from any sort of chronic disease, I do feel that we have yet to understand human diseases, but in spite of this helplessness, I feel recharged for creative thinking," says Mondal, a research associate at The University of Texas at Austin (UT Austin, TX, USA). "I am encouraged to innovate new platforms that could help us understand human disease pathology and reduce patient suffering."
Christopher Poon, Ph.D., travels a similar path – his father lost his battle with liver cancer just last year and his mother fought with uterine cancer. "I strive to find a solution for incurable life-threatening diseases that afflict patients around the world," says Poon, a postdoctoral scholar in the Department of Biomedical Engineering at the Viterbi School of Engineering, University of Southern California, Los Angeles (USC, Los Angeles, CA, USA). "Only through cooperation, collaboration and networking can we pave the way for significant breakthroughs for potential clinical translation."
For Antra Ganguly, a doctoral student at The University of Texas at Dallas (UT Dallas, TX, USA), "I feel that the best way to overcome all challenges is to believe in oneself and to believe in the beauty of our shared dream – the dream of making quality healthcare affordable and accessible to every single person on earth," she says.
Each of these students received a $500 cash award for their winning posters and an invitation to submit their work for fast-track publication consideration in one of SLAS's two PubMed:MEDLINE-indexed scientific journals, SLAS Discovery (Advancing Life Sciences R&D) and SLAS Technology (Translating Life Sciences Innovation). Learn more about the students below and in this podcast with SLAS Scientific Director Michael Tarselli, Ph.D.
In addition to this, the trio are among 50 students, graduate students, post-doc researchers and junior faculty members from 12 different countries who earned SLAS Tony B. Academic Travel Awards, which included conference registration, airfare and hotel accommodations at SLAS2019. SLAS travel award recipients also were invited to enroll in a short course at the SLAS International Conference and Exhibition for no additional cost.
Ganguly says it was an honor to receive a prestigious Tony B. award and "all the amazing hospitality that came along with it," she says. "The SLAS machinery operates smoothly, and everyone seems ready to run the extra mile to make it a memorable experience for those attending and participating in the event."
For two-time winner Mondal, who also took home SLAS Student Poster Competition honors in 2017, the award gives him greater visibility in the life sciences community. "I would strongly recommend that everyone enter the SLAS Student Poster Competition to take advantage of this opportunity to highlight your work and be read and followed by scientists and engineers worldwide," says Mondal.
Poon agrees. "SLAS offered me a valuable opportunity to support my personal and professional development through collaboration and networking with world-class researchers across different fields," he says. Winning the SLAS Student Poster Competition helped Poon get one step closer in preparing his skill set "to further develop into a competitive young leader in drug delivery," he says, adding that another step was participating in the SLAS Student and Early Career Mentoring Sessions at SLAS2019.
"In particular, Scott Mosser and Shaghayegh Harbi, Ph.D., offered me valuable insights about early professional careers and the transition from academia to industry during our one-on-one mentoring session," Poon says. "Their stories have inspired me to strive harder in my research."
The Quest to Conquer Cancer
"Having personally dealt with the loss of family members from cancer and other deadly diseases, I want to continue my long-term research goal of developing novel, translatable nanomaterials for biomedical applications," says Poon, who pursued chemistry throughout his undergraduate studies at the University of Washington (UW, Seattle, WA, USA) and graduate studies at the University of Chicago (Chicago, IL, USA).
"During my undergraduate research at UW, I developed computational approaches to the discovery of putative substrates of ubiquitin ligases by simplifying molecular protein-protein interaction using density functional theory. My research to date has focused on developing nanomedicine to address the limitation of clinical solutions," Poon comments. He adds that as a graduate student with Wenbin Lin, Ph.D., at the University of Chicago, his research focused on the development of hybrid-core shell nanoparticles to incorporate multiple therapeutics for combination therapy for various cancers.
"As cancer is a growing concern globally, especially in developing countries, I believe nanomedicine is a strong potential platform for drug delivery," Poon says. His interest in nanomedicine led him to his current postdoctoral position in biomedical engineering at USC, where he works with SLAS Technology special collection guest editor and author Eun Ji Chung, Ph.D.
"My current research serves as a foundation for future work in cardiovascular and immunomodulatory platforms in the lab," Poon says. In his presentation, "Multifunctional Peptide Micelle for Monocyte Targeting and Gene Therapy to Reduce Atherosclerosis," Poon addresses the efficient delivery of microRNA (miRNA), therapeutics that have the ability to regulate multiple genes and signaling pathways involved in the development of atherosclerosis.
Atherosclerosis is characterized by the phenotypic switching of smooth muscle cells (SMCs) from the normal, contractile phenotype to the synthetic phenotype, and the increased buildup of rupture-prone plaques. miR-145, the most expressed miRNA in SMC, has been shown to reduce synthetic SMCs, and decrease total plaque area.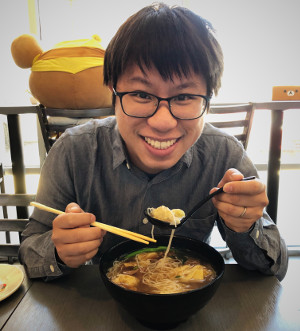 To overcome miRNA's instability during systemic circulation, as well as its inability to escape from endosomal entrapment, Poon developed multifunctional peptide amphiphile micelles (MPAMs) that are able to deliver miR-145 mimics for gene therapy in atherosclerosis. MPAMs were further functionalized with peptides that target SMCs through the chemokine receptor (CCR2) binding motif of monocyte chemoattractant protein-1 (MCP-1), endowing specificity to target atherosclerotic plaques.
His winning poster is opening doors for Poon, and he comments: "The SLAS community has provided me with discussions in designing new platforms and standardizing technologies to solve a significant problem in a high-throughput manner, which is aligned with my own future goals. Thank you SLAS!"
Poon's life outside the lab holds as much zest for discovery as his life in it. "I always like to explore new and exciting things – being outside of the lab is no exception," says Poon, who enjoys spending time with his wife, Xinyue Yang. "She always has been by my side through the ups and downs of my academic career for the past five plus years. Together, we travel the world, explore different cultures and eat new and interesting food."
When the going gets tough in academic life, Poon recommends a bit of wisdom from his own life to fellow students, graduates and early career professionals. "My father always would say to me whenever I was facing a problem in life: 'I know that it is not going to be easy, but trying is what matters. Do not give up even if the road seems hard and rough at first. There are sure to be downsides in your life, but if you keep your spirit up, then you can always accomplish what you set out to do.'"
Exploring the Unknown World
Spurred on by his parents who inspired in him to have an open-minded attitude toward new challenges and taught him to execute all his pursuits with passion, Sudip Mondal, Ph.D., explored science and math from the earliest days of his academic career.
"Growing up in a defense family in India – my father and many other close family members served in the Indian Armed Forces – helped me to become disciplined and follow a set of basic principles in life," Mondal explains, adding that a love for advanced science topics and quantitative methods led him to study physics at the Indian Institute of Science (IISc) in Bangalore, India.
His educational career took an unusual turn as he joined a genetics lab with research training in engineering science where he learned about basic neurobiology using model organisms, a move that introduced him to interdisciplinary research. Another important turn occurred during his Ph.D. thesis, also conducted at IISc. He was re-introduced to DNA biology, a topic that he had lost interest in during school, and was reminded that it is "the most beautiful machine that drives life," he comments. "The subject helped me learn how to draw analogies with my engineering tools and explained many of the mathematical models I had been learning."
Mondal, now a research associate in the lab of Adela Ben-Yakar, Ph.D., at UT Austin, continues to be fascinated by the merging of engineering tools with fundamental biology to explore the unknown world. "This new approach and rational thinking have enabled me to innovate novel platforms and to address new research problems," he comments.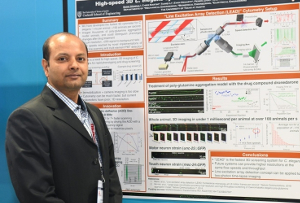 In his presentation, "High-speed C. Elegans Cytometry at 0.8 Million Frames Per Second," Mondal addresses the challenges of current methods used to capture 3D images of C. elegans using LEAD fluorescence microscopy. The high frame rate is obtained through fast line-scanning at 0.8 MHz using an acousto-optic deflector, and imaging of the line by a linear photomultiplier tube array. While Mondal uses the LEAD microscopy as a cytometer for C. elegans, it also could image animals moving at over 1 m/s with 3.5 µm resolution and signal-to-background ratios >200. By imaging up to 300 animals per second, the team could distinguish changes to a polyglutamine aggregation model after drug treatment in under 0.25 seconds. The detection sensitivity measurements indicate future LEAD systems can provide higher resolution at the same imaging speeds.
Because his own persistence led to success, Mondal encourages those working in interdisciplinary research to persevere in their goal setting. "You have already overcome the biggest challenge by crossing the boundary between scientific disciplines and that requires a tremendous amount of courage," says Mondal, who keeps his creative thinking fresh by escaping daily into nature and the local playground with his wife, Reshmi, and son, Sutirtha. "It helps me to relax and return with more energy, fresh ideas and innovative approaches," he says.
He advises his fellow life sciences early career professionals to expect challenges in the life sciences path. "Face them boldly since every challenge develops new learning and a positive feeling once it's overcome," Mondal comments. "Always try to keep yourself flexible and adaptable to new technologies that constantly improve to serve the world better. Judge every new opportunity with your logical sense and embrace the path that can lead you to become the frontrunner."
Pursuing Research with Greater Gusto
"Since high school, I was fascinated by both math and biology, and I've always had a hard time choosing which among the two I like better," says Antra Ganguly, M.Sc. "Guess what? I don't have an answer to this date."
She credits her father with her inspiration to pursue the field of life sciences. Ganguly's father, a mechanical engineer, "has spent more than 30 years inspiring young minds, such as mine, to pursue science and make a difference in the world," she comments. "While visiting him at work as a kid, I remember being in complete awe of the people working in labs. That's when I decided to pursue engineering when I grew up."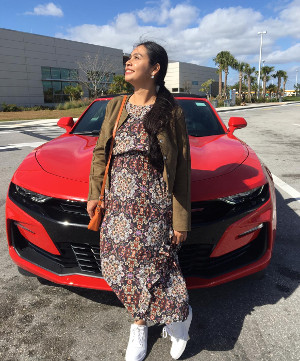 Ganguly earned an undergraduate degree in electrical engineering from Bhilai Institute of Technology (Durg, India) in 2017. Later that year, she moved to the United States to pursue a master's degree in biomedical engineering at UT Dallas and is currently a doctoral student working with SLAS Fellow Shalini Prasad, Ph.D., in the Biomedical Microdevices and Nanotechnology Laboratory at UT Dallas.
She feels that the multidisciplinary aspect of bioengineering is what draws her into the discipline. "It allows me to use my wet lab skills and my electronics background to realize my dream of building economical yet highly accurate diagnostic devices for improving quality of life, especially in developing nations," Ganguly comments.
A step toward her career goal is the research she presents in her award-winning poster, "A Passively Addressable Electrochemical Sensor for the Detection of Chloride Ion Levels in Ultralow Volumes of Perspired Human Sweat."
Ganguly's team developed an electrochemical chloride sensor that is passively addressable and conveniently eliminates the need to obtain and collect considerable volumes of sweat for sensing (by physical exercise or by chemical or electrical stimulation of the sweat glands), allowing reliable real-time measurement of chloride ion concentration in ultra-low volumes (1-3 microliters) of human sweat.
This impedance-based chloride sensing mechanism, when rendered as a point-of-care device, can be used at home to reliably detect, monitor and track the efficacy of cystic fibrosis (CF) treatments and to plan visits to the doctor's clinic. The performance of the developed sensor is unaffected by bending and ambulation, thus it potentially can be developed as a wearable device for dynamically tracking the hydration levels of athletes or sportspersons while on the field by monitoring their sweat chloride concentrations.
Receiving the student poster award for her research and witnessing the recognition of her work among such a great global scientific community, "instills in me a greater sense of confidence and motivates me to march on ahead with my research endeavors with greater gusto," says Ganguly, who revitalizes her energy for research by playing chess, cooking and yoga. "The SLAS Student Poster Competition is an unparalleled opportunity to interact with the best and the brightest minds in both academia and industry and getting their invaluable feedback."
Get Involved at SLAS2020
Interested students can apply for an SLAS Tony B. Academic Travel Award for SLAS2020 or enter the SLAS2020 Student Poster Competition. Access the website for complete details on SLAS2020, set for Jan. 25-29, 2020, in San Diego, CA, USA.
---
Sidelines