SLAS Grant Winner Accelerates Point-of-Care Concept for Rapid Identification of Bacterial Pathogens

August 12, 2019
Promising results in hours instead of days, eliminating bottlenecks in processing lab results and succeeding in getting the right diagnosis and quick treatment to prevent the spread of infection – delivering any of these would be a tall order for a seasoned researcher. Now a graduate student has the opportunity to help fill the bill thanks to support from the 2019 SLAS Graduate Education Fellowship Grant.
---
Carine Nemr, a Ph.D. candidate in bioanalytical chemistry at the University of Toronto (Toronto, Ontario, Canada), wants to streamline patient diagnosis when dealing with infection. "The existing process requires shipping patients' biological samples to a centralized lab, which creates a bottleneck in the process of identifying the cause of the infection," says Nemr. "We all know the anxiety created by going to the doctor and waiting for results. It's important to get the right diagnosis and the correct treatment quickly to prevent the spread of infection."
To achieve this, Nemr is developing a rapid diagnostic tool for the identification of bacterial pathogens such as methicillin-resistant Staphylococcus aureus (MRSA) and potentially expanding applicability to include detection of carbapenem-resistant Enterobacteriaceae (CRE) that may cause sepsis. Nemr's concept, which integrates existing technologies developed in the lab of 2016 SLAS Innovation Award winner Shana Kelley, Ph.D., merges an electrochemical analysis system that is plugged into a microfluidic concentration system to make sensitive measurements of antibiotic-resistant bacteria using nasal swab samples drawn from patients.
Kelley explains that Nemr's integration of existing technologies is important. "Sometimes we're too busy developing new tools as academic researchers – we're always moving on to the next new thing," she explains. "Carine is showing that you can develop something powerful when you look at tools that are out there and start putting them together."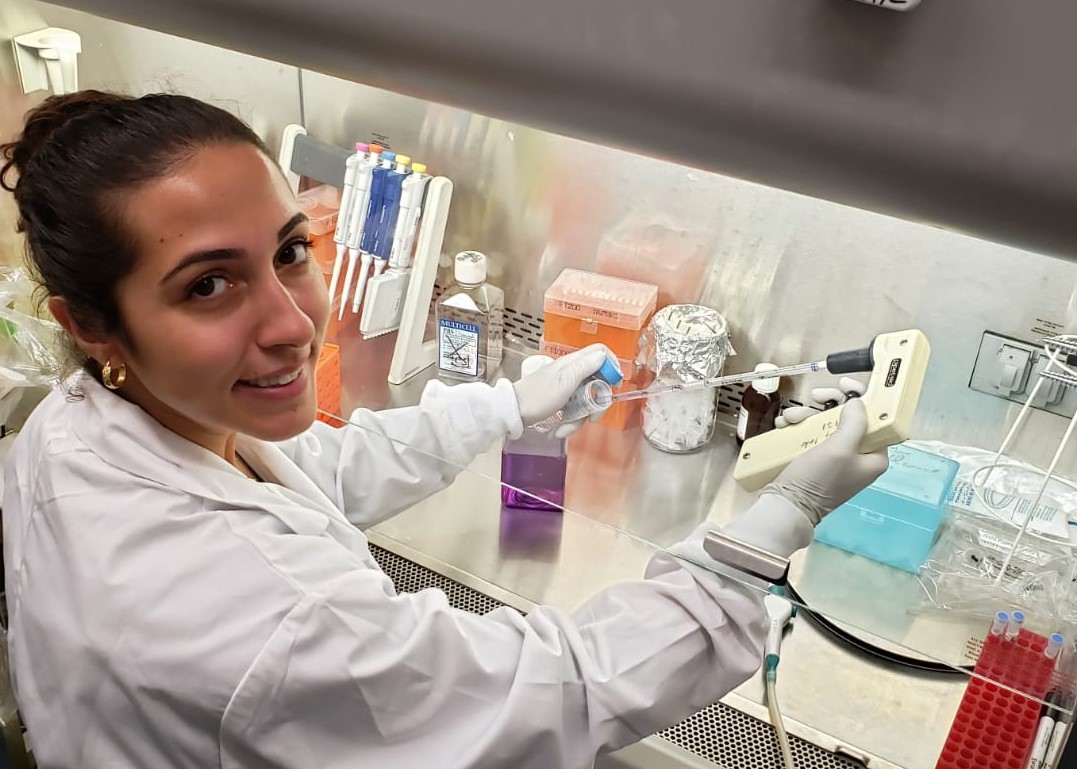 With the support of the $100,000 SLAS Graduate Education Fellowship Grant, awarded over two years, Nemr will fully develop and validate the proposed technology. "Carine's been working on this concept for a while and has made good progress," says Kelley. "Now that we have the foundational work completed, she is ready to move on to target some challenging clinical applications." Kelley notes that the university's close proximity to more than 10 clinical centers in the area puts the lab in a unique position to form close collaborations to test and validate the diagnostic device, which also is receiving support from the Canadian Institutes of Health Research (CIHR).
"Having additional support from the SLAS grant gives Carine an opportunity to be research intensive," Kelley continues. "The grant is generous and allows students to focus 100 percent on making research breakthroughs. When you're thinking about a problem 24/7, and not distracted by other things, it helps you think more deeply about the problem than anyone ever has."
Nemr, who is the fourth recipient of the SLAS grant and the first from Canada, agrees. "The SLAS grant will not only advance my research, but also will allow me to share my work through the SLAS journals and the SLAS International Conference and Exhibition," she says. "At the end of the day, this is why we're doing science. The goal is to inspire future researchers to take this science and push it forward to make continuing discoveries."
Miniaturized Technology for Expanded Potential
Nemr's fascination with bioanalytical chemistry began at McMaster University (Hamilton, Ontario, Canada) during an undergraduate thesis project in the lab of Philip Britz-McKibbin, Ph.D., a professor in the Department of Chemistry and Chemical Biology. Britz-McKibbin's group focuses on both fundamental and applied studies in bioanalytical chemistry when using capillary electrophoresis-mass spectrometry (CE-MS) to expand metabolomic initiatives. Nemr's thesis research investigated the effect of sodium bicarbonate pre-supplementation on high-intensity interval training in 140 blood samples by developing a method to quantify cations using CE.
"We used CE to find sodium and potassium in small samples of blood, which requires a large machine in a centralized lab to do the analysis," Nemr explains. "It's not feasible to have a large machine performing analysis inside the doctor's office or in a remote-access area where resources or electrical supplies are limited. You can't really use these types of instruments to detect whatever target you are looking for with your test." The problem so intrigued her that she decided to pursue graduate studies in bioanalytical chemistry at the University of Toronto after she completed her undergraduate degree from McMaster in 2015. The Kelley lab's work immediately caught her attention.
"One of the things that drew me to the Kelley lab for grad school was its ability to take diagnostic techniques that are used in clinics and shrink them down into a miniaturized platform," Nemr says, explaining that miniaturization offers the potential for rapid, point-of-care diagnostics that provide target detection wherever it is needed – in a doctor's office, patient's home or a remote area.
The technology she will develop will shrink the large machine in the centralized lab into a device that directly concentrates bacteria from specimens via magnetic nanoparticle-mediated microfluidic capture to specifically collect antibiotic-resistant bacteria. Detection approaches utilizing electrochemistry and fluorescence microscopy ensure that only those bacteria with the correct strain and resistance profile are measured. While this novel approach has been used for PCR-free sorting of circulating tumor cells, it is not being expanded to bacterial detection.
Nemr's research and development requires working across several disciplines – something she enjoys. "On paper, I am a bioanalytical chemist, but in the lab, on a given day I might be a microbiologist or an engineer. Trying new things gives me the opportunity to see new fields. The field of life sciences is very interdisciplinary," says Nemr. "There is so much to learn and explore – so many new ways to apply either existing or novel technologies. There are a lot of unmet needs, not only in healthcare, but also environmental and pharmaceutical industries."
Kelley is impressed with Nemr's intuition in her lab work. "She designs great experiments, she's persistent and she's someone who is a joy to work with," Kelley says, adding that Nemr is great at explaining what's she's doing and why it's important. "These are skills that not every graduate student has. She's very well-rounded in every respect, which makes her a superstar researcher."
Nemr credits her success to good mentoring. "Shana and my other mentors have been extremely supportive of my career goals. Shana gives me the green light to pursue side projects that often help drive my career development," Nemr continues. "She even actively seeks out opportunities to help me build up my CV and makes certain that my experience is well rounded so that when it comes time for me to start my career, I am desirable to the job market. Without this encouragement and support from my other mentors through the years, I don't think I could achieve all the things I have, including my extracurricular activities beyond the lab."
A Balancing Act
Always one who wanted to experience many things, Nemr cultivated a solid work ethic from early in her childhood that included heavy emphasis on time management. This allowed room in her busy academic schedule for activities from piano lessons and student council meetings to volleyball and soccer practices, and even a bit of acrobatics.
"You have to make certain that you allocate the correct amount of time in a given day to accomplish a task," Nemr says. "Although I am a graduate student by definition at this point in my life, I also do many other things." She buffers the challenging mental activities in the lab with smaller tasks – hot yoga sessions, intramural volleyball games and teaching science workshops to elementary children – that build her personal wellbeing along with research success.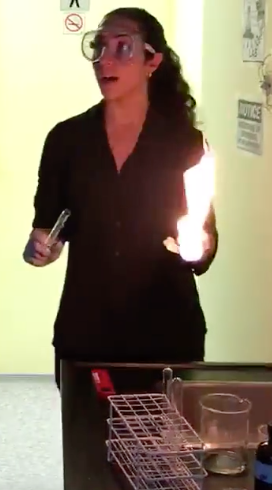 "It helps me get a lot done, and not feel like I'm doing one task for six hours straight," Nemr says. Her current schedule includes a generous amount of time to mentor undergraduates pursuing higher studies through volunteer programs sponsored by the Chemical Institute of Canada and the Women in Chemistry of Toronto. She also serves as a volunteer organizer and teacher through programs such as the Canadian Association for Girls in Science and Science Rendezvous. In these roles, Nemr hosts STEM workshops at national science festivals and in-lab visits geared toward elementary-aged children.
"I've studied a lot of general science, so when I educate others on the STEM fields in a broader context than my research, it's a way for me to recharge my creativity and view life sciences from a different lens," Nemr explains.
"It's a fun way to think about science beyond the serious environment of grad school. We examine the chemistry behind what makes popcorn pop, for example. I like teaching them to think about the why behind everyday occurrences," Nemr continues, describing the joy of seeing young aspiring students smile when they relate something from everyday life to a principle in chemistry. She reserves some of this joy and applies it to coaching herself through new and challenging research.
"Thinking in a rigid manner as a researcher is not really conducive to life sciences discovery," Nemr says. "Research is exciting. You don't know what you might discover, and at the same time it can get very challenging because it's not very predictable. Often times you are performing experiments that may fail or can't be repeated. It's important to stay positive. I think being ready to shift gears, being open to learning and applying new concepts is the way to advance science."
SLAS, a Champion of Next Generation Researchers
Another path for advancing science, according to Nemr, is participating in the SLAS International Conference and Exhibition. She describes preparing her research for her first-ever poster presentation at SLAS2017 in Washington, DC, as a critical step in her professional development. It's an activity she encourages others to pursue.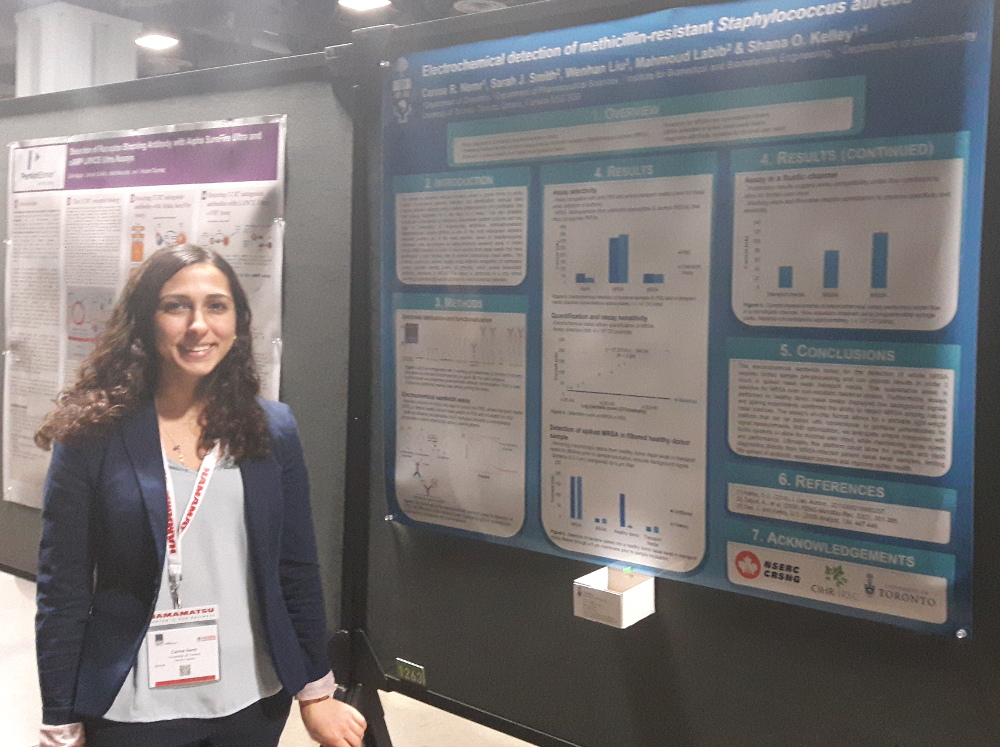 "Developing the poster for SLAS2017 gave me the opportunity to step back from my research and look at the big picture," she says. "At that point in my degree, I felt that I was past my learning curve in this area and starting to see some promising data on my projects. It was important to summarize the takeaways of my progress at that point in time and capture it in the poster presentation."
Immersing herself in the conference experience, Nemr found the scientific podium presentations were not like any conference she'd attended before. "Typically, the majority of the talks you go to are given by academics in the field. At SLAS, industry representatives often took the podium," Nemr explains. "SLAS creates many opportunities for academic researchers to bridge their work with industry representatives – through the journals, conferences and grants. I think that's what makes SLAS so unique compared with other organizations."
Nemr found exploring the exhibition to be a memorable experience. "The exhibit blew my mind! The number of exhibitors was endless, and I got the opportunity to talk to people from many different companies," Nemr recounts. "I was very early in my degree during SLAS2017, and I had people offering me jobs!"
She delights in the incomparable support the Society offers to students, graduate students, post-doctoral associates and junior faculty, and encourages others to pursue both the SLAS Graduate Education Fellowship Grant and the SLAS Visiting Graduate Researcher Program.
"The SLAS grants help next-gen researchers form many connections within their field," says Nemr. "The grants support a graduate student's research and also their professional development. These key assets help students become more employable once they get to the workforce."
---
Sidelines
SLAS Educational Fund Nurtures Scientific Innovation by Assisting the Next Generation of Innovators
SLAS Technology: Read Shana Kelley's Review of Recent Advances in Rapid Bacterial Identification and Antibiotic Resistance Profiling