November 13, 2023
The high school recipients of the first scholarships from SLAS and The National Organization for the Professional Advancement of Black Chemists and Chemical Engineers (NOBCChE) boldly examine environmental waste, its impact and how to make change happen.
---
Nathaniel Gauthier (Philadelphia, PA, USA) and Marygrace Pelekamoyo (Houston, TX, USA) harness their love of science and their passion for the environment while securing their prospects in science, technology, engineering and mathematics (STEM) education. As winners of the first SLAS-NOBCChE Scholarships, the pair each receive $50,000 toward their college endeavors, enjoyed an honored visit to the NOBCChE 50th Annual Meeting, where the scholarships were presented, and will have the opportunity to attend SLAS2024 to be inspired by a wide variety of scientific disciplines and innovation.
The scholarship, generously funded by Pfizer and Amgen, aims to increase the diversity of the global STEM workforce by supporting young people of color, who are often underrepresented in the STEM field. The program offers Gauthier and Pelekamoyo with more than financial assistance, it also provides ongoing mentorship as they complete high school and begin pursuing their respective college degrees in the STEM arena.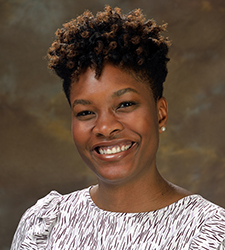 "The scholarship program not only presents students with an opportunity to explore their ideas in STEM but they also collaborate with professionals in the STEM fields and are exposed to a vast array of careers, potential mentors, and resources. The application process was designed so that each finalist was provided with a variety of perspectives, insights and observations to consider when expanding their ideas into full project proposals, all of which are critical skills in STEM," says NOBCChE Member-at-Large Ashley Wallace, Ph.D., associate director of Diversity & Student Engagement for the Laboratory for Research on the Structure of Matter at the University of Pennsylvania (Philadelphia, PA, USA).
"I'm happy and honored to have been a part of the process in developing this scholarship," Wallace continues. "From merely a spark to seeing our idea grow into this amazing and transformative program, I'm hopeful we can continue moving forward and evolving our efforts for supporting individuals who may not necessarily have access and resources but have aspirations to pursue degrees and careers in STEM. The ultimate goal is to ensure that opportunities for growth and success in these spaces are available to all, regardless of their background or circumstances."
As part of the SLAS-NOBCChE scholarship application process, students submitted an idea for a STEM research project in the form of a research abstract, which a review board composed of members of the two organizations carefully reviewed. After selecting six finalists, who were expertly paired with a STEM professional to advise on their work, the review board asked the finalists to participate in an additional video-conferencing presentation.
"This scholarship is more personal than others for which I have applied," comments Pelekamoyo, a senior at J. Frank Dobie High School (Houston, TX, USA), who is also nearing completion of an associate degree in STEM studies. "Many scholarship applications give you a prompt, require an answer and then you wait to hear if you won or not. In applying for the SLAS-NOBCChE Scholarship, you're asked how implementing your ideas can change the world, then reviewers give comments on your ideas and mentors help you prepare your final presentation. There's a lot of interaction."
Gauthier, a junior at Carver High School of Engineering and Science (Philadelphia, PA, USA), enjoyed developing his idea throughout the scholarship application process. "The process pushes you and allows you to learn vital life skills that you will need not only going through the rest of your education, but also your career," he comments. "The fact that this scholarship opportunity allows high school students like me to pursue actual research, talk to real scientists about their work and learn about science skills is great for whatever career you want to pursue."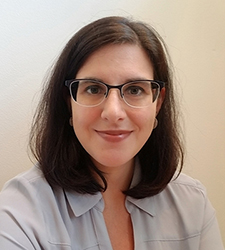 Stephanie Salerno, Ph.D., program coordinator for SLAS (Oak Brook, IL, USA), agrees. "This is the student's opportunity to connect with role models and mentors while crafting a path through the life sciences," she explains. "By reaching out to high schools, SLAS and NOBCChE can recruit people into the field earlier, and with support, allow them to explore different careers and develop their professional identity while bringing more diversity into life sciences."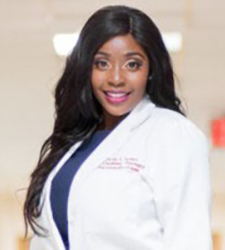 NOBCChE National Secretary Victoria Parker, Ph.D., an associate manager, research program management at Regeneron (Tarrytown, NY, USA), notes that the two organizations plan to build a wider net of professionals to serve as mentors and expand the number of applications. "We're hoping to double the number of applications next year," she says. "The applicants can truly benefit from learning and working with the incredible scientists available through both organizations."
Parker adds that the scholarship's continuing exposure will help attract more funders as well. "Pfizer and Amgen have been remarkable funding sponsors and are always there to help these talented and deserving students," she comments.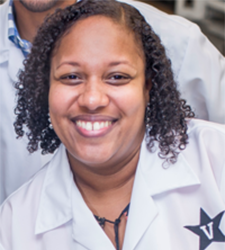 Regardless of the outcome, program mentor Julianne Vernon, Ph.D., who advised Pelekamoyo, comments that the application process is good experience. "It is prestigious to put this scholarship on their resume when they're looking for those first few internships. Those can be hard opportunities to find," says Vernon, who holds multiple roles at Vanderbilt School of Engineering (Nashville, TN, USA), including associate dean for academic success, assistant professor of the practice of chemical and biomolecular engineering. "Students can draw from this experience when they get to college and talk to faculty. Participating in this program shows that the student has the skills and mindset for developing into a scientist."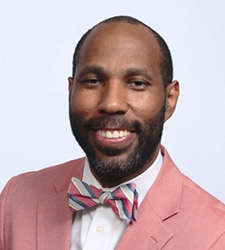 For program mentor Erick Ellis, Ph.D., a regulatory scientist for Cardinal Health (Jackson, MS, USA), who advised Gauthier, the scholarship represents a bright start to the long educational path frequently required in STEM. "This scholarship gives students a starting foundation with a bachelor's degree," he explains. "There are so many people who dream of having a college degree, and this opportunity gives them the next step of learning."
Vernon also believes the scholarship gives students an opportunity to focus on the institution that best fits their academic goals, versus one that is merely affordable. "It frees students to think about the commitment they are making to a higher education," she says, adding, "You never know who you're going to match up with for a mentor and how that interaction's going to develop." Vernon comments that she is in touch with her mentors from 30 years ago and hopes that the same connection results for her and Pelekamoyo.
Pelekamoyo commends the scholarship's mentoring process and eagerly anticipates a day when she's on the other side of the equation. "In a few years, I'm coming back to SLAS and NOBCChE and asking to mentor someone! I'm willing because I hope to influence and inspire other students as I have been. I would like to be their ultimate resource," she comments, recommending that potential applicants jump on the scholarship opportunity.
"Find something that interests you, put it on paper and put it out into the world. Someone will like it and take an interest in it," Pelekamoyo says. "The worst thing they can say is 'no,' and the best is that it develops."
Getting Back to Nature
Taking her idea for finding sustainable, localized solutions for e-waste from concept to action was a bit daunting, but Pelekamoyo persevered, relying on her inquisitive nature to drive her forward.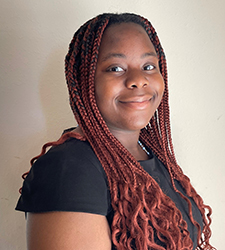 "I've always been interested in science and how things work," comments Pelekamoyo, who is inspired by her father's engineering career. "I've always asked myself questions that motivate me to look deep into why things are the way they are."
A simple question — "Why can't we throw away batteries?" — led Pelekamoyo to her scholarship-earning research project, an exploration of how byproducts of all e-waste (computer chips, circuit boards, cell phone batteries, etc.) affect plants placed in soil sourced from landfills, compost and natural soil. Specifically, she is researching phytoextraction and how plants can absorb heavy metals through their roots and concentrate it in their tissues to help clean the environment. It's an idea that's been on her mind for some time.
"The story I tell is that my mom was throwing away some batteries. I told her, 'Mom, you're not supposed to do that.' She wanted to know why and I explained that I read somewhere that there are individual recycling options for batteries depending on their chemistry. I promised her to do more research, and that's what led me to this project — learning what battery disposal does to our soil and why e-waste is such a big problem," she explains.
"When we think of recycling technology, we think of the methods we use now — we burn it, put it in acid or dig underground. While these methods work, they're complex and require tons of workers and huge factories," Pelekamoyo continues. "That's why I want to explore phytoextraction. It can be done anywhere. You just need a plant. It's how the Earth naturally boosts itself."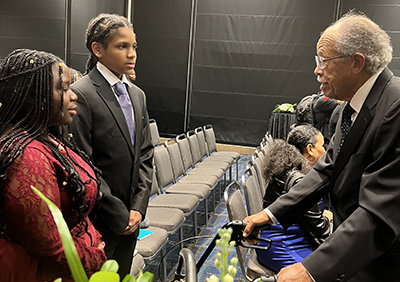 Based on Pelekamoyo's research and development requirements, she was paired with Vernon, whose work at Vanderbilt involves mentoring first-year students through a summer bridge program that helps them transition to college. In her discussions with students, Vernon encourages them to consider what they want to do and presents options for achieving it.
"Students have goals, but many times, they're not certain how to get there. I want them to be confident in the decisions they make and the next step to take after they achieve their goals," Vernon says. A similar process unfolded between her and Pelekamoyo as the duo worked on the final presentation for the scholarship.
"I wasn't sure I could do it. However, when Dr. Vernon explained the process, what once looked like a lot was really not too overwhelming," says Pelekamoyo, who is president of the academic decathlon team and works within her community as a child life volunteer at the University of Texas Medical Branch at Clear Lake (Houston, TX, USA).
Vernon comments that Pelekamoyo is an excellent student to mentor and a great candidate for the scholarship. "Marygrace is self-motivated and willing to put in the work to accomplish goals," she comments. "I admire her work ethic. Her specific project in examining heavy metals is something that I did in my Ph.D. work. It's exciting to me to see this develop."
Vernon observes that the first approach of Pelekamoyo's project was quite broad. "Marygrace had to hone some key variables of her plan," explains Vernon, adding that the pair agreed early on to be open with their conversations. They communicated via emails, exchanged files in Dropbox, and then connected via videoconferencing every other week, using the six-week span to propel Pelekamoyo from finalist to scholarship winner.
"I asked some tough questions," Vernon continues. "Marygrace read published research and made decisions about where she wanted to pivot her project to make it more reasonable for finding a solution. I wanted her to consider how you put boundaries on projects to create a solution that is specific toward achieving a goal."
"Dr. Vernon is very educated and insightful, so I was able to ask her fairly any question," Pelekamoyo explains. "When she didn't know the answer off the top of her head, she pointed me in a direction to get the correct answer on my own. I really appreciate that, because knowing where to look is quite valuable."
After receiving the scholarship, the plan is to input the research, establish a grant and eventually commit to a physical project, recording it and seeing the results. "We hope to present what I discover at a conference and eventually establish an organization that fights for limiting and reducing the amount of e-waste," says Pelekamoyo.
A Quest for Clean Water
Gauthier's project has a similar environmental focus — studying a graphene oxide adsorption method to benefit ecosystems and its cost effectiveness in removing microcystins, a common freshwater toxin. Using a protein phosphatase inhibition assay, shown to be effective in numerous papers at detection, Gauthier will measure the concentration of microcystin-LR, microcystin-RR and microcystin-YR in wastewater and treated water samples in order to quantify treatment efficacy.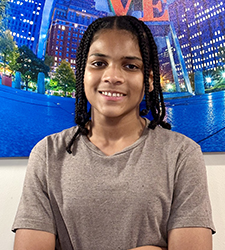 "The most interesting part of the research was learning about these toxins," comments Gauthier. "Undetected, the toxins permeate recreational water sources and cause some severe damage to neighborhoods like mine. I enjoyed researching the solutions and discovering information from the literature that brought the project into perspective. This work allowed me to have a more concrete idea of why I am doing the research in the first place."
Gauthier became interested in life sciences and biomedical engineering during the COVID-19 pandemic. "As I watched them race to discover a treatment, I was amazed by the technology created and it pulled me into discovering the field," he explains. "There were also opportunities at my school to learn from amazing scientists in the field, who came from rough backgrounds. Their stories and research were incredible. What motivated me to explore the life sciences is that it's an area of science that actually can be applied to helping ordinary people who don't have access to everything."
Engineering has been a life-long interest for Gauthier as well. "My family members always used to tell me that when I was barely walking, I would open and close the door constantly to actually analyze how it worked," he says with a laugh, adding that he has had to reach outside himself to develop skills he considers to be less easy to cultivate than mechanical curiosity.
"I'm more of an introverted person. I was very unfamiliar with reaching out to people and networking. It was new to me and didn't come naturally," he says, adding that asking questions sometimes made him hesitant as well. "What ended up clicking in my head is the fact that the worst that a person can say is 'no.' They're not going to chastise you for asking a question, right? And if you're the one to reach out and take the initiative, then you have a leg up in the situation."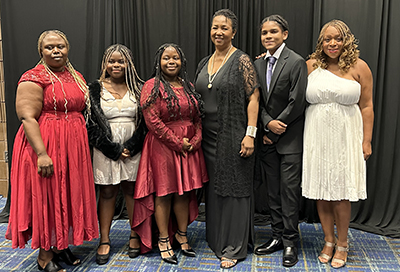 Gauthier encourages other applicants to put aside any misgivings or self-doubt in the application process for the SLAS-NOBCChE Scholarship. "At first, I didn't have a lot of confidence coming into the scholarship program, but I paused these thoughts and considered that this opportunity can actually help me achieve my goals," he says, adding that the great support he received from NOBCChE leadership and the mentor he was paired with during the finalist preparations kept him going.
"I kept thinking that I couldn't let people down just because I felt a bit intimidated," says Gauthier, who enjoys volunteer opportunities within his community, and participating in activities such as the Carver Quiz Bowl team, the Science Olympiad and Heights Philadelphia scientific programs. "I knew that this scholarship was something I wanted to take seriously and approach in a disciplined manner."
From his first meeting with Ellis, Gauthier says the pair clicked. "He is an amazing mentor. Every time we met, he showed up with drive and dedication. He took the development process seriously. I've never met someone who does it quite like that, so that was an amazing first impression," Gauthier comments.
Ellis was equally impressed and describes Gauthier as hands-on, intelligent and determined. "I love his work ethic," he continues. "I can tell he is purposeful, and that he wanted to do well on this project. He did the bulk of the work himself. Our mentoring bond grew stronger from our first interaction."
Ellis also appreciated the graphene oxide treatment aspect of Gauthier's research. "It's something I would do," Ellis continues. "I made a few suggestions and Nathaniel was off and running. I knew it would be successful — he inspires that kind of confidence in me. My hope is to continue our mentorship beyond the scholarship research project. I want to see how his work develops as he moves through his education."
For Ellis, mentoring is a way to pay forward the help he received along the way in his career. "I have been mentoring since I was a first-year student in college. I have always looked for ways to help others with research," he comments.
As the project unfolds, Ellis and Gauthier plan to meet in Philadelphia and test water. "That's number one. The second aspect is conducting an outreach," says Ellis. "We want to give it to universities, high schools and elementary schools to demonstrate to students — and even local people — that you can actually test the water yourself. Water is life. This type of research is important to all of us."
---
Sidelines
Get Involved! Recommend the SLAS-NOBCChE Scholarship to Mentors and Students
Read More in SLAS Technology: Detection of Bacteria in Water with ß-Galactosidase-Coated Magnetic Nanoparticles