October 9, 2023
Accessibility, sustainability and data management are big topics in life sciences with many options. An upcoming SLAS Electronic Laboratory Neighborhood article focuses on these three issues and offers some interesting starting points recommended by these thought leaders. Read more for a snapshot of the upcoming article and what labs can launch now to advance progress in these areas.
---
What simple first steps can life sciences labs take to advance the areas of accessibility, sustainability and data management?
Accessibility: A Steady Path to Flexible Facilities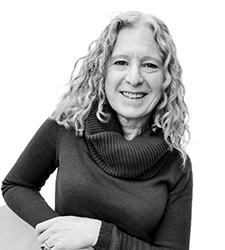 Laboratory architect Marilee Lloyd, AIA, recommends making changes to the lab's physical layout and design when opportunities present themselves. In her line of work, laboratories frequently consider renovating existing facilities versus launching new construction ventures. Renovation can be more cost effective when the appropriate infrastructure is available. She recommends going a step further — that labs be on the lookout for any opportunity to adopt flexible options that improve accessibility.
"If an accommodation is needed, often it can happen at the time new equipment is installed," says Lloyd, an associate principal and national laboratory planning leader at HED (Royal Oak, MI, USA), one of the largest and oldest national architectural and engineering design firms in the US. "Our focus at HED is to try to transition to flexible and sustainable labs. You can't do everything to make certain you're future-proofed to the nth degree, but you can do a lot to set yourself up for success. The bonus points of adopting flexible lab design — one with adjustable height desks and benches, for example — is that mindful design decisions can be made now to accommodate change that may occur in the future.
"Lighting is another example of an easy change. Switching from fluorescent to LED has been an enormous boon to a lot of people because it uses less energy and is far more controllable in terms of visual impairment.
"There are a lot of ways to benefit everyone working in the lab. It's helpful to overall health and wellness, for example, to bring in elements that can reduce stress. We can add windows that reveal green space outside or biophilic elements indoors that capture more natural forms and design, such as a graphic on the wall or adding organic elements to the ceiling plane or etched into glass."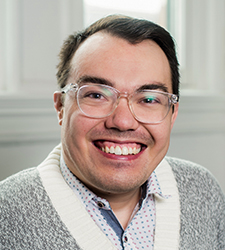 A recent SLAS New Matter Podcast guest, Logan Gin, Ph.D., further suggests that making accommodations is easier to implement when the change assists in several areas — such as adding a ramp that aids many people from the delivery person pushing a dolly, to the parent moving along with a stroller or the individual operating a wheelchair.
"Universal design is helpful for all individuals, including those with disabilities," notes Gin, who is assistant director of STEM Education at the Sheridan Center for Teaching and Learning at Brown University (Providence, RI), where he works on initiatives related to STEM graduate student and postdoc teaching professional development.
Gin further comments that implementing change must include having an open policy to approach management teams with requests from those living with disability — both those that are apparent, such as use of mobility devices, and those that are less apparent, such as accommodations to support learning disabilities.
---
Sustainability: Ease into a Program and Use Smart Sourcing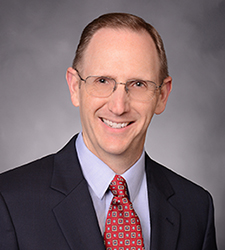 "The easy steps toward sustainability are the ones that don't require you to do a lot extra," notes Brian Iglehart, director, biologics engineering global laboratory automation at AstraZeneca (Gaithersburg, MD, USA). "Our biggest success at AstraZeneca is a simple promotion called 'Shut the Sash' for the biosafety cabinets. Closing the sash puts them in a lower power mode. It's remarkably simple. You could have somebody that's coming in and cleaning up at the end of the day do this easy task."
He also cautions: "I knew of a facility where the maintenance people were turning down the environmental controls on the weekend when people weren't there. What happened every Monday was all their assays were failing because they didn't allow enough time for all the large equipment to equilibrate to the temperature changes."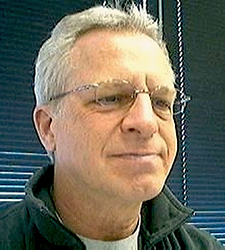 David Hicks, chief operating officer, head of quality at Kemp Proteins (Frederick, MD, USA), agrees, recommending that companies purchase timers. "If you have equipment that requires a warmup for an hour before it's used, set the timer to come on an hour or more before hand. For some equipment, you can change its hibernation point.
"Moving on to some bigger systems, such as the air conditioning and furnace, many laboratories — ours included — have to be kept stable through the 24-hour period. However, at night we do take a few degrees off the heat cycle or increase the A/C cycle. We're saving some money and electricity."
Freezers are another energy waster, according to Hicks. "In our company, we use both the minus 20 and minus 80 freezers. The moment you have a freezer that starts to build ice or isn't full, it starts to cost more money," he notes, describing how KEMP adopted a cycle in which a freezer comes out of use every three months. "It will be emptied, thawed and then restocked again. If we have a freezer less than half full, we will fill it with polystyrene and things like that to reduce the power requirements.
"With this in mind, our company got rid of two of three of our minus 80s and replaced them with new, more energy efficient models. For companies on a tighter budget, look at auctions and the second-hand supply market.
"To conserve water, the last person to leave at night from the building also makes certain that all the water taps are off. We've seen our water usage go down over time. We also clean our water baths once a week. It's using water you don't necessarily need, but you also can convert to a bead bath.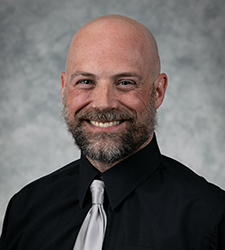 "In regard to consumables, use an inventory system that tracks maximum quantities needed. This should prevent you from over-ordering and not using products by the expiration date. If you think of the amount of energy and cost that's gone into producing something that you may over-stock and dispose of when its shelf-life ends, that cost is phenomenal. We're using a system that costs us nothing and allows us to work on maximums to monitor what's being taken in and out of inventory. We also try to use suppliers that engage in sustainability."
Steve Vitale, a sustainability innovation lead for GSK (Collegeville, PA, USA), agrees. "I also recommend bringing sustainable products to the front end of the business, so that you generate more sustainable products in the back end. There are simply more outlets to dispose of it at the end of its life."
---
Data Management: Develop a Team Approach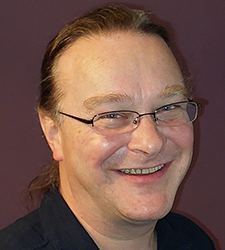 Stephen Brough, medicine design data strategy and design manager at GSK, (Stevenage, UK), says the best first approach to better data management is selecting a team, instead of an individual, within your organization to tackle the challenge.
"The task — like drug discovery itself — requires a multi-disciplinary team. Identify the different skills you've got on the team and any gaps you need to fill to reach your destination. You need to bridge the gap between biologists, who describe an experiment, and IT people, who describe a computer system."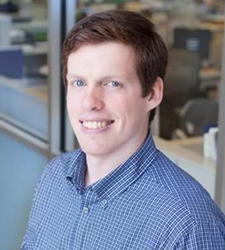 Paul Jensen, Ph.D., assistant professor of biomedical engineering at the University of Michigan, Ann Arbor, (Ann Arbor, MI, USA), suggests getting data scientists out of centralized data science groups and into the smaller lab groups working inside the company or organization.
"If we can get a small win where a scientist generates data and a data scientist immediately returns value to them, then we can convince researchers that managing data properly will come back to you," says Jensen, who is the co-chair of the SLAS Data Science and AI special interest group (SIG).
"Research scientists find it difficult to see the value when their data has to go all the way up into the company's repository, over to the data scientists' group where they do some analysis, and eventually works its way back down into the lab. That's tough. If we can make that cycle happen locally in the lab, I think it's easier to convince scientists that data management is a benefit."
Read more helpful tips from these thought leaders in the SLAS Electronic Laboratory Neighborhood article, "Accessibility, Sustainability and Data Management: Starting Points for Progress."
---