Applications of Biophysical Methods in Small-Molecule Drug Discovery (Laptop Required)
Applications of Biophysical Methods in Small-Molecule Drug Discovery (Laptop Required)
Instructors will be presenting virtually. A laptop will be required to access the course.
The course will be delivered in two parts; the first section will focus on the theoretical aspects of each biophysical method in a seminar format and in the following section their practical applications will be brought to light in an open and active discussion format.
During the first section, attendees will receive a series of brief high-level presentations concerning the biophysical theory behind each technology and its application in lead finding, hit validation, as well as more in-depth mechanistic studies. This will enable attendees to gain a rapid overview of the most relevant biophysics/ label-free technologies for screening and lead finding/characterization.
In the second section you will be presented with some challenges on how to effectively apply those technologies by looking at a range of common scenarios from different phases of lead discovery. This will include fragment-based drug discovery, hit validation and confirmation, in-depth hit characterization and support of HTS assay development.
Who Should Attend?
Researchers interested in getting an overview about the current toolbox of affinity-based, biophysical methods currently applied in drug discovery
Experts in one of the fields (biophysical technologies) that want to learn more about other orthogonal approaches
Project leaders that want to understand what technologies suit their needs and how to place them correctly in finding and characterizing chemical leads
Medicinal chemists that want to learn more about the generation of biophysical data used in drug design
Technology providers that want to gain more insight into the needs of typical users and the limitations they experience
Course Benefits
Get a broad overview about what is available and state of the art in the field
Comprehend which technology best fits to individual project needs and scientific questions
Learn about typical applications and "best practice" as well as limitations and practical considerations
Understand how the biophysics technologies relate to each other and how they augment and synergize with data from other approaches
Learn how to predict for a project which technology (or combinations thereof) serves best in a typical drug discovery flowchart along with its placement
Course Topics
Relevant Biochemical Biophysics / Label-Free Technologies for Screening and Lead Finding
Mass Spectrometry; NMR; Calorimetry (DSC, ITC); SPR; Interferometry; Resonance Waveguide Grating (aka Corning Epic); thermal protein denaturation and aggregation assays (DSF aka Thermofluor, DSLS aka Stargazer, CETSA; nanoDSF); Dynamic Light Scattering; Microscale Thermophoresis (NanoTemper)
Understand which technology and combinations thereof fits best to answer specific questions throughout the entire drug discovery process
Grasp how biophysics can support assay development for screening and how biophysical data can be used to fuel medicinal chemistry design
General introduction into affinity-based methods and their application in Drug Discovery: (articles which describe how the approaches work, caveats, and a summary of their impact)
Integrating biophysics with HTS-driven drug discovery projects
Folmer, Rutger H.A.
Drug Discovery Today, March 2016, Vol.21(3), pp.491-498
Identifier: ISSN: 1359-6446 ; DOI: 10.1016/j.drudis.2016.01.011


Applications of Biophysics in High-Throughput Screening Hit Validation
Genick, Christine Clougherty ; Barlier, Danielle ; Monna, Dominique ; Brunner, Reto ; Bé, Céline ; Scheufler, Clemens ; Ottl, Johannes
Journal of biomolecular screening, June 2014, Vol.19(5), pp.707-14
Identifier: E-ISSN: 1552-454X ; PMID: 24695619 Version:1 ; DOI: 10.1177/1087057114529462


Biophysics in Drug Discovery: impact, challenges, and opportunities,
Jean-Paul Renaud, Chun wa Chung, U. Helena Danielson, Ursula Egner, Michael Hennig, Roderick E. Hubbard, and Herbert Nar
Nature Reviews, August 2016, Vol.15(10), pp. 679-98 DOI: 10.1038/nrd.2016.123
Background Information on each technology/approach:
DLS:
Making sense of Brownian motion: colloid characterization by dynamic light scattering
Hassan, Puthusserickal A ; Rana, Suman ; Verma, Gunjan
Langmuir : the ACS journal of surfaces and colloids, 13 January 2015, Vol.31(1), pp.3-12
Identifier: E-ISSN: 1520-5827 ; PMID: 25050712 Version:1 DOI: 10.1021/la501789z


TSA:
Thermal denaturation assays in chemical biology
Senisterra, Guillermo ; Chau, Irene ; Vedadi, Masoud
Assay and drug development technologies, April 2012, Vol.10(2), pp.128-36
Identifier: E-ISSN: 1557-8127 ; PMID: 22066913 Version:1 DOI: 10.1089/adt.2011.0390


CETSA:
The cellular thermal shift assay for evaluating drug target interactions in cells
Jafari, Rozbeh ; Almqvist, Helena ; Axelsson, Hanna ; Ignatushchenko, Marina ; Lundbäck, Thomas ; Nordlund, Pär ; Martinez Molina, Daniel
Nature protocols, September 2014, Vol.9(9), pp.2100-22
Identifier: E-ISSN: 1750-2799 ; PMID: 25101824 Version:1 DOI: 10.1038/nprot.2014.138


MST:
Microscale Thermophoresis: Interaction analysis and beyond
Jerabek-Willemsen, Moran ; André, Timon ; Wanner, Randy ; Roth, Heide Marie ; Duhr, Stefan ; Baaske, Philipp ; Breitsprecher, Dennis
Journal of Molecular Structure, 5 December 2014, Vol.1077, pp.101-113
Identifier: ISSN: 0022-2860 ; DOI: 10.1016/j.molstruc.2014.03.009
MS:
Affinity selection-mass spectrometry screening techniques for small molecule drug discovery
Annis, D. Allen ; Nickbarg, Elliot ; Yang, Xianshu ; Ziebell, Michael R. ; Whitehurst, Charles E.
Current Opinion in Chemical Biology, 2007, Vol.11(5), pp.518-526
NMR:
Parallel screening of low molecular weight fragment libraries: do differences in methodology affect hit identification?
Wielens, Jerome ; Headey, Stephen J ; Rhodes, David I ; Mulder, Roger J ; Dolezal, Olan ; Deadman, John J ; Newman, Janet ; Chalmers, David K ; Parker, Michael W ; Peat, Thomas S ; Scanlon, Martin J
Journal of biomolecular screening, February 2013, Vol.18(2), pp.147-59
Identifier: E-ISSN: 1552-454X ; PMID: 23139382 Version:1 DOI: 10.1177/1087057112465979
SPR:
Biomolecular interaction analysis in drug discovery using surface plasmon resonance technology
Huber, W ; Mueller, F
Current Pharmaceutical Design, 2006, Vol.12(31), pp.3999-4021
Identifier: ISSN: 1381-6128
RWG:
Resonant waveguide grating for monitoring biomolecular interactions
Wu, Meng ; Li, Min
Methods in molecular biology (Clifton, N.J.), 2015, Vol.1278, pp.139-52
Identifier: E-ISSN: 1940-6029 ; PMID: 25859947 Version:1 ; DOI: 10.1007/978-1-4939-2425-7_8
ITC:
Direct measurement of protein binding energetics by isothermal titration calorimetry
Leavitt, Stephanie ; Freire, Ernesto
Current Opinion in Structural Biology, 2001, Vol.11(5), pp.560-566
Identifier: ISSN: 0959-440X ; DOI: 10.1016/S0959-440X(00)00248-7
Xray:
Effective and Emerging Strategies for utilizing Structure in Drug Discovery
Brown, Ka ; Davenport, R ; Ward, Se
Drugs Of The Future, 2015 Apr, Vol.40(4), pp.251-256 [Peer Reviewed Journal]
Identifier: ISSN: 0377-8282 ; DOI: 10.1358/dof.2015.040.04.2314768
Instructors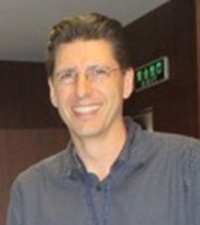 Christian Bergsdorf, Ph.D.
Novartis Institutes for BioMedical Research Basel, Chemical Biology and Therapeutics; Protein Sciences
Since 1999, Christian has been working in different academic, biotech and big pharma research institutes, focusing on mechanistic protein characterization and development / implementation of new biochemical / biophysical assay techniques in the early lead discovery process. In 2008, he joined the Biophysics group in Novartis Basel as a laboratory head. In his function, he applied and tailored biophysical methods for their usage in early lead finding/validation and MoA studies to get a deeper understanding about target-ligand interactions. Addtionally, he evaluated and implemented new biophysical approaches in early lead discovery to enable higher throughput biophysics and to tackle difficult targets as membrane proteins, protein complexes, nucleic acids.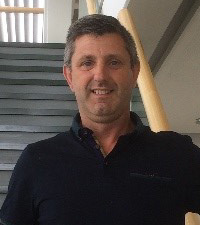 Geoff Holdgate, Ph.D.
AstraZeneca R&D UK, Discovery Sciences, HTS
Geoff joined ICI as a member of the Protein Function Team in 1992. ICI Pharmaceuticals subsequently became Zeneca Pharmaceuticals, which merged with Astra to form AstraZeneca. During the last 26 years Geoff has applied the techniques associated with mechanistic enzymology and biophysics to the study of structure-function relationships on numerous drug targets and associated ligands, including several successful projects producing marketed drugs. As a Principal Scientist in Biophysics, he has applied biophysical methods to facilitate the mechanistic characterization of protein-ligand interactions and to enable fragment-based lead generation approaches. He has had a shared responsibility for, and an excellent track record of, developing and implementing new biophysical approaches to aid early lead finding activities. He has recently taken up the position of Associate Director in High-throughput Screening at AstraZeneca, where he will continue to promote the use of biophysical methods for identifying, evaluating and characterizing hits and leads.