Innovation Award
Get hyped to present your original research.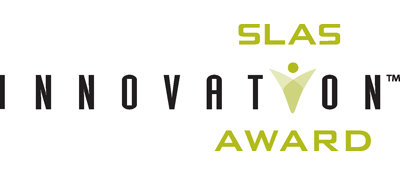 The SLAS Innovation Award is a $10,000 cash prize recognizing the work behind one exceptional podium presentation. This award honors research that proves to be exceedingly innovative and contributes to the exploration of technologies in the laboratory, exceeds a benchmark or milestone in screening or the lead discovery process or demonstrates an advanced and integrated use of mature technologies.
Congratulations to the 2022 Innovation Award finalists:
The Droplet Microarray (DMA) as a Versatile Platform of the Future for High-Throughput Cell Experiments in Nanolitre Droplets
Anna Popova, Karlsruhe Institute of Technology
Droplet Microfluidics in Antibody Discovery, Immune Repertoire Sequencing and Personalized Cancer Therapy
Christoph Merten, EPFL, The Swiss Federal Institute of Technology of Lausanne
A Versatile Medium-Throughput 3D Microtissue Platform for Drug Discovery and Development for Fibrosis and (Immune)oncology
Erik Danen, Leiden University
ChemOS™ - Automatic Optimization of Chemical Reactions
Dennis Shaberla, Kobotix
Phage and Robotics-Assisted Directed Evolution
Emma Chory, Massachusetts Institute of Technology
A Coculture Platform to Screen Therapeutic Bacteria within Tumor Spheroids
Tetsuhiro Harimoto, Columbia University
IR-MALDESI-MS: A New Platform for High-Throughput Label-Free Analysis
Nathaniel Elsen, Abbvie
Improving the Future Safety of Human Pluripotent Stem Cell Therapies
Kyle Loh, Stanford University
Leveraging Patient-Derived Tumor Organoids for Drug Discovery and Precision Medicine Applications
Alice Soragni, University of California Los Angeles
The Innovation Award finalist presentations will take place on Tuesday, February 8, from 10:00 a.m. - 5:00 p.m., and will be live-streamed to the online audience. The winner will be announced at the closing keynote session on Wednesday, February 9.
Hear from Past SLAS Innovation Award Winners
SLAS2021 Innovation Award winner: Sisi Chen, Ph.D. (Caltech): Electronic Laboratory Neighborhood article, New Matter podcast
SLAS2020 Innovation Award winner: Joseph de Rutte, Ph.D. (University of California, Los Angeles)
SLAS2019 Innovation Award winner: Christian Soitu, Ph.D. (Oxford University)