SLAS Welcomes New Scientific Director: Cassandravictoria "Vic" Innocent, Ph.D.
For Immediate Release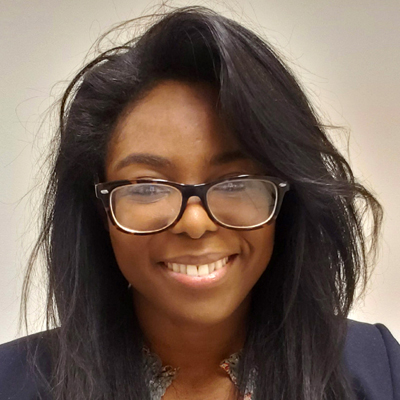 Oakbrook, IL (October 1, 2021) – The Society of Laboratory Automation and Screening (SLAS), is pleased to announce that Cassandravictoria Innocent ("Vic") has joined SLAS as its Scientific Director, effective October 1.
Dr. Innocent most recently served as Scientific Innovation Lead at Paritii, a management consulting firm focused on delivering programmatic equity in biotechnology, financial technology and educational technology products for the life sciences and pharmaceutical industries, academia and non-profit sectors. Prior to that she was assistant director for the Cellular Imaging Core (IDDRC) at Boston Children's Hospital and Harvard Medical School in Boston, responsible for operations across three sites for more than 500 researchers, advancing external partner relationships and identifying and managing core research priorities and logistics.
"In my career I have helped pilot academic-industrial partnerships, managed laboratory facilities during their transition to scientific innovation hubs, chaired career-development committees and more. I see a lot of parallels with this work and the work of SLAS as a collaborative society serving life sciences," Innocent says. "I hope that my drive to bring people together, emphasizing opportunities as the backbone of advancing scientific endeavors, is impactful here."
As the organization's Scientific Director, Innocent will provide strategic leadership for scientific content and delivery through the Society's educational conferences, webinars and distance learning, as well as its two peer-reviewed journals -- SLAS Discovery and SLAS Technology. She will be responsible for monitoring trends and implementing plans to address educational and scientific needs across all of SLAS's demographics. Such plans include dedicated promotion of Innovation AveNEW for startups and support of SLAS as an accelerator of innovations coming directly from SLAS members.
She earned a Ph.D. in Molecular Biology, Genetics and Biophysics from Cornell University and conducted post-doctorate work on correlative nonlinear optics (NLO) of super-resolution in cellular ultra-structures at Oxford University, Oxfordshire, UK.
Innocent was named an Innovative Imaging Scientist by the Chan-Zuckerberg Initiative in 2019. In August 2022, she was named to the 2022 Women in Optics by the International Society for Optics and Photonics.
"We are really excited to have Vic's creativity, enthusiasm and scientific knowledge on our team, especially as we embark on an ambitious new five-year strategic plan," says SLAS CEO Vicki Loise. "Vic's experience with academic-industry collaborations will be extremely valuable and will inform our goals in this area globally."
No stranger to working as a volunteer or serving with volunteers, Innocent was a founding member of the Corporate Relations Committee of BioImaging North America – International, where she focused on designing plans that allow academic core facilities to serve as the research hub for both university and industry collaborators, facilitating collaborations between scientists, academic researchers and corporate vendors through a shared-resource infrastructure. She was also a member of the Development Committee of the University Scientific Equipment Discovery Tool (USEDit), which connects researchers with industry-relevant lab equipment to enable open-source launches, academic industrial collaborations or technology transfer.
*****
SLAS (Society for Laboratory Automation and Screening) is an international professional society of academic, industry and government life sciences researchers and the developers and providers of laboratory automation technology. The SLAS mission is to bring together researchers in academia, industry and government to advance life sciences discovery and technology via education, knowledge exchange and global community building.
SLAS Discovery: Advancing the Science of Drug Discovery, 2019 Impact Factor 2.918. Editor-in-Chief Robert M. Campbell, Ph.D., Twentyeight-Seven Therapeutics, Boston, MA (USA).
SLAS Technology: Translating Life Sciences Innovation, 2019 Impact Factor 3.047. Editor-in-Chief Edward Kai-Hua Chow, Ph.D., National University of Singapore (Singapore).
###
Contact Information
Jill Hronek
Director of Marketing Communications