Thank You Tony Beugelsdijk
By Alan E. Fletcher, Ph.D.
June 24, 2019
As part of its mission, SLAS seeks to leverage life sciences technology and discovery for scientific advancement. The Society wants to energize talented individuals and connect them with others to do great things. Since its beginnings, a huge part of that endeavor has been to integrate newer, younger professionals into all SLAS does, especially at its conferences.
---
No one modeled the power of encouragement better than co-founder Tony Beugelsdijk. When he passed away in August 2009, an existing travel awards initiative was renamed the Tony B. Academic Travel Award the next year to ensure his passion lived on by recognizing up-and-coming researchers who have demonstrated outstanding achievement in laboratory science and technology. To date, 469 students, graduate students, post-doctoral associates and junior faculty have been given the opportunity to further advance in the field by receiving funding and access to participate fully in SLAS conferences. This program has greatly impacted SLAS's success.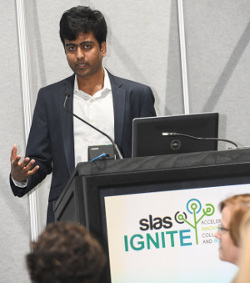 One of these Tony B. Award winners is Santosh Paidi of Johns Hopkins University. Paidi received his award to attend SLAS2018 where he put his time and energy to good use by presenting "Label-Free Raman Spectroscopy for Rapid Identification of Biologics" at the inaugural SLAS Ignite Academic Theater. His presentation sparked many conversations and opened opportunities for collaboration. It also helped him earn the 2018 SLAS Graduate Education Fellowship Grant, another way SLAS supports its young researchers.
Paidi attended SLAS2019, once again as a Tony B. Academic Travel Award winner. This time, his work was tapped for a podium presentation in the Assay Development and Screening Track. "Mechanical Trap Surface-Enhanced Raman Spectroscopy for Live Three-Dimensional Molecular Imaging of Single Cells" underscores the potential of MT-SERS to furnish biologically interpretable and quantitative molecular maps, and therefore also opens the door for the elucidation of intercellular variability in normal and diseased cell populations.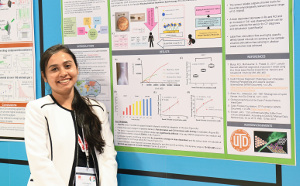 Another example of the program's impact is Antra Ganguly, a doctoral student at The University of Texas at Dallas, who received a Tony B. Award for SLAS2019. Ganguly says it was an honor to receive a prestigious Tony B. Award and "all the amazing hospitality that came along with it. The SLAS machinery operates smoothly, and everyone seems ready to run the extra mile to make it a memorable experience for those attending and participating in the event."
She took full advantage of the opportunities offered her and was one of three winners of the SLAS2019 Student Poster Competition for "A Passively Addressable Electrochemical Sensor for the Detection of Chloride Ion Levels in Ultralow Volumes of Perspired Human Sweat."
Ganguly's team developed an electrochemical chloride sensor that is passively addressable and conveniently eliminates the need to obtain and collect considerable volumes of sweat for sensing (by physical exercise or by chemical or electrical stimulation of the sweat glands), allowing reliable real-time measurement of chloride ion concentration in ultra-low volumes (1-3 microliters) of human sweat.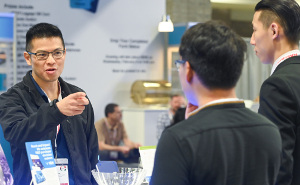 And, then there is Edward Kai-Hua Chow, Cancer Science Institute of Singapore, National University of Singapore, KYAN Therapeutics and SLAS Technology editor-in-chief. Chow says his first SLAS conference was as an SLAS Tony B. Academic Travel Award winner. It was also where he first learned "SLAS is one of few places where there is a strong mix and interaction between industry and academia – a truly collaborative and interactive spirit."
Chow has accomplished much in his career. Among his most recent publications is a commentary in the February 2019 issue of SLAS Technology, "Artificial Intelligence-Driven Designer Drug Combinations: From Drug Development to Personalized Medicine." In this piece, Chow and co-author Masturah Bte Mohd Abdul Rashid look at a study recently published in Science Translational Medicine. Specifically, they explore how the quadratic phenotypic optimization platform (QPOP) was applied toward multiple myeloma and demonstrates the potential for applications of QPOP toward improving therapeutic regimen design and personalized medicine. Mohd Abdul Rashid was an SLAS Tony B. Award winner at SLAS2016, where she was one of three winners of the SLAS2016 Student Poster Competition.
The list goes on and on. SLAS is committed to placing these up-and-comers in situations where they can obtain what they need to further build their careers. Whether it's an introduction to a new facet of the scientific work they've already been exposed to or an introduction to an accomplished professional who further models success for them, the Tony B. Academic Travel Award gets it done.
I believe Tony Beugelsdijk would be proud.