SLAS Journals Keep Us Focused
By Emilio Diez Monedero, Ph.D.
September 23, 2020
Pandemic overload or COVID-19 fatigue – you hear about it in the news and you feel it personally as you navigate changes in your own life with uncertainty about when it will end. It's very real. I think that maybe the best way to deal with this heaviness is to focus on being proactive in helping reach solutions and to look to the many positives.
---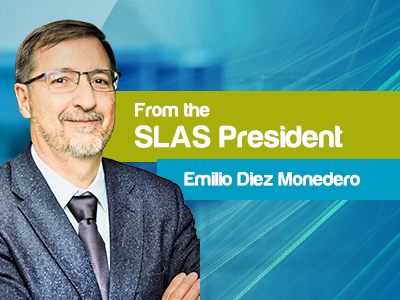 The recent October issue of SLAS Discovery features 10 original research articles, including these open access papers:
In SLAS Technology October 2020, you find six original research articles and one each of a review, technical brief and methods and protocols article. Original research open access articles are:
Issue after issue, I have come to expect critically important research in these volumes by leading academic, commercial and government researchers, scientists and engineers who conduct research and develop and implement new technologies. Over the years I always have found time to page through the journals and very often found interesting articles to read for genuine scientific or technical interest, and in many cases for specific interest related to my job. Both journals have contributed to keep me up on the latest developments in my field.
In line with the rest of the world, SLAS is very concerned about the COVID 19 pandemic. Among other actions we are taking, our journals will each have special editions on COVID-19. The December 2020 issues address each journal's unique focus on COVID-19. Associate Editor Timothy Spicer oversees the SLAS Discovery Special Issue on Drug Discovery Targeting COVID-19. The SLAS Technology Special Issue on Advances in Technology to Address COVID-19 is edited by Editor-in-Chief Ed Chow, Associate Editor Pak Kin Wong and Editorial Board Member Xianting Ding. Mark your calendar for live webinars featuring content from these issues: SLAS Technology is October 28 at 9:30 a.m. CDT and SLAS Discovery is October 29 at 10:30 a.m. CDT.
I would also like to remind you that there have been a number of other very relevant special issues, or collections, published this year:
SLAS Discovery
SLAS Technology
*You can read more about the work behind the August SLAS Technology special issue in the SLAS Electronic Laboratory Neighborhood e-zine article.
Maybe you are among the more than 1,000 volunteers involved in publishing the two journals each year. If not, I encourage you to become involved! You can:
Check the SLAS Discovery or SLAS Technology webpages for additional information.
Finally, and as always, I wish you the best in these difficult times. Please stay safe!!