Make Powerful Connections through SLAS
By Hansjörg Haas, Ph.D.
March 10, 2021
It is usually pretty easy to see the 'products' that come out of SLAS – conferences and symposia, journals, awards and so on. This month, I'd like to focus on another area that is a bit harder to quantify but actually may be our Society's greatest strength – the power to make meaningful connections with other individuals. These may be people that share your professional specialty or they may be those who focus on an area you would like to learn more about.
---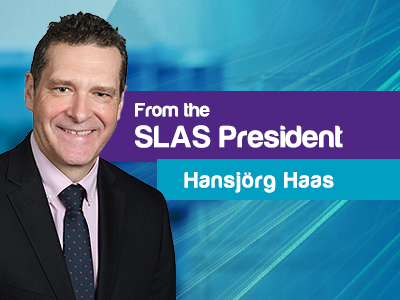 Time and again when I talk with SLAS colleagues, they point to an SLAS connection as key to progress they've made in their work on the way to a new discovery or to an advancement in their career as a result of advice received from another member. This is why SLAS has worked hard to create avenues to facilitate these connections while paying attention to removing any barriers that may prevent these connections from simply happening organically.
For example, SLAS Mentor Match. This program was developed to facilitate the establishment of mentoring relationships between members of the SLAS community. SLAS members enroll either as a mentor or as a mentee (or both!) and can use the searchable database to find potential matches in areas of interest.
J. Colin Cox, director of automation at Bay Area start-up Seer, is a registered SLAS mentor. Because of his expertise in 3D printing (SIG chair, course instructor), Brussels area software developer Hristiana Pashkuleva requested to connect with him, which they did during SLAS2021 Digital.
"Hristiana is a classically trained computer scientist with loads of informatics experience and a super high interest in bioinformatics," Cox says. "She was not certain if she could successfully make a transition into the scientific space. I tried to assure her she was not blocked from doing so! One suggestion I had was to encourage her to reach out to an academic whose work interested her to see how she might offer her solid programming foundation in exchange for learning the science. I know that a great number of professors struggle with how to parse – or even store – the terabytes of genetic data that are necessary for the advancement of their work."
Shastine Keeney, principal laboratory automation engineer at Zevon Automation Consulting Services, San Francisco, CA, is also a mentor in the SLAS Mentor Match program. She was paired with Catherine Heywood, application scientist at the New York Genome Center. "Catherine and I had a great connection and we talked about the ways she was feeling stuck and also the ways that being a woman of color created extra challenges for her," Keeney reports. "She seemed to feel very validated and relieved when I talked about the very real phenomenon underrepresented folks in engineering experience: the 'one really gnarly dude' who can make an otherwise great job painful."
Heywood says she learned many things from Keeney, including learning about her amazing career trajectory. "While Shastine shared many wonderful things, the best piece of advice that she shared was to not be afraid to take risks, go outside my comfort zone and add to my skill set," says Heywood. "In addition, we discussed ways to think about leading a group. I am always hesitant to deviate from my current day-to-day because I tend to be risk averse and imagine the worst-case scenario. But sometimes you need to take a leap of faith because even if the new path is not what you expected, there are many ways to grow and learn from that experience. After speaking with Shastine, I feel more confident in my skill set and am looking for ways to take the next step in my career."
Another example is Anastasia Velentza who recently joined San Diego biotechnology company Plexium as director of screening and technology development. She is a huge proponent of SLAS Mentor Match and has experienced the program both as a mentor (to Usha Narayanan of X-CHEM Pharmaceuticals, Waltham, MA) and as a mentee (of Michelle Arkin of the University of California, San Francisco).
"I feel very positively about SLAS mentoring opportunities," she says. "I got involved in SLAS Mentor Match as I was looking for a way to give back to the SLAS community because it has been the community that has been constant throughout my career. I wanted to be a mentor as I didn't have mentors early in my career. I had my first mentor five years ago and it changed my life, my way of thinking and how I view leadership. I increased my sense of awareness. I found strengths I didn't know I had, and I wanted to help others find these things out earlier."
In fact, Velentza picked her mentee based on the questions she was asking in chat during the WomXn of SLAS Special Interest Group at SLAS2021 Digital. "These were the same questions I had 10 or 15 years ago, and I thought I could help Usha," Velentza says. The two are meeting monthly and have set goals for their mentoring relationship.
Another new area to facilitate connections recently started at SLAS is the Member Meet-Up program. Debbie Bowers and Ginger Cooper found this to be an easy entry to participation for the newly formed WomXn of SLAS Special Interest Group. The group held an online event, "What Does it Mean to Be a WomXn of SLAS," in August; then followed with a very active get together at SLAS2021 Digital says Co-Chair Bowers.
"The WomXn of SLAS SIG group has shared career advice, exchanged reading lists and solicited topics for future sessions that will be of value to the group," Bowers reports. "We meet up on a quarterly basis. At the annual SLAS conference, we had a panel session titled, 'I Wish I had Known' where more than 30 participants joined. Panelists were from industry, academia and vendors to industry/academia. From that session, I myself have formed six separate connections with aspiring WomXn of SLAS who have reached out to gain insights on career advice (mentorships); others have initiated involvement in the SIG itself and offered to be key speakers for future sessions."
Certainly SLAS continues to be a powerhouse for making connections. Thank you to Colin, Shastine, Catherine, Anastasia and Debbie for sharing their stories. Also, don't forget about the other 13 SIGs and, of course, CONNECTED, The SLAS Online Networking Center offering 24/7/356 networking, access and peer connections.
Until next month, keep on connecting SLAS!