Meet the Challenges of Entrepreneurship
By Hansjörg Haas, Ph.D.
April 20, 2021
We live in times of unprecedented change and opportunity. New ways and concepts in our approach to work, collaboration, processes, technologies and automation. Vivid entrepreneurship is one driving force in shaping the vision for the lab of the future and lately, our space is experiencing a lot of activity. It is very exciting seeing this momentum being created.
---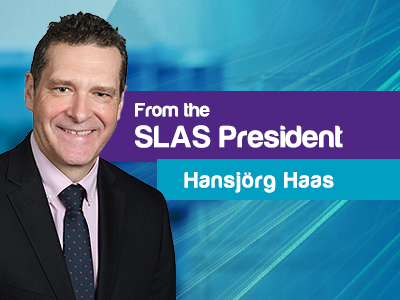 Once again, SLAS showed its resilience and ability to make things happen in a world where education and connection are delivered differently. Last month's SLAS Ignite Showcase 2021 featured a host of talented members of the SLAS community interacting around the sparks of ingenuity, creativity and bold action that create successful entrepreneurs.
The fully digital event delivered three top-notch panel presentations and an address by David Fuller, CEO of the 2021 Ignite Award winning company Artificial, Inc. Members of the SLAS community can access the 2.5 hours of amazing discussion – at no cost – on APPLIED, the SLAS Online Learning Center. Read below for a quick snapshot of the important information shared and then head to APPLIED to listen to the full presentations.
Start-up companies: Make use of the Society's commitment to entrepreneurship through our sponsorship program and obtain a free exhibition booth and conference attendance. This is your opportunity to showcase your latest innovations to a focused audience in the life sciences space. It also gives you the chance to be the next SLAS Ignite Award winner. Apply for a spot on Innovation AveNEW at the SLAS Europe 2021 Conference and Exhibition, June 23-25, or the SLAS 2022 International Conference and Exhibition in Boston, MA, USA.
Life sciences consultants: Are you interested in helping to nurture Innovation AveNEW companies? Apply for an opportunity to be connected.
David Fuller, CEO, Artificial, Inc.
2021 Ignite Award Winner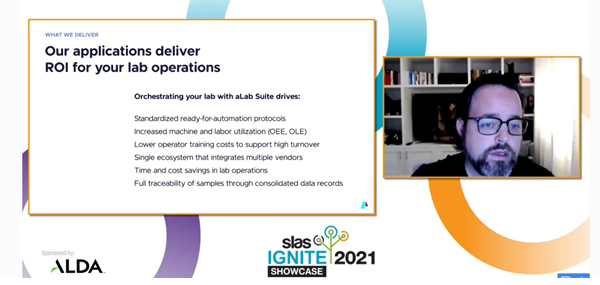 Our industry is going through its most exciting time in the last 25 years, and one topic driving that is developing the lab of the future and further automating science and the resultant infrastructure changes associated with these changes. Ignite Award winner Artificial, Inc. fits right into this space. CEO David Fuller's self-proclaimed background is 'tool builder' for scientists and engineers.
During his presentation, Fuller states clearly that while biology is complex, automation doesn't have to be. He points to foundational tools like LabVIEW from National Instruments (where he worked previously) being reworked for numerous uses including building ground control for SpaceX, controlling the beam for the CERN Hadron collider and designing ease-of-use tools for the Mindstorms line at Lego. But life sciences is different, Fuller says.
"At Artificial, we have a powerful scalable platform with very approachable tools," Fuller says. "And this is fundamentally how we're attacking, enabling and catalyzing the cloud labs of the future. There's the human element; life is more complex than a car. There are highly trained operators looking at plates and cells and analyzing their next steps in a dynamic workflow. I don't anticipate that changing anytime soon, so all of these digital tools have to include aspects of the human and their artful application of science in the lab."
Artificial provides a platform and digital tools that can be dropped into existing labs. Their key product at this point is the aLab Suite. In addition to listening to Fuller's Ignite presentation, I encourage you to access the SLAS New Matter podcast featuring Artificial's Chief Product Officer Nikhita Singh.
Driving Entrepreneurial Success
Moderator: Michelle Arkin, Ph.D., University of California San Francisco
Panelists:

Maddalena Adorno, Ph.D., Dorian Therapeutics
Kursad Araz, Ph.D., Correlia Biosystems (2020 Ignite Award winner)
Ela Mirowski, Ph.D., SBIR/STTR Program in the Division of Industrial Innovation and Partnerships (IIP) at National Science Foundation (NSF)
Jesus Soriano, M.D., Ph.D., Partnerships for Innovation (PFI) Program in the Division of Industrial Innovation and Partnerships (IIP) at National Science Foundation (NSF)
This panel of entrepreneurs and funder program directors digs in to share tips and strategies, pitfalls and possibilities and provides actionable ideas to budding entrepreneurs. In the high risk, high impact arena of life sciences start-ups, the group agrees that the founding team is of utmost importance, as are intense and thorough customer discovery efforts.
Adorno stresses that building your network is critical. "Walk together with other companies who are at your stage or just ahead of you," she says. "Leverage academics with backgrounds you need, and develop together." Likewise, team diversity is key. "The way I see it, if you surround yourself with 20 people who look like you and think like you, you're going to have one possible idea and one possible solution to every problem you encounter," Adorno continues. "If you have people who think a different way because of different cultures, different backgrounds, different genders and different ages, all of these factors make you think in different ways. Bringing this type of diversity into companies is crucial for success. It is something we must absolutely foster, protect and promote."
Araz agrees on the importance of a strong founding team – and additionally that every hire thereafter matters. He also advises putting priority on market strategy and then you find your path. "There is a lot to do and at the beginning and you have limited cash, time and resources," Araz says. "Understand that there is only so much you can do. Prioritize."
Mirowski and Soriano detail the vast amount of support available through the National Science Foundation in addition to the ultimate goal of receiving funding. Mirowski points to the NSF's Innovation Corps (I-Corps) program to help bridge the gap between academic lab research and taking a product to market. "Many people apply to I-Corps to do customer discovery and learn," she states. "Some find they need to change their product, and this can help you to pivot." Soriano also reminds interested potential entrepreneurs to call upon NSF program directors for help. "It's in our job descriptions that we are to coach."
Moderator Arkin closes the session by saying that "entrepreneurship is all about what you don't know" and asking the panelists to share advice for dealing with fear and making bold moves.
"There is good adrenaline and there is bad adrenaline, and they both look like fear sometimes. If you are not comfortable with that feeling, every day would be a nightmare." – Adorno


"The unknown is disturbing in the beginning. But you are not alone. There are others who have gone through that path and you can ask." – Araz


"If you have an idea, persevere and interact. Get opinions and ideas; work with your network. Don't be afraid to pivot." – Mirowski


"Never get discouraged. Be self-aware. Be persistent." – Soriano
I agree with this experience; building a start-up requires being comfortable with uncertainty and constant change. It is your daily business and all you can do is embrace it and strive on it.
Launching and Growing a Startup in the Time of a Pandemic
Moderator: Cathy Tralau-Stewart, Ph.D., Takeda
Panelists:

Sarah Lively, Ph.D., The Janssen Pharmaceutical Companies of Johnson & Johnson
Mitchell Mutz, Ph.D., Codon Capital
Gary Pace, Ph.D., J.D., Cell Microsystems
Ethan Perlstein, Ph.D., Perlara
Moderator Tralau-Stewart and her panelists also talk about the challenge of starting companies – but they look at it from a different angle. What effect did the pandemic have on start-up activity?
"It's been a little bit easier to network during the pandemic than any of us would have thought in the beginning," Lively says. "There are many, many tools for us to connect with people. We have found ways to operate during a pandemic – safely. You need to not be scared of this environment."
While missing traditional training and education offered by societies like SLAS, panelists point to entrepreneurship courses through NSF, the Kauffman Foundation and universities. Perlstein suggests the online network Clubhouse for obtaining the value found in networking sessions and hanging out at the bar pre-pandemic. I would add that SLAS CONNECTED offers a 24/7 means of finding members of the community whose knowledge and experience you can tap into when seeking advice.
There is a good deal of conversation surrounding funding, including acknowledging that it has been a very active time for venture capital investors. "Networking is important; it's not a closed ecosystem," Mutz says. "If no money is raised, you can still have advisors. It's much easier to have a 'venture-friend' conversation, which often are held years before a company is born. Take advantage of the extra time at home and write those SBIRs (Small Business Innovation Research proposals)." Pace offers advice on the importance of having patent applications in place before seeking funding.
Like Arkin, Tralau-Stewart closes the session with a final question to all participants – what was your top lesson learned from the pandemic?
"From the venture side, it wasn't as disruptive as I thought it would be. You can never change the time. Just do it." – Mutz


"My focus through the pandemic has been more on the operational side – capital efficiency, cash flow and team health and safety." – Pace


"The time to build is during a downturn. Just like when the asteroids wiped out the dinosaurs, it was a major speciation event and it was great for mammals. There are a lot more resources made available and you can prove out new models." – Perlstein


"I feel like everybody being virtual is a great leveler. With Zoom, everybody in the room is a same size square box on the screen; everybody has same priority. That's an advantage – everybody has the same voice." – Lively
There is certainly truth in this statement. The digital world serves as an equalizer and people seem to listen more to content and novel ideas versus looking for products. This may change as this medium matures, but for now, it is a positioning opportunity.
Interactive Discussion: So, You Have the Technology…What's Your Biggest Fear?
Moderator: Marshall Brennan, Ph.D., SLAS Scientific Director
Panelists: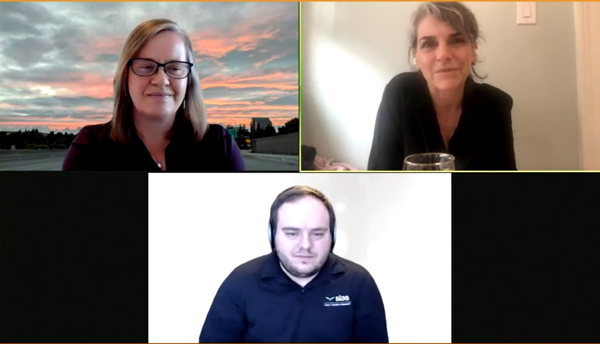 Michelle Arkin, Ph.D., University of California San Francisco
Cathy Tralau-Stewart, Ph.D., Takeda
This discussion closes the day and allows the two moderators to reflect on and summarize the important items shared in their sessions. SLAS Scientific Director Brennan also asks them some of the questions they had asked their panelists. For example, what is your biggest fear?
"I've spent a lot of time moving projects forward – for other people," Tralau-Stewart says. "Starting out a company with an unvalidated idea is scary. Building the argument and making sure you have a valid product is to me the big question and my biggest fear."
Arkin says her biggest fear has varied over the course of her career. "As a post doc, risk was really very low as long as I was doing good work, learning and working with good people and building my network. The upside potential was too exciting to pass up," she says. "Now back in academia and starting companies – the fear is I can't get the team that I want in place. For example, the funders that I really like and that really understand our business and that aren't looking for products in 18 months when what we're trying to do is really unique and hard and unproven."
The two moderators agree that just like the two of them have many similarities and many differences, they need each other. "I do almost nothing alone. Ever," Arkin states. "You can get inspiration from everywhere."
In summation, Brennan states there is a balance you need to succeed as an entrepreneur. "You need to be pessimistic enough to know when you need to say no, but also optimistic enough to not let people talk you out of what is going against the grain. That's not always easy to do!"
If you have ever thought of commercializing your great idea, I encourage you to listen to this APPLIED session for guidance. You will be glad you did!