September 22, 2022
A short course, a career guide, a snapshot of research advancements – sometimes offering all three in a single episode, the SLAS journals' podcasts provide a great starting point to navigate the scientific breakthroughs found in SLAS Discovery and SLAS Technology.
---
Everyone hopes to find time for a deep read into life sciences discovery and technology, but where does one begin? According to the SLAS journals' podcasts editors, readers should first be listeners. Each podcast episode offers a handy way to prioritize a multitude of fascinating journal articles, encapsulating complicated science and giving the listeners an opportunity to meet the people behind the scenes.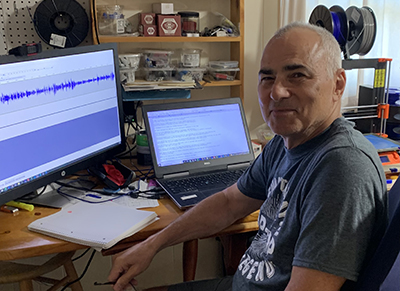 "The podcasts give the authors and special issue editors a chance to step out of the page," explains David Pechter, M.S.M.E., informatics consultant (PechterTech Ewing, NJ, USA), podcast editor for SLAS Technology Authors Talk Tech. "It gives readers a chance to hear from people who range from long-time researchers to young CEOs doing it all to get their startups going."
Pechter is referring to a recent intriguing plunge into nanovials. "We heard from the head of a young startup, Joe de Rutte, Ph.D., (Partillion Bioscience, Los Angeles, CA, USA), who talked about a new cell-carrying nanovial designed to be sorted with a standard flow cytometer that many researchers already have in the laboratory," he comments, adding that de Rutte was the 2020 SLAS Innovation Award winner.
Pechter's counterpart as podcast editor for SLAS Discovery Author Insights, Rob Howes, Ph.D., (Rosalind Franklin Laboratory, United Kingdom Health Security Agency, Leamington Spa, UK), works to make certain that the podcast offers a rounded picture of the journals' content.
"It's an easy-access opportunity to experience something new, and listeners will get a feel for how exciting that area might be. It's interesting when a particular author focuses on one aspect that they think is important, but which doesn't always come out when one reads the article," observes Howes, who also is an SLAS Discovery Editorial Board member.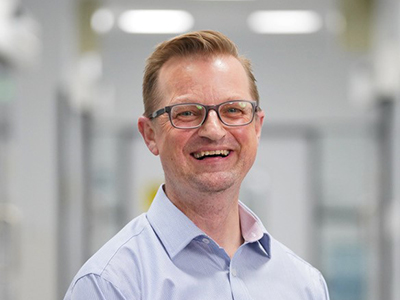 Of all the topics addressed in the two years of SLAS Discovery podcast recordings, Howes was most impressed with the special issue focused on protein degradation. "We visited with the guest editors who opened up this wide-ranging topic and explained why they pulled this collection of papers together," he explains. "When you discuss protein degradation, most of the scientific world is thinking only of the proteolysis targeting chimera (PROTAC)s, which have been around for quite a long time. A lot of other things unfold in that space. It's nice to see PROTACs go from a promising technology to a progressive, successful platform."
Pechter notes that when he first started the SLAS Technology podcast 10 year ago, "I felt that I needed to take a very deep dive into the journal's articles and ask complex questions. That was good, and it is still, but sometimes the topics are incredibly complex," he says, adding that changes in his podcast style reflect the evolution of material published in SLAS Technology. "I feel we've transitioned into technical manuscripts that are more about researchers who are building stuff as part of their research as opposed to researchers collaborating with others to build tools for them. It's more sophisticated content."
Pechter developed the podcast's focus to help authors and guest editors hit highlights and insights for each issue of the journal. "Every podcast gives us a chance to learn something – a whole new area of life sciences technology," he comments.
The podcasts also introduce many walks of life sciences – Ph.D. candidates, post docs and seasoned professionals alike. "If you're relatively new to the field, it's particularly interesting to hear how these people got to where they are in their careers," says Howes, who directs listeners to catch one of the first podcasts he did for SLAS Discovery with Editor-in-Chief Robert M. Campbell, Ph.D., (Twentyeight-seven Therapeutics, Watertown, MA, USA).
"There are so many different life sciences backgrounds. The diversity is what makes it interesting to me, and that diversity is evident when you're talking with people such as Bob Campbell. It's nice to hear how people got to where they are in their careers through these informal podcast discussions," comments Howes.
"Often, we think that professionals join big pharma and work there 20 years to make their way to a top position," he observes. "In actuality, when you scratch the surface, you realize that's atypical. People come to these positions by quite circuitous routes."
Pechter notes that an SLAS Technology podcast with guest author Jim Collins, Ph.D., professor of medical engineering and science at Massachusetts Institute of Technology (MIT, Cambridge, MA, USA) took a similar turn to become a career tutorial for life sciences newcomers. "This was a live podcast interview from the SLAS2021 exhibition floor just after Collins' Ignite presentation. He discussed using deep learning to fight pathogens, but I also tapped into his scientific and engineering wisdom," he says. "I think young investigators will want to go back and give this one a listen."
Pechter encourages the life sciences community to go through the podcast library topics and browse the selection. "First, listen to subject matter that is close to home. Then, listen to a podcast that is far afield," he suggests. "New listeners may be surprised at the quick education they gather."
---
Sidelines
Listen UP! SLAS Discovery Podcast Episodes
Tune IN! SLAS Technology Podcast Episodes
Read the Latest in SLAS Discovery: Advancing the Science of Drug Discovery
Take a Dive into the Deep Waters of SLAS Technology: Translating Life Sciences Innovation
A Closer Look at Protein Degradation – An SLAS Discovery Special Issue
Exploring Nanovials in SLAS Technology: Sorting Single-cell Microcarriers Using Commercial Flow Cytometers