An Introduction to Mass Spectrometry and its Applications within Drug Discovery
February 25 - March 1, 2023
San Diego, CA, USA
An Introduction to Mass Spectrometry and its Applications within Drug Discovery
This short course will introduce mass spectrometry and the range of potential applications within drug discovery. Basic principles of mass spectrometry, including the differences between the array of ionization modalities and detectors available today, will be covered. While mass spectrometry has contributed significantly to drug discovery, recent advances are enabling high throughput screening applications.
Who Should Attend?
Lab scientists with an interest in understanding the fundamentals of mass spectrometry
Lab managers interested in understanding how mass spectrometry can impact drug discovery
Budget holders who are considering investing in mass spectrometry technology
Assay development scientists and HTS screeners who want to understand how mass spectrometry can impact their research
Course Benefits
Gain a better understanding of the principles of mass spectrometry and the diversity of instruments and ionization techniques
Understanding where mass spectrometry can be applied with impact in drug discovery
Learn about recent developments in mass spectrometry
Course Topics
Basic Principles of Mass Spectrometry
Overview of Ionization Modalities and Mass Detectors
Introduction to Separation Techniques and Matrix Effects
Electrospray Platforms for HTS Applications
MALDI Applications in Drug Discovery
Overview of MS Imaging
Recent Advances in MS Technology and Impact in Drug Discovery
Instructors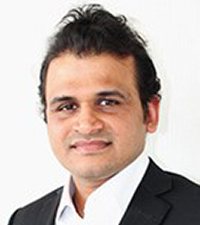 Vasudev Kantae
AstraZeneca, Discovery Sciences
Vasudev Kantae has more than 12 years experience in the field of bioanalysis employing mass spectrometry. In 2019, he joined AstraZeneca-UK to lead the mass spectrometry strategy implementing the quantitative (bio)analysis thrust, which has enabled the development of novel cellular and biochemical workflows to support SAR profiling and bespoke mechanism of action (MoA) studies for drug discovery programs. He is currently optimizing high-throughput mass spectrometry based targeted proteomic workflows to accelerate the characterization of covalent molecules from hit generation to lead optimization.
Kantae obtained his Ph.D. at Leiden University (Netherlands) with a focus on applying systems pharmacology in synergy with metabolomics, proteomics and pharmacology (PK-PD) concepts to study the endocannabinoid lipid signalling system. Subsequently, during his postdoctoral training in collaboration with Roche Pharmaceuticals, he applied chemical proteomic strategies to study the on-target and off-target effects of drug molecules. He has published 17 manuscripts in international peer reviewed journals and is a strong advocate of adapting label-free methods in early drug discovery to accelerate and inform various projects.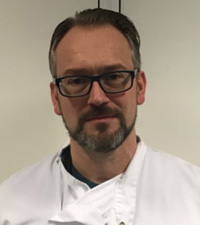 Paul Davey, Ph.D.
AstraZeneca, Discovery Sciences
After graduating from Sheffield Hallam University with a B.Sc. (hons) in Biomedical Chemistry in 1997, he received an RSC prize in analytical science and carried out a year's training in industry as a sandwich student at Glaxo Welcome (Ware) in the pharmacy division. Paul moved to the U.S. and studied under Professor AP Marchand at the University of North Texas (Denton) carrying out the Synthesis of polycyclic oxiranes for potential use in military applications. He then joined Huntingdon Life Sciences as a new graduate in the Mass Spectrometry department carrying out the quantitative analysis of metabolites and small molecule drugs in biological fluids. He became a field-based service engineer working on new time of flight technology for Waters Micromass in 1999.
He joined AstraZeneca in 2001 supporting technology as a spectrometrist at Alderley Park, aiding the introduction of open access LCMS, orthogonal chromatography and UPLC MS into all the research areas. Paul moved into the Analytical and Structural Chemistry group in 2007 receiving training in structural elucidation by Mass Spectrometry and NMR. In 2010 he was made a Senior Research Scientist and operated the mass spectrometry group alone after the retirement of the previous incumbent.
After incorporating new electronic reporting and sample tracking system as well as global data storage initiatives. In 2014 he helped to co-ordinate the move of the analytical group to Cambridge, aiding design of the MS hub laboratory in the CBC new build and occupy temporary facilities
As a member of the ASC group, Paul has continued to deepen and broaden his LC-MS skill set supporting multiple groups as well as many different oncology projects – in particular the development of a novel intracellular concentration assay as well as new approaches to protein binding, reaction rate measurement and stability testing.
To date Paul has supported and co-authored 14 peer review papers, these have been published in journals such as Nucleic Acids Research and the Journal of Medicinal Chemistry and Scientific Reports.