By Emilio Diez Monedero, Ph.D.
February 6, 2020
Each year as I participate in the SLAS International Conference and Exhibition, I am reminded that SLAS is truly an exceptional global organization. The Society is uniquely positioned at the interface of science and technology – not only to help its diverse community achieve their fullest potential but to make a broad, deep and lasting impact on our world. SLAS2020 reinforced that feeling.
---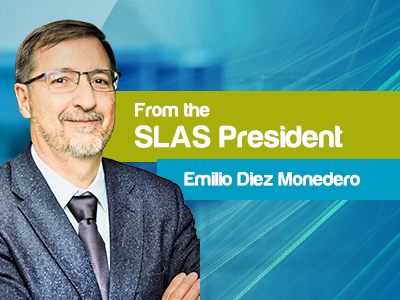 I am honored to be serving as your 2020 president. It is a position I take very seriously, and I invite you to participate fully in the months and years ahead as we continue to carve out our place in this – now more than ever before – fast-moving scientific and technology environment. For several years, SLAS leadership has been diligently addressing all areas in the 2017-2021 strategic plan, and it is my fervent desire to continue those efforts…and more. We've made great strides within our three pillars – education, community and sustainability, and I believe that we are very well positioned to rise to the challenges presented by continuous scientific and technological advances across the globe.
This is clear, just looking at one strategic plan example under the education pillar: Expand the Society's educational presence in Europe with quality scientific content supported by the appropriate organizational structure.
The SLAS Europe 2020 Conference and Exhibition, June 2-5 in Vienna, Austria, is our third year hosting this event at European locations. The program delivers unmatched value for professionals and students looking to discover the latest life sciences technologies and how they can be applied to drive research objectives.
The expansion of SLAS symposia series in both the United States and Europe also has impacted greatly the SLAS educational presence throughout the year. Next up is the SLAS 2020 European Sample Management Symposium March 16-17 in Berlin, Germany with a focus on supply chain management, collections, data and robots. We welcome keynote speaker Gisbert Schneider, Ph.D., professor at ETH Zurich, whose address is titled "Molecules on Demand."
As important as the 'in-person' events are, we should consider the latest efforts to provide access to archived educational content with APPLIED (The SLAS Online Learning Center) and the new offer of year-round networking with CONNECTED (The SLAS Online Networking Center). I believe we can say confidently that we are well on our way to achieving our objective of creating a vibrant global community year-round.
I look forward to working with the SLAS Board of Directors, the Councils and SLAS professional team to define and execute the future strategic plan of the Society. I am especially interested in helping to continue to accelerate the global reach of SLAS.
Three new and amazing individuals joined the SLAS Board of Directors in 2020. Welcome to Sue Crimmin, Ph.D.; Ira Hoffman, M.S.; and Tim Spicer, Ph.D. Their names should be familiar to you as each one has contributed greatly to the success of SLAS over the years. You can read more about them in the SLAS e-zine and listen to my welcome message. I look forward to addressing many objectives with their help. We also say goodbye to Alan Fletcher, Ph.D.; Cathy Tralau-Stewart, Ph.D.; and Steve Young, Ph.D. Thanks to each of you for your major contributions to the Board these last three years.
It will be a pleasure to witness community accomplishments from my role as president this year. Thanks in advance for all I know each member will do to see that SLAS remains vital to life sciences discovery and technology.
SLAS2020 Highlights
Thank you to SLAS2020 Scientific Program Committee Conference Chairs Melanie Leveridge, B.Sc., of GlaxoSmithKline, and Andrew Napper, Ph.D., of Evotec, and their fantastic program committee. Held January 25-29, SLAS2020 drew 5,985 participants to San Diego.
Attendees enjoyed 144 podium presentations, 352 poster presentations, 21 short courses, 50 exhibitor tutorials, 13 Special Interest Group meetings, 25 Solutions Spotlight presentations, three Ignite panel presentations and six Ignite collaboration presentations. A record-breaking 337 exhibiting life sciences and technology companies proudly demonstrated their most innovative and effective products and services to help us be the best we can be.
I want to congratulate the award winners listed below.
2020 SLAS Innovation Award Winner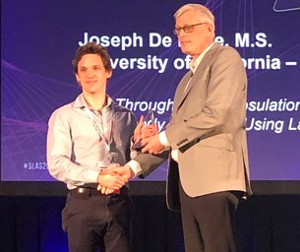 Joseph De Rutte, M.S., (University of California Los Angeles, CA, USA) was awarded the Society's highest honor for his scientific presentation, "High-Throughput Encapsulation and Selection of Cells Based on Antibody Secretion Using Lab-on-a-Particle Technology." De Rutte participated in SLAS2020 as an SLAS Tony B. Academic Travel Award winner.
SLAS2020 New Product Award Winners
Bioelectronica (Reno, NV, USA) Hypercell
V&P Scientific, Inc. (San Diego, CA, USA) SpinVessel
2020 SLAS Ignite Award
Correlia Biosystems (Berkeley, CA, USA) received the award for its work to develop highly efficient protein measurements for data-driven pharma R&D, clinical trials precision medicine and point-of-care diagnostics.
SLAS2020 Student Poster Competition Winners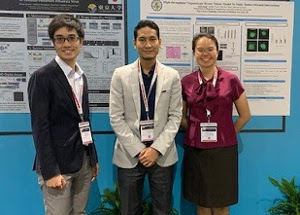 Shingo Honda, The University of Tokyo
"Air-Sealed Multi-Dimensional (MD) Digital Assay for Detection of Inhibitor-Resistant Influenza Virus"
Sunil Singh, University of Akron
"High-Throughput Organotypic Breast Tumor Model Elucidates Dynamic Remodeling of Tumor Microenvironment"
Choon Leng So, School of Pharmacy, The University of Queensland
"High-Throughput Assessment of Calcium Signaling in MDA-MB-231 Breast Cancer Cells Expressing the Genetically Encoded Calcium Indicator GCaMP6m and Cultured in Different Matrix Stiffness"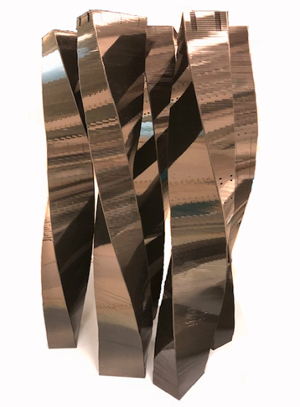 2020 SLAS Art of Science Contest Winner
Alberto Bresciani, Ph.D., IRBM S.p.A. High Throughput Biology and Screening Department (Rome, Italy)
2020 SLAS Journal Achievement Award Honorees
Kudos to the SLAS Discovery and SLAS Technology authors and reviewers celebrated for the popularity of their published reports and exceptional volunteer service in 2019.
SLAS Tony B. Academic Travel Award Winners
Last but not least, congratulations to the 53 students from 12 countries who participated in SLAS2020 as SLAS Tony B. Academic Travel Award winners! See the full list of winners.