Connecting People, Advancing Science – Digitally!
By Hansjörg Haas, Ph.D.
May 27, 2021
Your schedule. Your decision. With the now all virtual format to the June 23-25 SLAS Europe 2021 Digital Conference and Exhibition, you can participate in a way that fits you. The organizing team has made several enhancements designed to deliver expert educational content, automation and innovation over screens worldwide.
---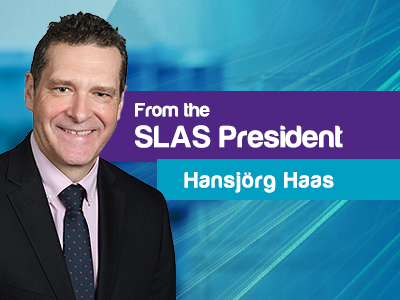 Let me start by telling you about one of those enhancements that requires a new entry to your calendar. The Careers in Business and Technology track is being offered on Wednesday, June 16, one week before the rest of the conference. This special Showcase features three career and business sessions and panels: public private partnerships and translational centers; bringing innovation to life – new products to market; and turning ideas into successful startups. Even though it is a standalone event, the Showcase serves as a great segue into the SLAS Europe 2021 Digital Conference and Exhibition the following week, which is free for SLAS members and just €210 for all others.
The main event, June 23-25, is built around three scientific educational tracks – Emerging Biology; Technology; and Discovery – each bursting with presenters who are leading the charge for scientific advancement with creative methods. The virtual event includes keynote speakers, exhibitor presentations, e-posters and special interest group meetings – basically everything you would experience in person except for the Wiener Schnitzel and Sachertorte with colleagues! Check out the full schedule.
There is one pretty significant benefit to digital events that is often overlooked. Since there is no travel expense to negotiate, your entire team can attend and share in the vast knowledge base of the SLAS community. The program is built to attract a variety of scientific interests and experience levels, and you can select those most beneficial to your job today or your curiosity for tomorrow!
Another key opportunity of the digital format is to connect individually with our technology provider companies – a simple click initiates a text chat and you go from there. Leading companies want to let you know what they've been up to this past year through focus groups, tutorials and demonstrations.
The keynote presenters, which were chosen from Vienna's thriving local life sciences community, are truly exceptional this year, and I know I am excited to hear from these experts. Giulio Superti-Furga, Ph.D., is a molecular and systems biologist, scientific director of the Research Center for Molecular Medicine of the Austrian Academy of Sciences (CeMM) and professor for systems pharmacology at the Medical University of Vienna. His laboratory addresses the mechanisms by which cells respond to challenges that perturb homeostasis – drugs, viruses or oncogenic mutations – and how homeostasis can subsequently be restored.
Johannes Grillari, Ph.D., is a biotechnologist with expertise in cell aging and director of the Ludwig Boltzmann Institute for Experimental and Clinical Traumatology (LBI Trauma) at the Austrian Workers' Compensation Board (AUVA) Research Center. His research focuses on improving understanding of the molecular and physiological changes that occur during cellular aging and their impact on organismal aging and regeneration, specifically in skin and bone.
Georg Winter, Ph.D., is a principal investigator at CeMM in Vienna. Working at the interface of cancer, chemical biology and gene control, Winter launched his lab at CeMM 2016 to expand novel tools to pursue protein targets. Using scalable tools and phenotypic screens to build a rational approach to targeted protein degradation research, his lab innovates novel pharmacologic strategies that probe, explore and eventually target aberrant transcriptional circuits in cancer. You can read more about Winter in the SLAS Electronic Laboratory Neighborhood e-zine article, "Discovering the Mystery Behind the Molecules in Targeted Protein Degradation."
Would you like feedback on your work from SLAS experts? Then, submit a poster! June 14 is the deadline for all posters, including those for the Tony B. Academic Award (non-members: submitting an abstract could get you free registration) and Student Poster Award competition.
The SLAS Europe 2021 Digital Conference and Exhibition is a technology-rich livestream event, complete with questions via chat, participant interaction and recorded sessions for later viewing. My column last month (Meet the Challenges of Entrepreneurship) provided highlights from the SLAS Ignite Showcase 2021, which also was fully digital and resulted in rave reviews.
A final bonus: be among the first to hear about upcoming SLAS plans for Europe, when SLAS CEO Vicki Loise talks with our European ambassadors during the digital conference. SLAS recently recruited these ambassadors from among its engaged membership, and they are SLAS's feet on the ground exploring opportunities for alliances, sponsorships and representation at events. They also will host or organize small networking events within the region.
Loise also speaks with 2021 Europe Conference Chairs Phil Gribbon, Ph.D. (Fraunhofer Institute for Molecular Biology and Applied Ecology IME | IME-ScreeningPort, Germany) and Sabrina Corazza, Ph.D., (Axxam, SpA, Italy) about their experience postponing the 2020 conference and pivoting the program during COVID-19 times. Tune in on Wednesday, June 23, to learn what Gribbon and Corazza offer as their favorite session picks of the day!
Finally, get a sneak peek of plans for the SLAS Europe 2022 Digital Conference and Exhibition in Dublin, when Loise queries Brinton Seashore-Ludlow, Ph.D., (Karolinska Institutet, Sweden) and Amaury Fernández-Montalván, Ph.D., (Boehringer Ingelheim, Germany) on Friday, June 25.
COVID-19 continues to impact the way we do business and the way we do life. As expressed in the Europe conference theme – Connecting People, Advancing Science – it has been SLAS's goal from the beginning to be a connector for you to obtain information, discover new knowledge, meet other experts and do so as easily as possible so that you can focus your energy on transforming research.