Growing with the Changes: 2018 SLAS Annual Report

May 17, 2019
It was a year of firsts, flexibility and future-thinking for SLAS in 2018. To the benefit of more than 19,000 members of our community worldwide, we made significant strides financially, operationally and educationally to increase the value of SLAS for all in the life sciences community.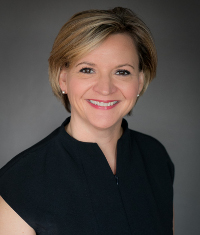 By Vicki Loise, CMP, CAE
SLAS CEO
---
Let's Start with the Firsts
Topping the list of firsts in 2018 was the launch of a SLAS European conference in Brussels, Belgium. With 1,000 attendees from 46 countries, 90 exhibitors, 100+ scientific posters, three keynotes, 13 workshops and 20 educational presentations at our inaugural Europe Conference and Exhibition last June, it was not only a first, but a great success. SLAS expanded the Society's awareness among our European colleagues and grew the potential for collaboration between members of the community worldwide.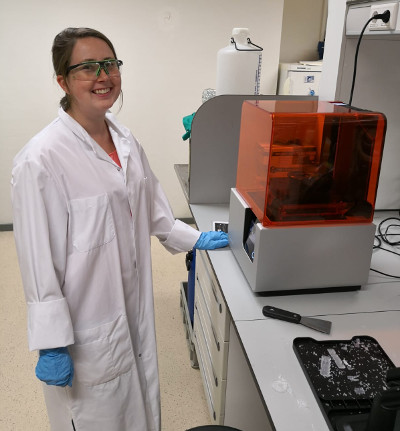 Another first was the SLAS Visiting Graduate Researcher Program Grant award to Kelci Schilly, B.Sc., a graduate research assistant in the Department of Chemistry at the University of Kansas. She advanced her studies for three months in the lab of SLAS Past President Sabeth Verpoorte, Ph.D., at the University of Groningen in The Netherlands. SLAS prides itself on its support of the next generation of researchers and innovators in the life sciences, and our grant and award programs support the mission to transform research at all levels.
The first SLAS Americas Sample Management Symposium was held in Boston, MA (USA) in November, bringing academia and industry together to tackle the changing landscape of drug discovery.
In 2018, SLAS Premier Members hit a record high of 1,497 life sciences professionals striving to expand opportunities for collaboration and progress.
Speaking of numbers, SLAS2018 (San Diego, CA, USA) was the first to top 6,700 attendees.
Flexibility
SLAS's ability to stay flexible and nimble is key to how we approach our work, our members, the benefits we offer to the life sciences community and how we manage the organization overall. In 2018, SLAS introduced a new governance structure to more quickly and efficiently respond to our members' changing needs and our volunteers' donation of time and expertise to the organization. With the oversight of the Board of Directors/Executive Committee, Finance Committee, Audit Committee and Nominations Committee, we established three Councils through which we will organize our efforts and initiatives – the Knowledge Content and Delivery Council, the Membership and Engagement Council and the Strategic Relations Council.
View the SLAS governance structure for a complete description of each of these councils and the committees that report to them. We revamped the charters and scopes of work for these councils and committees, as well as the volunteer opportunities that are available at every level of the organization, to better serve the community.
A flexible and adaptive organization requires the right oversight, management and execution, which comes from the winning combination of dedicated and motivated volunteers and a skilled professional team. We knew that the new governance structure would enable volunteers and leadership to better coordinate their efforts. In 2018, the professional team that works on behalf of and with SLAS volunteers expanded and adjusted to establish the needed capacity to support our energetic volunteers and to carry out projects and initiatives as dictated by the Board of Directors.
Amy Wilkinson was promoted to SLAS director of global events, after nearly nine years with SLAS plus four-and-a-half years at the Association for Laboratory Automation, one of SLAS's predecessors. Her ability to think and execute strategically on all SLAS events worldwide, while managing a global team of conference partners, was key to her advancement. Wilkinson is laser-focused on ensuring quality, fresh and innovative events to which attendees and exhibitors return year after year.
With two major conferences, four regional/topical symposia and a growing online educational portfolio, Elizabeth Frank came aboard as SLAS program manager, a new position that supports and coordinates the educational program activities of the Society. Frank also oversees and executes the awards, scholarships and grant programs, supports various program committees and ensures our scientific programs stay on track and succeed.
Mike Tarselli, Ph.D., joined the SLAS team in 2018 as scientific director to provide thought leadership and solidify the scope of work of the new Knowledge Content and Delivery Council. He helps establish the critical big picture strategy of SLAS's educational content encompassing in-person events, journal content, webinars and online learning. He oversees Frank and SLAS Publishing Manager Christine Diedrich (who joined SLAS in first quarter 2019).
Mary Geismann was promoted to senior membership manager after seven years with SLAS, and directs and manages all of the Society's membership related activities. Geismann focuses on engagement, growth and outreach activities to ensure that SLAS Premier Members receive high value for their membership dollars, and that we establish SLAS as a key life sciences resource.
Kathy Daniels, marketing communications manager, joined the marketing communications team led by Jill Hronek (who joined SLAS in January 2018), to manage social media, member communication and newsletters, and ensure the life sciences community is fully tuned in to SLAS's many events and initiatives.
Seven members of the professional team moved into the new SLAS Headquarters office in Oak Brook, Illinois, USA in September 2018. Four others work remotely from home offices around the country. The team's new office space emphasizes team collaboration and is technologically wired to conduct virtual meetings with ease. Team members are expected to participate in meetings via video to ensure a personal connection with remote employees (including those in our Brussels office), SLAS members and partner organizations.
Thinking About the Future
"That's the way we've always done it," is not something you'll hear very often at SLAS. While we definitely consider best practices and repeat successful events, processes and ideas that have worked well for the SLAS community, we always strive to look ahead, predict the future (or at least ponder the short-term and long-term possibilities) and think about what SLAS and life sciences will look like in one, five and 10 years from now.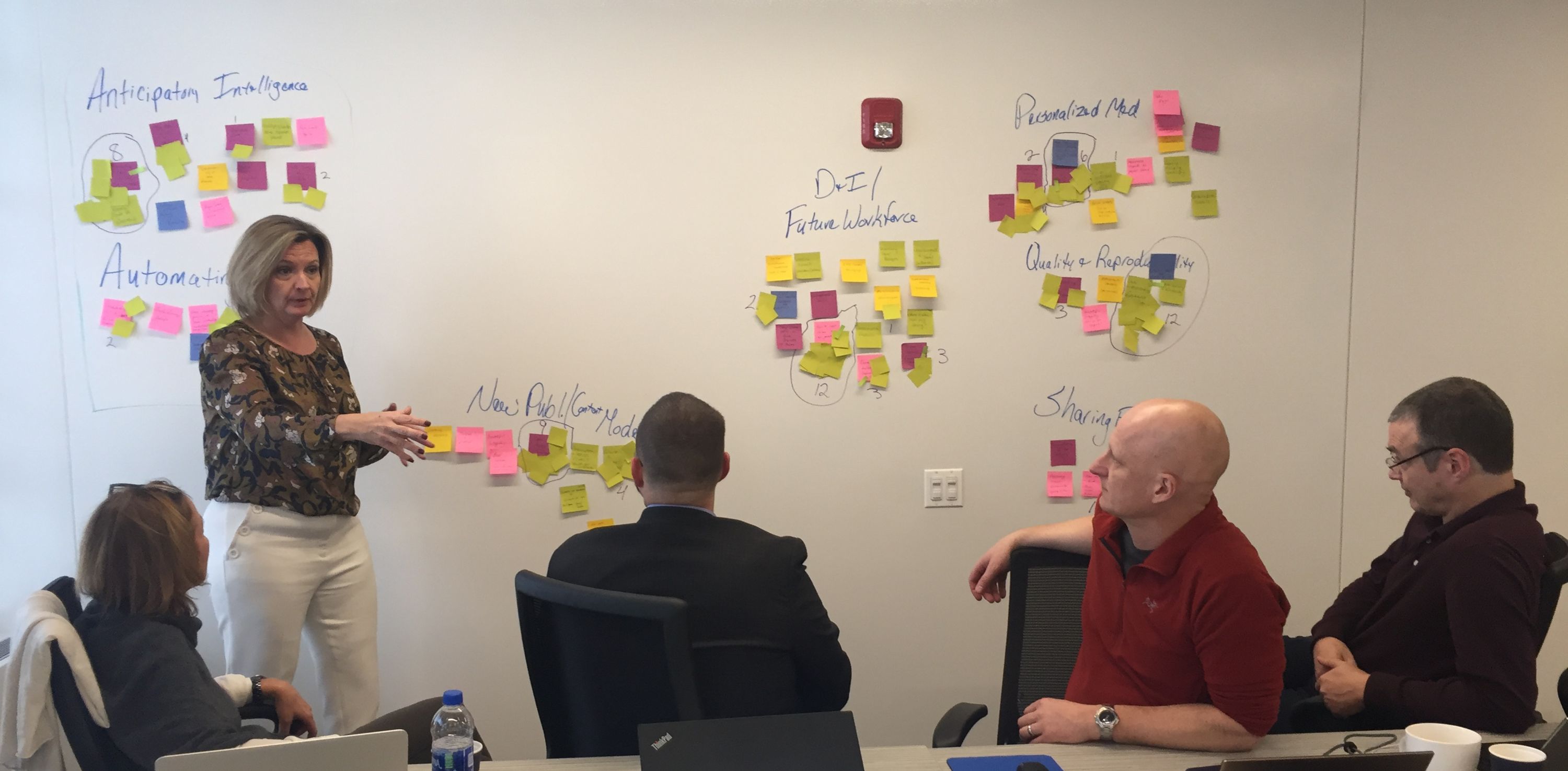 Like our members do every day, the Board of Directors and the professional team intentionally engage in brainstorming sessions, ask ourselves "what-if" questions, discuss how we could do things better and question whether the things we are doing are the right things or just the things we know how to do. Like our members, we research needs through surveys and gather feedback through our committees and in-person meetings and strive to improve what we do and how we do it so that you, our members, get the value you expect and need from SLAS.
We look at industry trends, we look at what scientists are doing, what nonprofit association professionals are doing, what innovative companies are doing, and ask ourselves: "How can we incorporate some of that thinking into what we are doing for SLAS?" Then we float those ideas past the leadership by way of a comprehensive Business Plan, a multi-year strategic plan and work to achieve these goals successfully.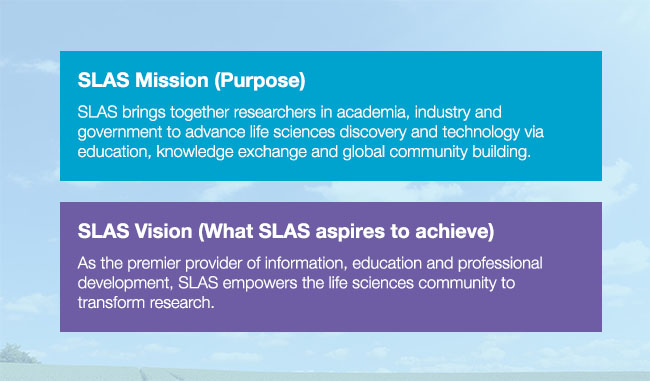 2018 At-a-Glance
Education
Advocacy
Scientific Achievement
Member Services
Volunteer Leadership
Membership Data
Financial Report
Looking Ahead
Education
Our flagship event, the SLAS International Conference and Exhibition, celebrated a record 6,700+ attendees from 42 countries in San Diego, CA, USA, Feb. 3-7. Participants gathered to learn from 144 podium presentations, 21 pre-conference short courses, nearly 400 poster presentations, 300+ exhibitors and two keynote speakers. Numerous networking events rounded out the conference experience with a spectacular Tuesday Evening Celebration at Old Town San Diego. The SLAS2018 conference subsequently earned the "Fastest 50" award from Trade Show Executive magazine for seeing a 34 percent growth in total attendance and a "Next Fastest 50" award for growth in net square feet of exhibit space, which was up 8 percent.
The SLAS Scientific Program Committee added three new topical tracks in 2018 for a total of 10 highly-relevant educational tracks: Advances in Bioanalytics, Biomarkers and Diagnostics; Assay Development and Screening; Automation and High-Throughput Technologies; Biologics Discovery; Cellular Technologies; Chemical Biology; Data Analysis and Informatics; Drug Target Strategies; High-Definition Biotechnology and Micro- and Nanotechnologies.
Honors awarded during SLAS2018 include: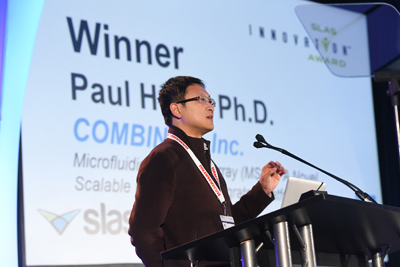 SLAS2018 Student Poster Awards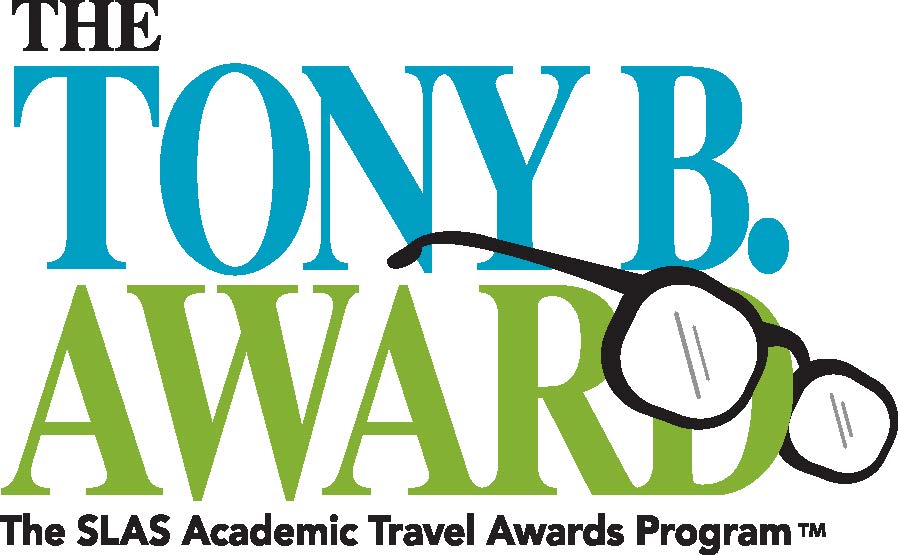 The SLAS Tony B. Academic Travel Awards continued the SLAS commitment to fostering the next generation of scientific thought leaders and members in 2018. Sixty-five students, post-docs and early career professionals from 15 countries earned funded participation at the SLAS2018 International Conference and Exhibition, and nine were awarded to support student attendance at the inaugural 2018 SLAS Europe Conference and Exhibition, bringing the total number of Tony B. award recipients to 411 since 2010.
A new group of SLAS Fellow Members was introduced at SLAS2018. This group of 39 distinguished contributors represent accomplished scholars, scientists, innovators and entrepreneurs. SLAS applauds the many ways their contributions have helped shape and build the Society over the years.
Several regional events were held in Europe to bring together interested colleagues for targeted investigation of compound management (Berlin, Germany), advanced 3D human models and high-content analysis (Leiden, The Netherlands) and a networking event (Zurich, Switzerland).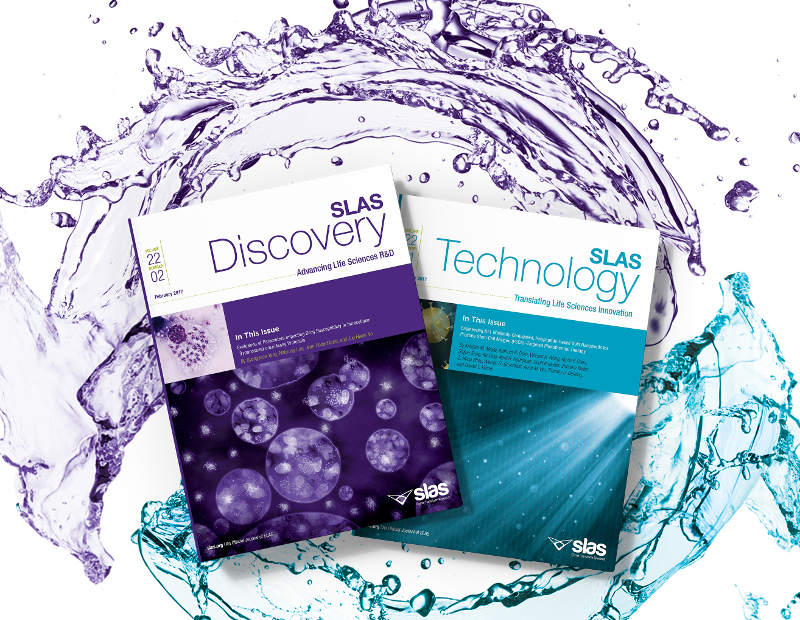 The SLAS journals published more than 1,700 pages of relevant and exciting content. In 2018, SLAS Discovery (Advancing Life Sciences R&D) published seven regular issues and three special issues and SLAS Technology (Translating Life Sciences Innovation) published six issues of which three were single-topic special collections. This was the first year that the journals, earned their impact factors under their current titles: 2.355 for SLAS Discovery and 2.632 for SLAS Technology. SLAS continues its efforts to integrate the content strategy of the journal with that of SLAS's other channels including in-person and online events. The 2018 Journal Achievement Awards recognized both the science of the journal and the people who bring it all together: the Readers Choice Awards, reflecting popularity among readers throughout 2017; the Authors Choice Awards, reflecting popularity among authors (citations) throughout 2017; and Reviewer Excellence Awards, reflecting review quality, timeliness and volunteer service in 2017. These awards were recognized during a reception in the SLAS2018 Exhibition.
SLAS conducted three webinars in 2018, capitalizing on the growing interest in artificial intelligence and machine learning, as well as capturing some of the compelling content delivered at the 2018 SLAS European Sample Management Symposium in November. The webinar library is now contained in the new SLAS APPLIED Online Learning Center (which launched in early 2019).

Another 25+ profiles of inspirational and hard-working researchers were added to the SLAS Electronic Laboratory Neighborhood e-zine, along with monthly messages from the SLAS president. SLAS will continue to highlight the organization's award winners and other movers and shakers and also will highlight podcasts from SLAS Scientific Director Mike Tarselli.
Advocacy
SLAS Europe Director Caroline Gutierrez various members of the Board and I represented SLAS at events throughout the U.S. and Europe in 2018. With the aim of expanding awareness of SLAS and forging strategic alliances with like organizations to enable even more robust connections for SLAS members, I attended the European Laboratory Research & Innovation Group (ELRIG) conference in the U.K. and worked to formalize a co-promotion agreement with LRIG-Fr (in France) to support each organization's event visibility in our respective regions. Our relationship with the U.S.-based Laboratory Research and Innovation Group (LRIG) and its chapters remains strong and SLAS enjoyed journal and Society promotional opportunities at LRIG Midwest (Madison, WI), LRIG Bay Area (CA), LRIG Philadelphia (PA), LRIG New England (Boston, MA) and LRIG San Diego chapter events in 2018.
Gutierrez, 2018 SLAS President Sabeth Verpoorte and/or Severine Tamas-Lhoustau, met with a variety of European organizations to introduce SLAS, including Horizon Europe (an innovation framework from the European Commission), One Nucleus (a Cambridge, UK-based biocluster), Genopole (a Paris-based incubator) and BioM (a Munich-based biocluster). SLAS conducted a small regional networking event in Zurich to facilitate collaboration between local members, provide a venue for sharing ongoing research project information and allow discussion of job opportunities.
Scientific Achievement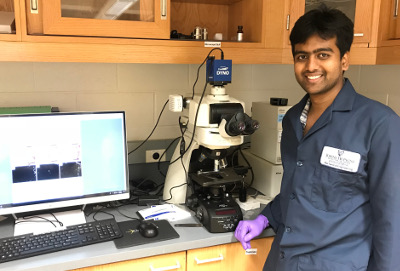 The SLAS Graduate Education Fellowship Grant transforms the SLAS mission into real-world benefit. This important grant helps bright, new ideas move forward along the cutting edge of innovation. In 2018, Santosh Paidi, a graduate research assistant in the Department of Mechanical Engineering at Johns Hopkins University, was selected as the 2018 recipient of the SLAS Graduate Education Fellowship Grant. The $100,000 SLAS fellowship grant, awarded over two years, allows Paidi to continue his work in the lab of Ishan Barman, Ph.D., which employs vibrational spectroscopy and recent improvements in areas such as optics, nanotechnology and computing to develop improved diagnostic tools that can provide rapid, robust, quantitative and molecular-specific readouts from biological specimen.
Building on its commitment to foster emerging innovations and innovators in life sciences discovery and technology, SLAS announced and supported its first SLAS Visiting Graduate Researcher Grant program. Designed to complement the SLAS Graduate Education Fellowship Grant program, this new program opens doors for degree-seeking graduate students in Europe and North America to participate in mentored or independent research projects with faculty members at external host institutions. A stipend covers a student's living expenses for research exchanges ranging from four weeks to six months. During this time, a visiting student participates in research projects that enhance his or her own interests and advance his or her skills and scope of knowledge. As mentioned above, Kelci Schilly, B.Sc., was our first recipient and gained a great deal of experience at the University of Groningen. SLAS prides itself on its support of the next generation of researchers and innovators in the life sciences, and our grant and awards programs support the mission to transform research at all levels.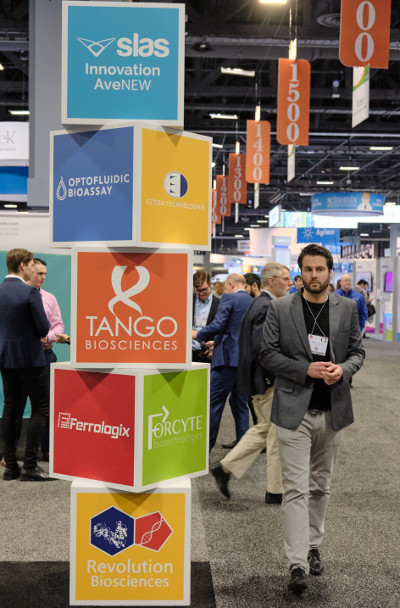 Furthering our commitment to serve both the SLAS community and the life sciences industry at large, SLAS expanded SLAS Ignite, a series of programs to foster scientific innovation through collaboration. The latest addition to this program, SLAS Ignite Academic Theater Presentations, premiered at SLAS2018. These presentations enabled six academic research institutions to showcase their capabilities and latest research to diverse audience of prospective collaboration partners. Conversely, industry professionals responsible for partnerships and contract relations were able to meet with prospective partners from academia.
Second, SLAS launched the Ignite Partnership tool via the conference app and the online event scheduler, which helped prospective collaborators and business partners facilitate connections and meet face-to-face at the conference to discuss potential projects.
Innovation AveNEW, under the Ignite umbrella, enables emerging and start-up companies the opportunity to actively engage and participate as SLAS exhibitors at both the U.S. and Europe conferences, helping to grow and scale their businesses as well as directly connecting them with purchasing influencers and decisionmakers from around the world. In 2018, seven new and innovative companies earned exhibit space and other opportunities for visibility in front of current and prospective customers and collaborators who explored the exhibition.
In addition, SLAS introduced a half-day seminar directed to Innovation AveNEW participants (but open to all attendees) on "Discovering Your Value Proposition."
Member Services
Behind the scenes in 2018, SLAS continued to focus on efficiency and effectiveness of its technology especially as it pertains to our membership database. Working with our European office and legal counsel, SLAS comprehensively analyzed and revised our practices to ensure General Data Protection Regulation (GDPR) compliance as it pertains to information stored, used and transferred to/from our database. This included working with our external business partners, software providers and other vendors to ensure that privacy of our data was handled appropriately when we are teamed with other organizations. SLAS members can better manage their communication preferences and the information that we gather, store and use to contact you.
Volunteer Leadership
Members of the SLAS Board of Directors serve three-year terms of service, and SLAS is grateful to those who completed their tenure in 2018:

Peter Grandsard, Ph.D.
Amgen
Thousand Oaks, CA USA

Ian Shuttler, Ph.D.
Tecan
Zurich, Switzerland

Sabeth Verpoorte, Ph.D.
University of Groningen
Groningen, The Netherlands
Joining the SLAS Board of Directors for 2019, 2020 and 2021 are:

Michelle R. Arkin, Ph.D.
University of California, San Francisco
San Francisco, CA USA

Sammy Datwani, Ph.D.
Labcyte
San Jose, CA USA

Hansjoerg Haas, Ph.D.
Thermo Fisher Scientific
Burlington, ON Canada
With the new governance structure, the SLAS Americas Council and SLAS Europe Council were disbanded and members were encouraged to serve within the new SLAS council structure. The new governance structure looks like this and you can find out more about each of these councils and committees work on the website.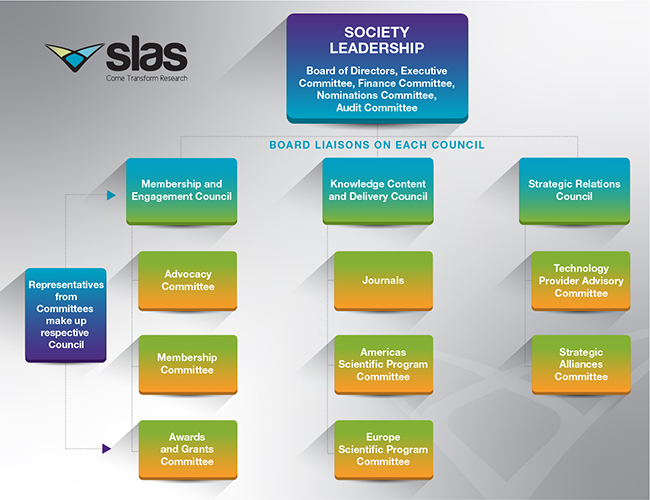 Membership Data
The number of life sciences professionals connecting with SLAS in 2018 through events, publications or other resources, swelled to nearly 19,000, with individuals from 103 countries creating the diverse SLAS life sciences discovery and technology community. A record 1,497 people from 33 countries became Premier Members in 2018.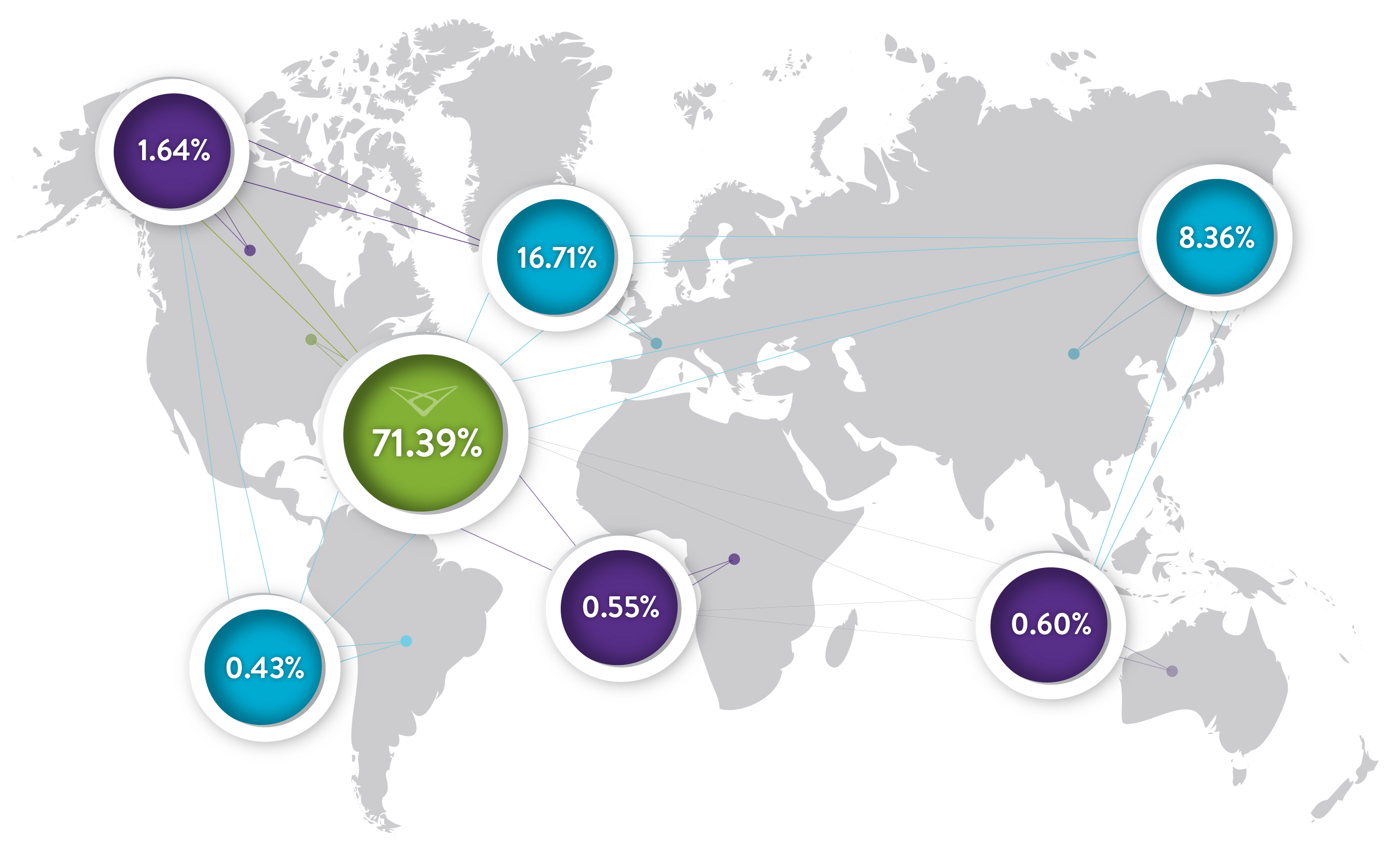 UNITED STATES / 71.39%
EUROPE / 16.71%
Armenia, Austria, Belarus, Belgium, Bulgaria, Czech Republic, Denmark, Estonia, Finland, France, Georgia, Germany, Greece, Hungary, Iceland, Ireland, Italy, Latvia, Liechtenstein, Luxembourg, Netherlands, Norway, Poland, Portugal, Romania, Russian Federation, Slovakia, Slovenia, Spain, Sweden, Switzerland, Turkey, Ukraine, United Kingdom
ASIA / 8.36%
Afghanistan, Bangladesh, China, Hong Kong, India, Indonesia, Islamic Republic of Iran, Iraq, Japan, Democratic People's Republic of Korea, Macao, Malaysia, Mongolia, Nepal, Pakistan, Palestinian Territory, Philippines, Saudi Arabia, Singapore, South Korea, Sri Lanka, Taiwan, Taiwan, Province of China, Tajikistan, Thailand, United Arab Emirates, Uzbekistan
OTHER NORTH AMERICA / 1.64%
Canada, Puerto Rico, Turks and Caicos Islands, Barbados
OCEANA / 0.60%
Australia, New Zealand, Papua New Guinea
AFRICA / 0.55%
Algeria, Cameroon, Chad, Cote d'Ivoire, Egypt, Ethiopia, Gabon, Gambia, Ghana, Jordan, Lesotho, Niger, Nigeria, South Africa, Sudan, Swaziland, United Republic of Tanzania, Tunisia, Uganda
CENTRAL AND SOUTH AMERICA / 0.43%
Argentina, Brazil, Chile, Colombia, Ecuador, Mexico, Panama, Peru, Trinidad and Tobago, Uruguay, Venezuela
Global regions defined by the United Nations.
Financial Report
As a 501(c)3 nonprofit scientific organization, SLAS provides world-class education and collaboration opportunities to its stakeholders – its members who pay dues, participate and contribute their expertise and enthusiasm to the Society. On their behalf, SLAS carefully manages its resources to ensure organizational stability, operational excellence and sound investments in growth and development.
2018 Revenue
Where the Money Came From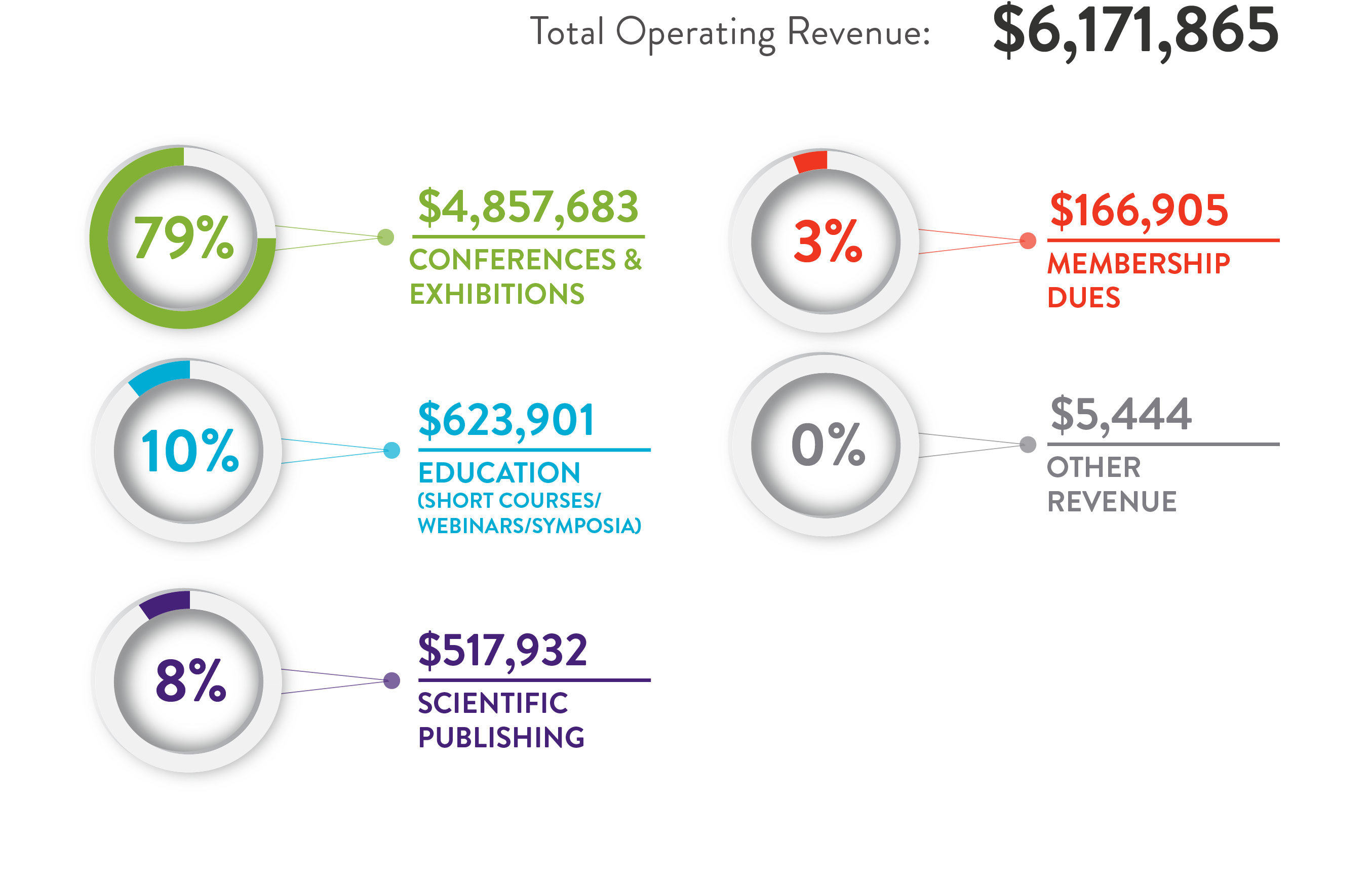 2018 Expenses
Where the Money Went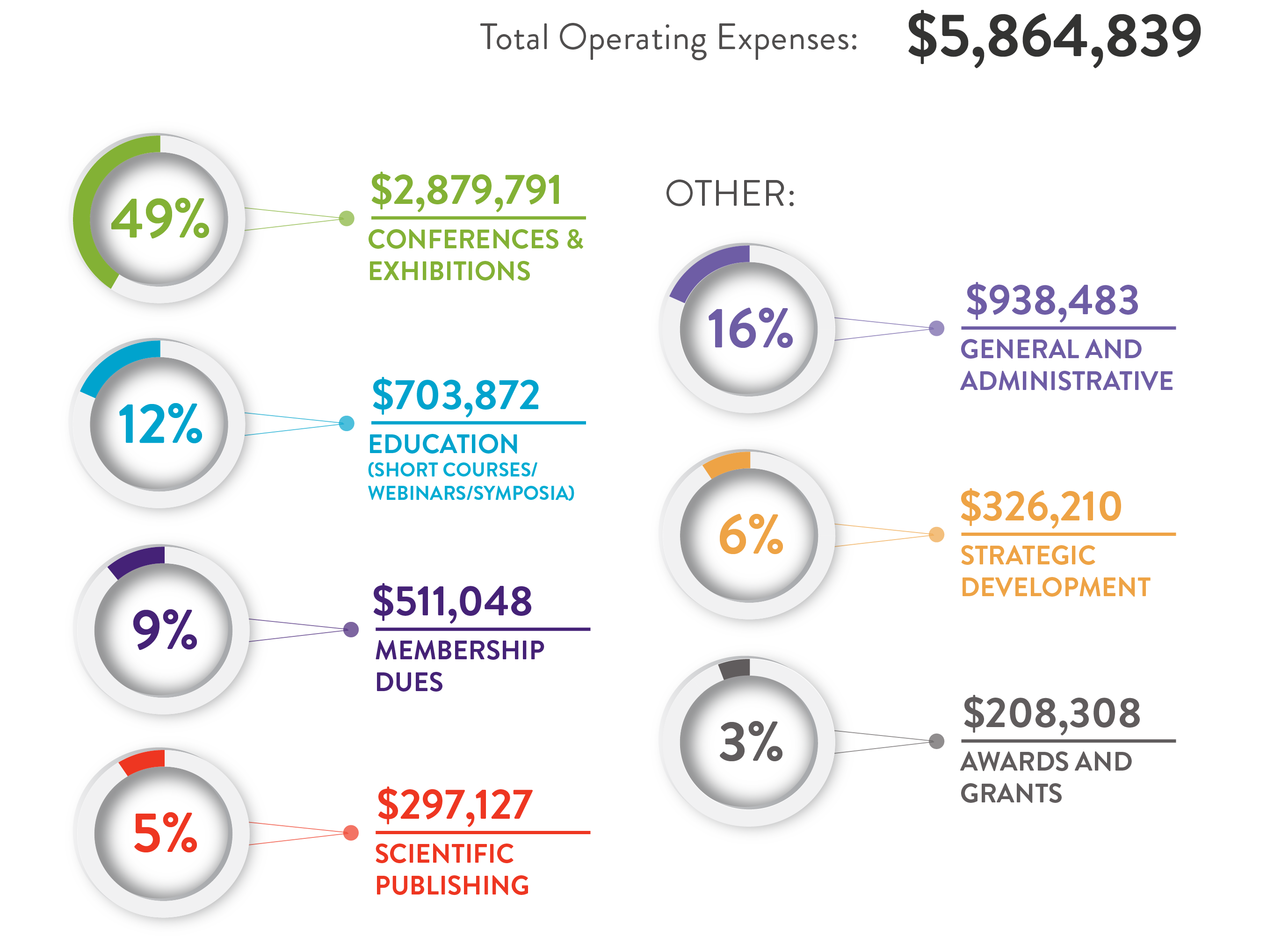 What We're Worth
At the end of 2018, 2018, SLAS had net assets of $7,267,208 of which $5,131,665 were designated as reserves by the SLAS Board of Directors.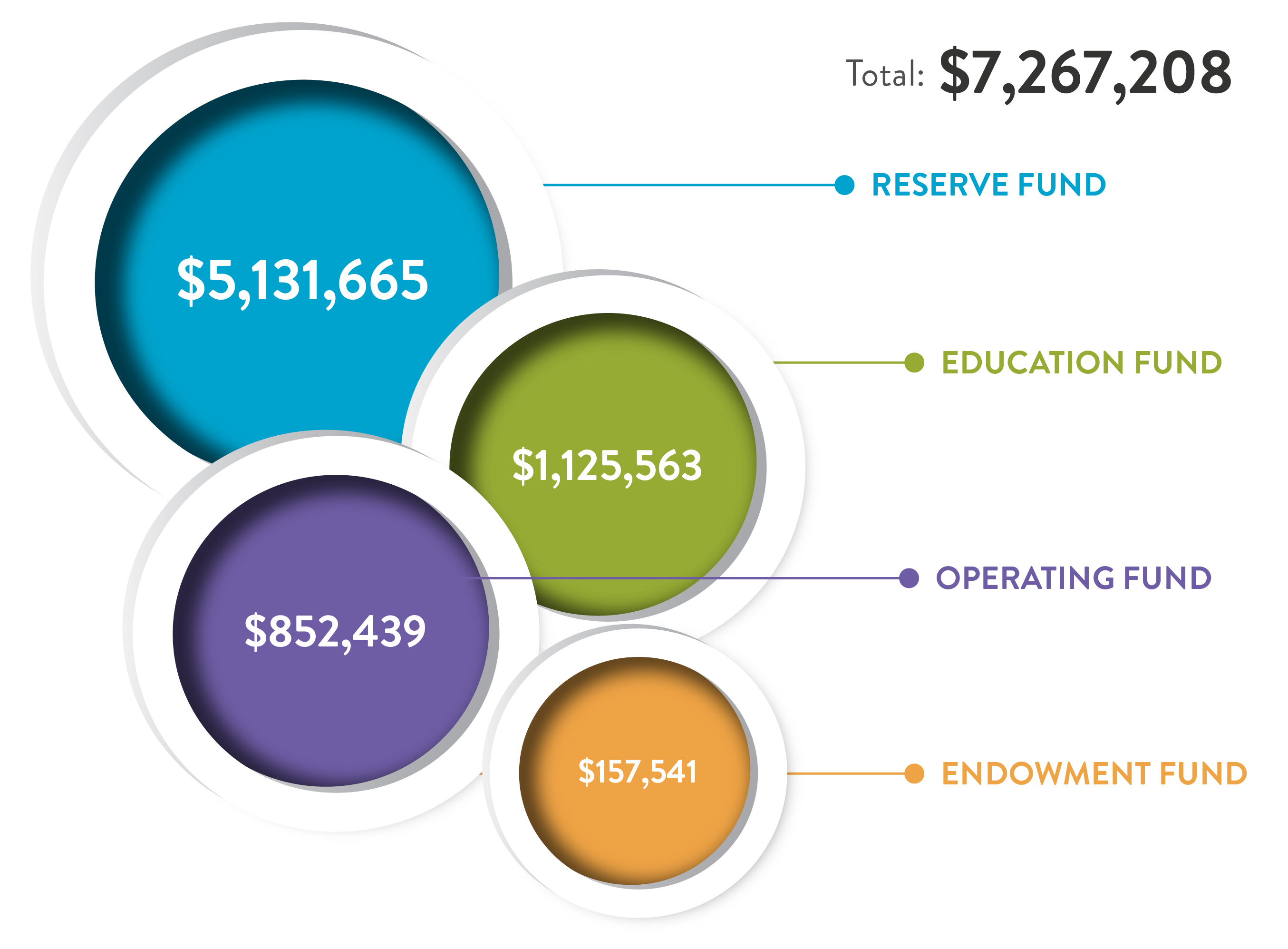 Looking Ahead
Life sciences continues to change, expand and retool, just like SLAS. Investments have been made in member programs and services, which are launching in 2019. These include another more robust phase of the SLAS Ignite Program, the APPLIED online educational portal and its potential for new education delivery methods, expanded regional symposia in Europe and the U.S. and CONNECTED online networking communities to unite people throughout the year and building on the intense networking opportunities that attendees experience at our conferences.
We've expanded our membership categories to better serve the needs of our corporate members and continue to evolve our annual conferences to bring the highest level of professional networking and education to the life sciences community worldwide. We look forward to growing with you, responding to your needs and making SLAS a must-have membership at every level of your professional career.