May 13, 2022
Bioscience startup and SLAS Ignite Award winner BennuBio, Inc. leverages flow cytometry to analyze samples regardless of particle size or sample volume. Learn more about how the company is translating their technology for life sciences.
---
"We keep the end goal front and center at all times," says Steve Graves, Ph.D., CEO and founder of BennuBio, Inc., (Albuquerque, NM, USA). "Our goal is to develop flow cytometry tools for the study of model systems for improved discovery of life-saving drugs and diagnostics to help researchers do rare cell detection."
While flow cytometry provides highly sensitive multiparameter analysis of cells and particles, its use has been limited to a single-focused sample stream. Applications for rare cell analysis in a high cellular background – such as circulating tumor cells and fetal cells in maternal blood – require a different approach.
"Our team saw the ability of flow-based analysis approaches being underutilized for both rare cells and large particles in part because of technical limitations. That's where our idea of essentially doing high-throughput parallel acoustic focusing systems emerged," Graves explains, adding that the foundational technology behind BennuBio first emerged while he and other company executives were researchers at The National Flow Cytometry Resource (NFCR) in the Bioscience Division at Los Alamos National Laboratory, (Los Alamos, NM, USA).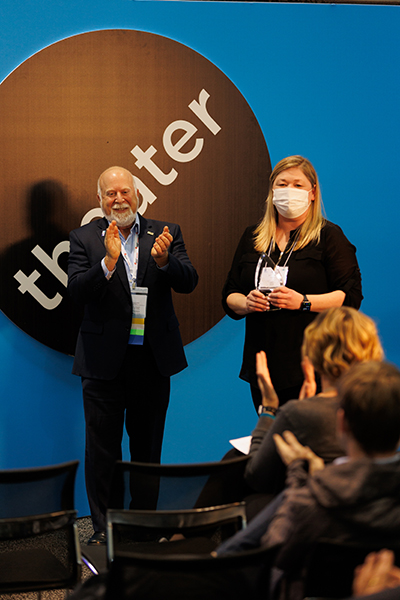 Their research eventually became the Velocyt®, a rapid, large particle analysis system that accommodates multi-cellular spheroids and single cell analyses at 10-100x flow volume and event rates. The Velocyt's patented system generates parallel flow streams with acoustic standing waves driven at megahertz frequencies in a flow channel that has acoustically reflective walls. This acoustic force drives particles that have higher density and that are less compressible than the surrounding fluid into pressure nodes. The innovative technology earned BennuBio the 2022 SLAS Ignite Award, a $5,000 cash prize that is presented to the most promising SLAS Innovation AveNEW participant.
"We developed robust optics across many parallel flow streams to solve our customer's workflow problems in an effective way," Graves continues. "The ability to screen large particles with high volumetric throughput is going to help pharmaceutical companies do 3D tissue model screening for personalized medicine, cancer and immunotherapy research."
In 2017, after Graves decided to commercialize the technology, he found a good match between his research pursuits and the commercial translation philosophy found at the Center for Biomedical Engineering and Department of Chemical and Biological Engineering, University of New Mexico (UNM; Albuquerque, NM, USA).
"In the early stages of commercializing, I think you need to make certain you're comfortable with the mechanism used to translate the technology," says Graves. "I preferred the university mechanism. I advise others to make certain that how translation happens matches your personal goals. It's unrealistic to think that a large institution can change policies for your project."
In 2018, with the help of a New Mexico-based small business incubator known as WESST, the team launched BennuBio, Inc., to focus on commercializing their technology by transitioning it out of the university and growing other areas of research for translation. The Velocyt, which was licensed from UNM, is being further enhanced and developed with funding from Tramway Venture Partners, Cowin Venture, Cottonwood Technology Fund and Sun Mountain Capital.
"It's hard to have an impact with an instrument that's in a single laboratory," says Graves. "That's why we wanted to commercialize the technology to get it to more users. Our hope is to not only improve processes, but to also improve information content for medical and pharmaceutical research."
In 2020, BennuBio won a $1 million National Institutes of Health (NIH) Small Business Innovation Research (SBIR) grant to advance their technology for medical diagnostics and drug discovery. This funding enabled BennuBio to move to a larger facility more than a year ago to consolidate engineering, administrative and laboratory in one building.
"The future for BennuBio is very bright," says Graves. "We're growing the company quickly, and we expect our technology to start making large market penetration very soon. We're not 100 percent certain of the growth path, but we're certain we're going to grow. We're looking for both partnerships and opportunities to directly grow as a company."
---
Sidelines
Interested in Having Your Company Roll Out on SLAS Innovation AveNEW?
From SLAS Technology: Sorting Single?Cell Microcarriers Using Commercial Flow Cytometers
Listen to Steve Graves on the SLAS New Matter podcast, Solving Problems for the World's Good.
Read More in SLAS Discovery: Detection and Impact of Hypoxic Regions in Multicellular Tumor Spheroid Cultures Formed by Head and Neck Squamous Cell Carcinoma Cells Lines
Could Your Company Be Next to Win the SLAS Ignite Award?
Start-Up Boom in the Pandemic Is Growing Stronger
Pandemic Fuels Global Growth of Entrepreneurship and Startup Frenzy