Is SLAS Transformed on Your Calendar?
By Emilio Diez Monedero, Ph.D.
May 21, 2020
SLAS continues to adapt to a world affected greatly by COVID-19. The Board of Directors, our different committees, volunteers and the professional team all are innovating and reinventing their usual approach to educating and connecting our community and finding new ways to remain a trusted and useful resource to our members. I am pleased to report that we have been able to move quickly.
---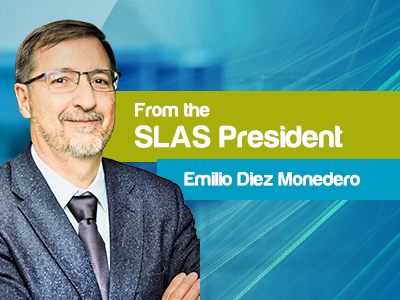 The latest effort to deliver expertise from – and to – our community is SLAS Transformed, a fully virtual mid-year opportunity for researchers and vendors to make connections globally and dynamically. On June 23-24, scientific sessions alternating with vendor tutorials and dedicated exhibition engagement time (think exhibitor tutorials and solutions-based presentations) are planned. The event will be housed within an easy-to-navigate, interactive platform, which allows for presenter Q&A, simultaneous small group video chat or one-on-one on-demand networking all day.
We are accommodating our vast global community with a schedule that allows for education and collaboration early in the morning, throughout the typical workday and into the evening in order to serve all time zones and challenged personal agendas. Invite your colleagues from around the world; your registration will enable you to log in and out as your schedule allows.
We continue to build the details of the SLAS Transformed program, but can tell you that the focus on 'omics and synthetic biology, along with applicable implications for the COVID-19 pandemic, will provide very relevant opportunities for collaboration. SLAS Scientific Director Mike Tarselli reports that as of May 20, we have these presenters: Janice Chen, Ph.D., Mammoth Biosciences; Jim Collins, Ph.D., Massachusetts Institute of Technology; Matthew Hall, Ph.D., NIH/National Center for Advancing Translational Science; Imran Haque, Ph.D., Recursion Pharmaceuticals; Stephanie Mortimer, Ph.D., BD Biosciences; Eran Segal, Ph.D., Weizmann Institute of Science; and David Walt, Ph.D., Harvard Medical School and Brigham and Women's Hospital.
As with many educational professional societies around the world, SLAS has had to postpone or reformat a number of previously scheduled in-person events. We do so regrettably but with full confidence that it is the right thing to do for the safety of all. Among our actions:
2020 SLAS Europe Conference and Exhibition postponed to June 2021
2020 SLAS Europe Sample Management Symposium cancelled with some speakers presenting webinars
2020 SLAS AI symposium combined with Americas Sample Management now scheduled for November 2020
HCA Symposium, typically held in Europe, refocused as Building Biology in 3D and hosted at Scripps Research in Florida this November
Our committees remain focused on building outstanding scientific programs for the postponed in-person events. In the meantime, we have created podcasts and webinars where talented presenters scheduled for these postponed events can share their expertise now. These include:
At this time, we are planning* to hold in-person late fall events (SLAS 2020 AI Meets Sample Management Symposium and SLAS 2020 Building Biology in 3D Symposium), as well as SLAS2021, January 23-27, San Diego. As always, we remain vigilant and will keep the community informed.
In the meantime, I'd like to circle back to my April message – how many of our amazing members have you met since I issued my challenge? Remember that New Matter: Inside the Minds of SLAS Scientists is a great place to start, and in fact, many new episodes have been posted since April. New to the online mix since my last column is the two-part SLAS Electronic Laboratory Neighborhood article highlighting the great work being done within our community to fight COVID-19. Read part 1 and part 2 now. I firmly believe that learning about members of our community and the work they do is one more way these unfamiliar times become opportunities for good. And members are the reason SLAS exists!
Until next month, stay safe!
* SLAS is moving forward cautiously and optimistically with our scheduled in-person events, heeding all regional guidelines for group gatherings. We are monitoring all aspects of event logistics while developing alternative (virtual) forms of knowledge sharing. SLAS is committed to providing a safe meeting space, high-quality education and meaningful networking opportunities for all attendees, whether in person or on a virtual platform, as circumstances warrant. We look forward to convening in person but will do so only if we can provide a safe and appropriate meeting venue as well as suitable accommodations for travelers.