June 8, 2022
Emma Chory, Ph.D., gives directed evolution a robust, data-responsive boost with her high-throughput, automated platform, Pyhamilton. Her work empowers existing hardware for new applications that range from biomanufacturing to fundamental biology.
---
Pyhamilton enables researchers to harness automation for something other than replacing a scientist, performing something faster, or simply streamlining a process," says Chory, a postdoctoral fellow in the Sculpting Evolution Group at Massachusetts Institute of Technology (MIT; Cambridge, MA, USA). "With Pyhamilton, scientists can answer questions that would not have been feasible no matter how many hands you had to do an experiment. It can be used for applications that we haven't even imagined – experiments that people shied away from because throughput was a limiting factor in implementation."
Chory and her co-authors' innovative Pyhamilton platform is an open-source integration of the Python software language and robotics from Hamilton Corp. that expands the experimental repertoire of liquid-handling systems. The platform can double the speed of automated bacterial assays over current software, execute complex pipetting patterns to simulate population dynamics, and incorporate feedback-control to maintain hundreds of remotely monitored bacterial cultures in log-phase growth without user intervention.
Most recently, Chory and her colleagues have leveraged Pyhamilton to make high-throughput combinatorial drug synergy screening more accessible to scientists and clinicians. They hope that enabling scientists to more test new drug combinations could lower the dosing and toxicity of cancer therapies.
To showcase Pyhamilton's capabilities, Chory and her co-authors, Erika DeBenedictis, Ph.D., Dana Gretton, Brian Wang, Ph.D., Stefan Golas and principal investigator Kevin Esvelt, Ph.D., recently published phage-and-robotics assisted near-continuous evolution (PRANCE), which enables scientists to answer fundamental questions in evolutionary biology with automation. Though many evolutionary biology phenomena have been investigated in whole-organism evolution, it has been a challenge to apply these principles to the directed evolution of gene-encoded biomolecules within the laboratory. These capabilities have implications for the understanding of pathogenic escape mutations relevant to global health. Chory's team demonstrated the ability to systematically explore evolutionary outcomes across many populations.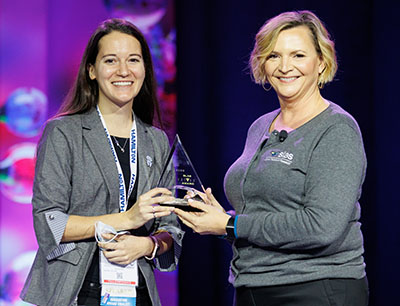 The work represents a new paradigm for the autonomous engineering of biomolecules and enables previously inaccessible, well-controlled scientific experiments to highlight the fundamental principles of gene-level evolution.
"Directed evolution historically has been a bit of an artform," Chory explains, describing how typical phage-directed evolution experiments are so labor-intensive and know-how heavy that previously published papers on the topic frequently lack controls. "Experiments are run one at a time by a solitary graduate student or postdoc who knows where things are likely to go wrong, pauses the process at that precise time and makes necessary adjustments," she continues. "Pyhamilton offers us an opportunity to turn continuous directed evolution into an engineering discipline."
Because the platform has the potential to be a powerful tool with uses across many disciplines, Chory earned the 2022 SLAS Innovation Award at the SLAS2022 International Conference and Exhibition, where she delved into the promising platform in her award-winning automation technologies presentation, "Phage and Robotics-Assisted Directed Evolution."