January 3, 2022
It's time for the annual welcome to three new talented and exceptional members of the SLAS Board of Directors: Coleman Murray, Ph.D., Kimberly (Kim) Titus and Jonathan Wingfield, Ph.D. Effective January 2022, they join six current SLAS Board members to execute SLAS's vision to be a life sciences discovery and technology transforming society and its mission to catalyze multidisciplinary innovations in life sciences. Murray, Titus and Wingfield are in on the ground floor of delivering exceptional value utilizing the SLAS Strategic Plan 2022-2026.
---

Murray is founder and chief operating officer of Ferrologix, Inc., a company featuring core technology of magnetic ratcheting or ratcheting cytometry as a high precision, high-speed cell sorting platform in micro-magnetic fields. The technology has applications in life sciences research, diagnostic sample prep, cell therapy manufacturing and high-throughput screening assays. Murray became involved with SLAS while a graduate student in Dino Di Carlo's laboratory at UCLA and credits the many SLAS experiences as key to his professional growth.
Titus is director, Global Business Operations, for Corning, Inc. A 30-year veteran of the life sciences industry as a technology provider, Titus's focus is on what is best for the scientist by leveraging leading roles in development, manufacturing, quality and product management. Titus strives to accelerate the partnership of users and technology providers to facilitate sharing of scientific discoveries and to enable a society that works to remove barriers to discovery. Her most recent service to SLAS has been on the SLAS Technology Provider Advisory Committee (TPAC).

Wingfield is principal scientist at AstraZeneca. He has worked in the field of automation and drug discovery for more than 25 years and can still recall his first automation conference, SBS (Society for Biomolecular Screening), in Edinburgh in 1996. Wingfield is an SLAS2022 short course instructor, winner of the 2015 SLAS Innovation Award and an SLAS Fellow. He takes on Board responsibility as a means of giving back, so that the next generation can benefit from the outstanding collaboration and learning network that has fueled his career.
Why did you become a member of SLAS, and what have you found most beneficial from your membership?
Murray: I became a member of SLAS in 2013 after attending the international conference and exhibition in Florida. SLAS's unique scientific culture and professional excellence prompted my decision to become a member and continues to be the biggest benefit in my opinion.
Titus: Many, many years ago I became a member to attend the annual conference and learn more about the drug discovery process, tools, scientists and the science. I am still a member for all those reasons, but also appreciate the networking, special interest groups and the overall community.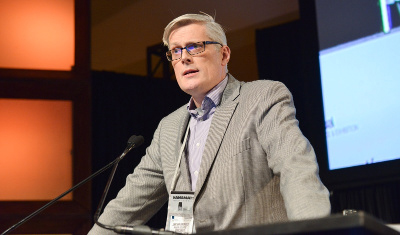 Wingfield: I left academia to focus on pharmaceutical research in 1994 and quickly identified an opportunity to harness my passion for automation and technology with a Japanese pharma. That transition led me to SBS, ALA (Association for Laboratory Automation) and eventually SLAS. This community has supported me throughout my career and enabled me to deliver technology solutions in pharma. Now I have a chance to repay my debt and serve the community which has been so generous to me for so long. In terms of value, SLAS provides access to the latest technology providers and knowledge leaders and is an invaluable resource of learning and expertise.
How have your work background, and life experiences in general, prepared you to step into this new role as a Board member?
Murray: Throughout my graduate and postdoctoral work, I participated in the Tony B. Academic Travel Award and SLAS Mentor Match programs, which were critical to my professional development. As my career progressed, the experiences I gained through SLAS were foundational in launching my start-up company, Ferrologix. As a start-up founder, I was privileged to participate in SLAS Ignite and SLAS Innovation AveNEW programs, which allowed our startup to gain critical feedback and to secure essential partnerships to accelerate commercialization of our new technology. These programs provided an environment of structure and process that enabled us to address critical challenges inherent in new biotech ventures.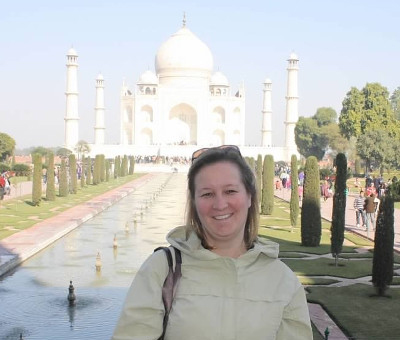 Titus: I've been in the life sciences business for 30 years with many of those focused on the research and screening market. I've volunteered on the TPAC for the last few years to have hands-on experience working at a deeper level with the SLAS organization. Outside of work I also volunteer on the board of directors for my local credit union. Here I've learned a lot about board participation, how to work alongside the management team and align actions to advance strategy.
Wingfield: Having worked for many years in the pharma industry and lived through the constant focus on changing and improving, I bring a wealth of knowledge of that business. More recently I have had the opportunity to work with vendors as part of a partnership to develop new technology solutions. My experience enables me to see both points of view – technology vendor and their pharma customer. For SLAS to continue to grow and thrive, the Society must serve the needs of both vendors and pharma.
As a newly elected SLAS Board member, how do you see yourself contributing to the SLAS mission to advance life sciences discovery and technology through via education, knowledge exchange and global community building?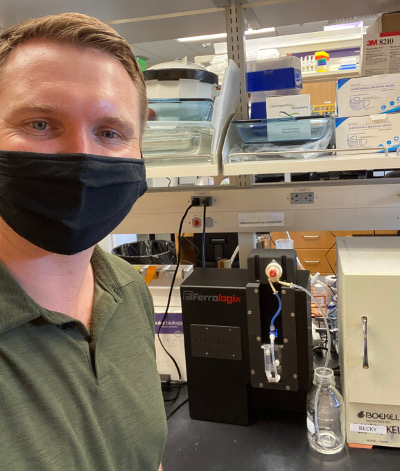 Murray: My experience with SLAS so far is a testament to the success of its early career programs. As a Board member, I can provide a unique perspective and current experience in how SLAS is impacting future generations of scientists as they become engaged members.
Titus: Bringing together the scientists from academia, pharma/biotech and vendors can be so powerful. I'm excited about continuing to bring these groups closer to identify needs, solve problems and advance science.
Wingfield: My focus has always been to drive innovation and change through the deployment of technology. I have been fortunate to be involved in multiple "firsts" – most of which have required a close working relationship with innovative vendor companies. Together we have succeeded, learned and grown. I bring not only passion for technology but also an understanding of the value of partnerships between vendors and customers. Finally, as a lifelong learner, I understand the value and importance of continuing education; I may be an old dog but I'm still eager to learn new tricks.
It has never been truer to say that it is a small world and I have been fortunate to be in a field which has enabled me to work in United Kingdom, United States, Australia and occasionally in Japan. Science is a truly multicultural community. We are stronger for this diversity of thought, and we should embrace this.
What is most exciting to you about taking on this new responsibility?
Murray: I really believe SLAS's updated strategic vision is going to expand the organization. SLAS has made engagement with students and early career life science professionals a major priority. I'm excited to be a part of that effort to engage other young life science professionals like myself.
Titus: Everything! It's already a remarkable Board, and I'm excited to work with and learn from them. I strongly believe in the mission of SLAS and am happy to demonstrate that by expanding my engagement from the TPAC to the Board.
Wingfield: The opportunity to really make a difference for so many, from early career professionals to those who are longer in the tooth. As a regular attendee of the conferences, I love to go and talk about and listen to science; I hope this role will allow me to reach out to even more within our community.
Where do you see SLAS making the greatest impact in the next two years? The next five years?
Murray: I see SLAS making huge impacts in culturing innovative collaborations centering on laboratory automation and educational/cross training programs. There is a huge need for life science automation professionals, and SLAS can provide the networking and educational programs to help fill this gap.
Titus: Fundamentally the greatest impact is bringing the scientific community together, which SLAS does so well. The work done and shared through the pandemic to bring vaccines and treatments to the world has shown the power of collaboration. Key strategic initiatives identified by SLAS in Global Community, Discovery, Technologies and Applications and Scientific Data Harmonization are on target to meet the needs of the community in both the two- and five-year horizons.
Wingfield: I would like to see SLAS expand its influence globally. As a society, we have to react to change and embrace it. Growing our offering so that it appeals to the next generation of scientists who will drive the society into the future is key. Automation remains at our core but the types of automation are changing. We have to embrace automated data analysis of complex data with new tools such as machine learning and AI. Maximizing the value of the data we generate is going to drive productivity like never before. Over the next five years, SLAS can lead in our changing world and champion the application of new technology solutions and enable our community to learn and upskill in these new areas of science.
What would you tell someone who is considering becoming a member of SLAS?
Murray: I would strongly encourage young scientists in both academic and industry roles to check out the SLAS early career programs like the Tony B. Award, Ignite, Mentor Match and Innovation AveNEW. They were foundational to my experience with SLAS and are immensely beneficial.
Titus: Jump in and get involved. Attend the incredible conferences, utilize SLAS CONNECTED or SLAS APPLIED Online Learning, join a special interest group or volunteer for a committee. Your driver to join may be for career education or advancement, or just to feel connected. It's felt like we've lost a lot of our previous ways to connect with colleagues and friends through the pandemic, but SLAS has worked hard to build up those connections in other meaningful ways.
Wingfield: Just do it. Once you're a member, use it. Don't be afraid to throw yourself into the community; volunteer. The more you give, the more you will get back.
When not involved in work/SLAS activities, how do you like to spend your time?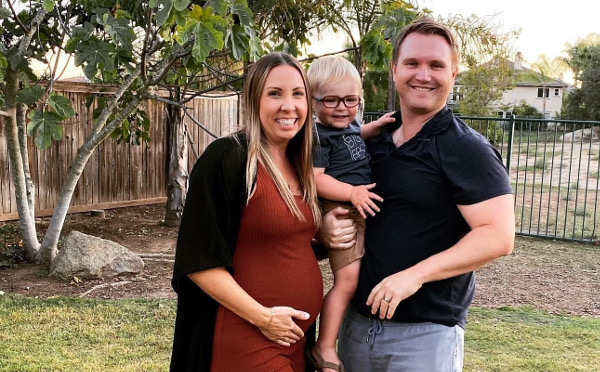 Murray: I enjoy swimming, playing guitar and making home brewed beer. However, most of my free time is occupied by chasing around my two-year-old son.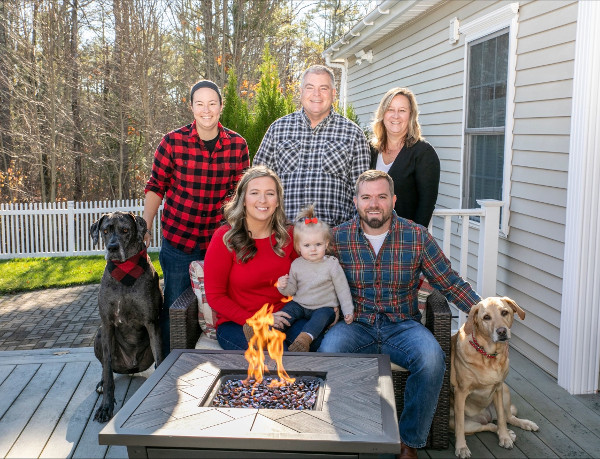 Titus: Living in Maine gives so many options for how to spend time outside of work. We love our family place on a lake in Maine for both summer and winter activities with family and friends. We have two amazing daughters, a son-in-law and the most amazing one-year old granddaughter. Our yellow lab Maisy is so loved and spoiled!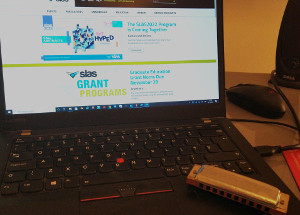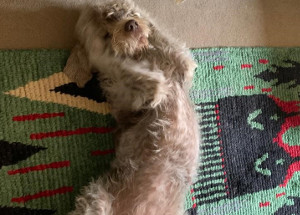 Wingfield: Family always comes first. Any free time after that, I love problem solving and learning how things work. I love musical instruments though I am still trying to work out how to make the harmonica generate a sound that does not make my dogs howl.
What has been your biggest challenge during these trying COVID-19 times? What has been most rewarding?
Murray: The biggest challenge for me has been losing face-to-face time with my personal and professional communities. Despite the challenges, I'm proud that our startup has been able to survive and actually grow during this pandemic. I get to work with some pretty cool people.
Titus: The biggest challenge has been keeping up with the unprecedented demand for products used in COVID test kits and vaccines, globally. Working long hours, remotely, and keeping the teams energized has been challenging but also rewarding.
Wingfield: I really missed the face-to-face interactions. Video conferencing tools help but nothing really beats that face-to-face discussion and interaction, particularly in science. However, most rewarding has been seeing the wider team that I work in really come together, making the extra effort to virtually meet and discuss science. I am proud to have been able to work alongside my colleagues to continue to deliver data to drive projects in the oncology field which ultimately aim to deliver new medicines to patients, despite the challenges of COVID.
Is there anything else you would like the SLAS ELN readership to know about you?
Murray: My goal on the SLAS Board is help strengthen the representation of young and early career professionals. If you have ideas, I would love to hear them.
Titus: I look forward to what the future holds in our industry and with SLAS. I'd love to engage with our members and hear any feedback or suggestions anyone has.
Wingfield: I am here to serve the SLAS membership. I will always make time to listen so if you see me around and you want to talk, just stop me and say hi.
---
Sidelines
SLAS Technology: Coleman Murray. Continuous and Quantitative Purification of T-Cell Subsets for Cell Therapy Manufacturing Using Magnetic Ratcheting Cytometry
Corning News Release: Kim Titus. Corning Launches HepGo™ Assay-Ready 3D Liver Spheroid Kits
SLAS Electronic Laboratory Neighborhood: Jonathan Wingfield. 2015 SLAS Innovation Award Winner Jonathan Wingfield: Bringing Screening with Mass Spectrometry to the Next Level
So You Want to Learn How to Make Beer
12 of the Best and Most Beautiful Lakes in Maine