23-26 May 2023
Brussels, Belgium
Early bird registration rates are good now through Friday 7 April.
Learn
Setting Science in Motion...
The SLAS Europe 2023 Conference and Exhibition programme will feature four important tracks focused on life sciences and their global impact: Biology Unveiled, Frontiers in Technology, Shaping the Future of Therapeutics and Bio-Entrepreneurship in Europe.
More information will be available soon, but for now, make sure to visit the Schedule at a Glance for an programming overview for both days. The Call for Podium Abstracts submission period will open in early-November.
Special thanks to the SLAS Europe 2023 Program Chairs: Sinead Knight, Ph.D. (Sygnature Discovery) and Georges Muller, Ph.D. (SEED Biosciences, Ltd.).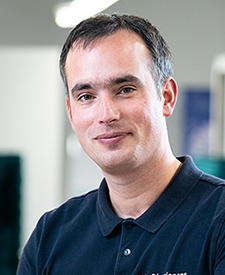 Just announced: SLAS Europe 2023 Keynote Speakers!
Miguel Alcalde, Ph.D.
Research Professor
Department of Biocatalysis Institute of Catalysis
CSIC Cantoblanco (Madrid, Spain)
Susanne Müller-Knapp, Ph.D.
Chief Operating Officer
Structural Genomics Consortium (Frankfurt, Germany)
Garry Pairaudeau, Ph.D.
Chief Technology Officer
Exscientia (Oxford, England)
More information on their presentations will be available soon.
Podium presentations will be organized into four educational tracks:
Biology Unveiled
Frontiers in Technology
Shaping the Future of Therapeutics
Bio-Entrepreneurship in Europe
Track and session titles, descriptions and track and session chairs will be finalized and updated soon.
The Scientific Program Committee selects speakers based on the innovation, relevance and applicability of research. If your proposed topic does not squarely fit into the focus of one of these tracks, please submit it for committee consideration regardless. The committee members use their judgment and experience to select presentations that best address the interests and priorities of today's life sciences discovery and technology community.
The SLAS Europe 2023 Short Course Program provides in-depth instruction on topics, issues and techniques related to the laboratory science and technology community. The 2023 Short Courses include:
Tuesday 23 May
Morning (9:00 - 12:00)
Developing Microfluidic Systems for Biochemical and Cell-Based Assays
Automated, Label-free MALDI-MS-based Cell Assays: From Feasibility Study to High-Throughput Screening
Tuesday 23 May
Afternoon (13:00 - 16:00)
High-Content Screening: An Introduction to Instrumentation, Assay Development, Screening, Image and Data Analysis
Use of Genetic and Non-Genetic Agents for Target Validation