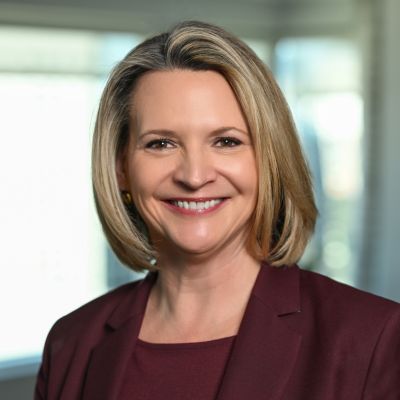 Two years of pivoting, postponing, collaborating and connecting virtually is now giving way to in-person events and activities. The hopes built on 2021's vaccines and COVID testing capacity and capability has brought us to a more familiar way of life. We're looking forward to what the new normal looks like and the opportunity it brings to put aside old assumptions and try new things.
By Vicki Loise, CMP, CAE
SLAS CEO
In 2021 We Celebrated Our Collective Success
Our industry's response over the past two years, showed just how scientists, researchers and technology providers can excel when the emphasis is on collaboration. SLAS has taken steps to ensure that global collaboration remains a top priority through our conferences and symposia, open access journals, online communication platforms, in-person meet-ups, technology discussions and more. SLAS itself doubled-down on forming alliances around the world to ensure that the power of SLAS's community and the opportunities it provided were productive and accessible even during periods of uncertainty.
COL
LAB

ORATE

The value and collaborative effort of our membership during the pandemic was not lost on us. SLAS has told the stories of how our membership moved the needle on pandemic response initiatives, and held a press conference before the SLAS2022 International Conference & Exhibition. View their stories.

Bolstering SLAS Journals
Joining our Professional Team, Ally Jump became our Publishing Manager, and oversaw the transition of our two peer-reviewed journals from a member subscription model to a Gold Open Access publishing model with Elsevier.

Our high level of peer-review was retained and the credibility of published research in SLAS Discovery and SLAS Technology remains high. The journals impact factors both rose in 2020, accompanied by increases to CiteScores and category rankings. Both journals produced issues focusing on COVID-specific content early in 2021 and continue to cover ongoing findings related to pandemic research. The journals produced joint special collections focused on the Assay Guidance Manual for Drug Discovery, with guest editors from NCATS/NIH. SLAS Discovery published its second annual special collection based on the SBI2 High Content Imaging and Informatics Meeting content. In addition to the collaborative collections, SLAS Discovery published seven topical special issues in 2021, including deep dives on Hit Discovery, Protein Degradation, and Applied Biophysics.
Two new Associate Editors joined the SLAS Discovery Editorial Board: Beverley Isherwood, Ph.D., Medicines Discovery Catapult, Alderley Park, UK, and Sinead Knight, Ph.D., Sygnature Discovery, Alderley Edge, Cheshire, UK.
Digital, Virtual, Zoom...Oh My!
We Celebrated Those Who Excelled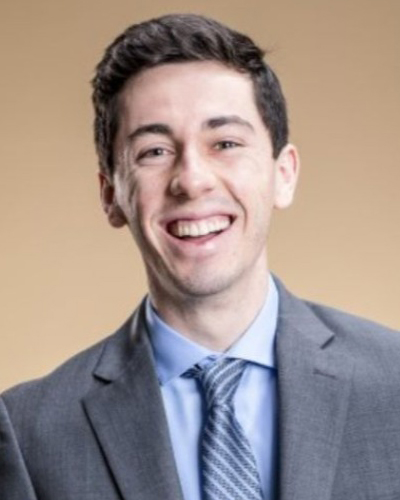 David McIntyre, Ph.D. candidate from Boston University (Boston, MA, USA), was awarded the $100,000 2021 SLAS Graduate Education Fellowship Grant in February 2021. McIntyre's research is focused on accelerating the design-build-test-learn (DBTL) cycle and reducing the testing bottleneck in synthetic biology by combining active learning and droplet microfluidics.
Listen to the New Matter podcast one-year into his grant.
Laboratory Automation Technology Providers:
At our two annual conferences, New Product Awards were awarded to:
cytena, a CELLINK company, for UP.SIGHT, a cell-line development automation system;
OrganoTherapeutics, for their human-specific mini-brains for Parkinson's disease research;
Solentim for its ICON benchtop system for characterizing high-productivity clones for discovery of new cell-based therapies; and
Reshape Biotech for its Reshape Imaging System, an automated robotic solution that remotely monitors plates in incubators, while automatically creating time-lapse videos for high-throughput.
Start-Ups:
With the assistance of our two Europe Ambassadors Julio Martin and Christian Parker, SLAS was well represented at events in-person in Europe. SLAS also hosted Innovation AveNEW areas for start-ups at ELRIG Drug Discovery in October and at ASEBio's BioSpain2021 in September. One company from each of these meetings was selected to participate in the Ignite Award competition at either SLAS International or SLAS Europe conferences in 2022. The Pistoia Alliance also partnered with SLAS by contributing an additional $5,000 to the SLAS2021 Ignite Award winner and granting participation in Pistoia Alliance's President's Startup Challenge later that year.


SLAS presented the Ignite Award to Artificial, Inc. (Palo Alto, CA, USA) for their aLab Suite, a unified platform that brings together everything that happens in a lab -- the instruments, robots, data, and most importantly, the people. Hopstem Biotechnology Co., Ltd., received the second Ignite Award of 2021 for their technology and service revolving around its novel 3D brain organoid product for high-throughput calcium imaging.

These academic honors were also given virtually: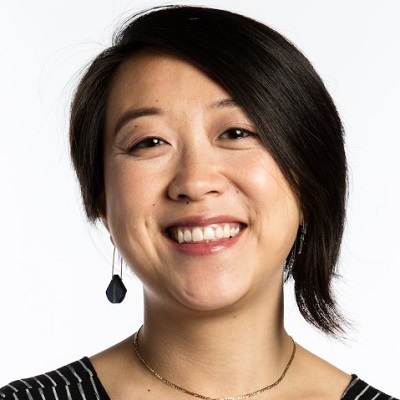 Student Poster Awards were presented during the digital international and digital Europe conferences, carrying a $500/€500 prize respectively:

Nikolaj Mandsberg, Ph.D. Cand., (Technical University of Denmark, Denmark) - Gradient Droplet Arrays by Acceleration Dip-Coating
Choon Leng So, B.S. Pharmacy, (University of Queensland, Australia) - High-Throughput Assessment of Calcium Signaling in MCF-7 Breast Cancer Cells Adopting Various Cellular Geometry
David Sykes, Ph.D., (The University of Nottingham, UK) - Novel ThermoFRET and BRET-Based Thermostability Assays Applied to GPCRs
Lillie Bell, Undergraduate Industrial Placement Student, (AstraZeneca, Cheshire, England, UK) - Elucidation and Characterisation of High-Throughput Degrader Screening Outputs
Winston Chiu, Caps-It Expert Operator, Ph.D. student, (KU Leuven, Rega Institute, Belgium) - Caps-It System Facilitates Screening of 1.5 Million Molecules Identifying 6500 Inhibitors of SARS-CoV-2 Replication
Stephan Spangenberg, Graduate Student, (The Scripps Research Institute, San Diego, CA, USA) - HSP90 Inhibition Enhances Cancer Immunotherapy by Reducing Expression of Immune Checkpoint Proteins (listen to SLAS New Matter podcast discussion on this poster)
Finally, 15 individuals received SLAS Tony B Travel Awards to attend the SLAS Digital International and Europe conferences free of charge: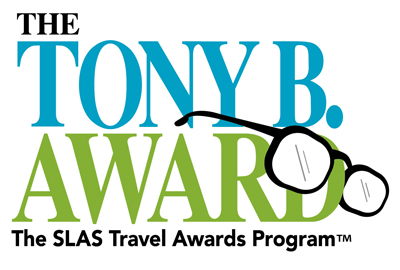 Winston Chiu, M.Sc., Rega Institute, KU Leuven, Belgium
Andrea Coluccio, Ph.D., Fraunhofer ITEM, Germany
Mario Graeve, M.Sc., Fraunhofer IPA, Germany
Lazar Katanic, Collaborator, USA
Astha Lamichhane, University of Akron, Ohio, USA
Nikolaj Mandsberg, Technical University of Denmark
Pouria Rafsanjani Nejad, University of Akron, Ohio, USA
Yuka Otsuka, Scripps Research, USA
Sumitha Rajendra Rao, Scripps Research, USA
Stefan Schneider, Fraunhofer Institute for Interfacial Engineering and Biotechnology IGB, Germany
Sunil Singh, The University of Akron, Ohio, USA
David Sykes, The University of Nottingham, UK
Kristine Tan, University of California, Berkeley, USA
Melissa Unger, CeMOS, Germany
Ming Yao, University of Washington, USA
SLAS Celebrated 15 Fellow Members
These super volunteers continued their extraordinary volunteerism during an unusual two years to help SLAS succeed. These individuals have shown consistent and proactive engagement, involvement and support across multiple areas of SLAS.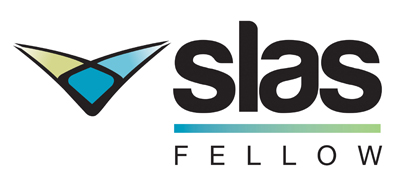 Manuela Beil-Peter, Analytik Jena GmbH
Sabrina Corazza, Axxam Spa
J. Colin Cox, Ph.D., Strateos
Melissa Crisp, Ph.D., Eli Lilly and Company
Rose Gonzales, Ph.D., Pfizer
Kamran Honarnejad, Ph.D., Fraunhofer ITEM
Eberhard Krausz, Ph.D., Evotec
Andreas H. Luippold, Ph.D., Boehringer Ingelheim Pharma GmbH & Co. KG
Andrew Napper, Ph.D., Bristol Myers Squibb
Yohann Potier, Ph.D., Tessera Therapeutics
Terry Riss, Ph.D., Promega
Mariafrancesca Scalise, Ph.D., University of Calabria
Andrea Weston, Ph.D., Pfizer
Mary Jo Wildey, Ph.D., Merck
We Developed a New Five-Year Strategic Plan
SLAS wrapped up its planned work on the SLAS Strategic Plan (2017-2021) – which focused heavily on building educational opportunities, expanding our presence across Europe, enhancing year-round collaboration and connectivity of the SLAS community, and increasing the geographic, scientific and demographic diversity of SLAS's membership. SLAS embarked on planning for the next five-year period and has created its 2022-2026 Strategic Plan to guide our efforts.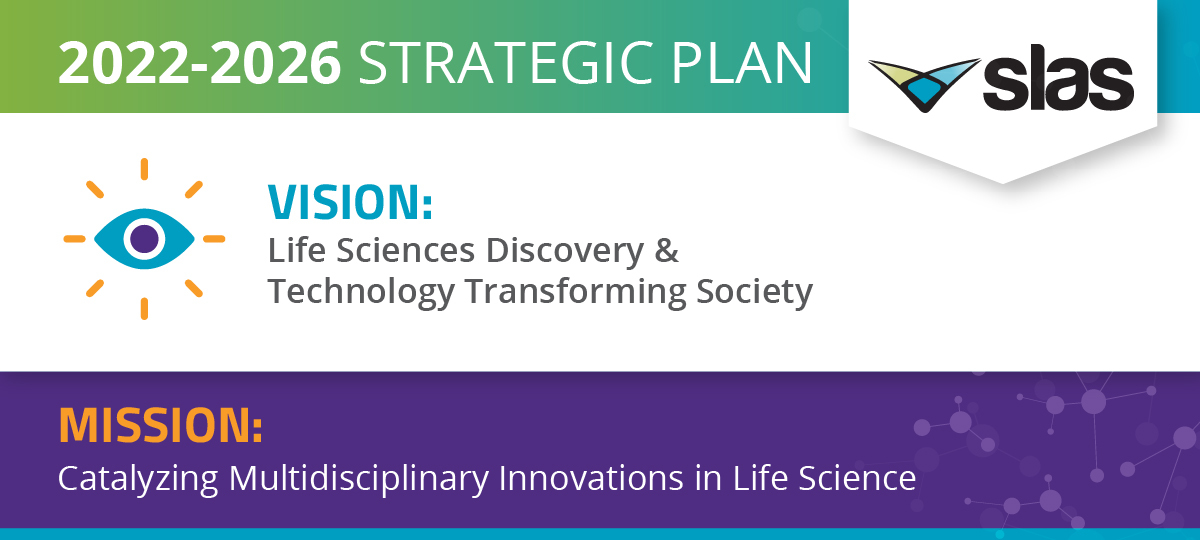 We Celebrated our Leadership
Members of the SLAS Board of Directors serve three-year terms of service, and SLAS is grateful to those who completed their tenure in 2021, although their experience was certainly a unique and highly virtual one during the pandemic:
Michelle Arkin, Ph.D.
University of California-San Francisco
San Francisco, CA, USA
Sammy Datwani, Ph.D.
Synthego
San Francisco, CA, USA
Hansjörg Haas, Ph.D.
Thermo Fisher Scientific
Burlington, ON, Canada
Joining the SLAS Board of Directors for 2021-2023 were:
Manuela Beil-Peter
Analytik Jena AG
Germany
Jan Lichtenberg, Ph.D.
InSphero AG
Switzerland
Jonathan O'Connell, Ph.D.
Dewpoint Therapeutics
Boston, MA, USA
We Celebrated our Community
The SLAS podcast New Matter: Inside the Minds of SLAS Scientists produced 38 episodes, containing entertaining and illuminating conversations with SLAS award winners, leaders and a variety of innovators in the life sciences research and automation industries. The podcast was downloaded more than 2,600 times in 2021. Listen and celebrate the diversity of our community.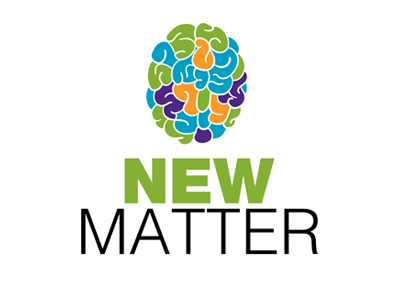 We Celebrated Our Members Who Found a Home in SLAS
Lab Members continued to thrive in 2021 and found value in their shared experience with SLAS online networking events and activities. Membership grew to its highest number in 2021 and we are thrilled to grow our community and build opportunities for collaboration.
Our Special Interest Groups (SIGs) became an important place to network and connect on critical issues. All SIGs are open to all and have discussion communities in SLAS CONNECTED, our online networking platform. In 2021, they added Science Circles, online conversations to keep the shared education and collaboration going.
Fact: The SIGs that met via Zoom during the SLAS2021 Digital International Conference & Exhibition had a record number of attendees, more than any in-person conference gatherings to date.
Celebrated SLAS's Strength and Stability
As a 501(c)3 nonprofit scientific organization, SLAS provides world-class education and collaboration opportunities to its stakeholders – its members who pay dues, participate, and contribute their expertise and enthusiasm to the Society. On their behalf, SLAS carefully manages its resources to ensure organizational stability, operational excellence and sound investments in growth and development.
2021 Financials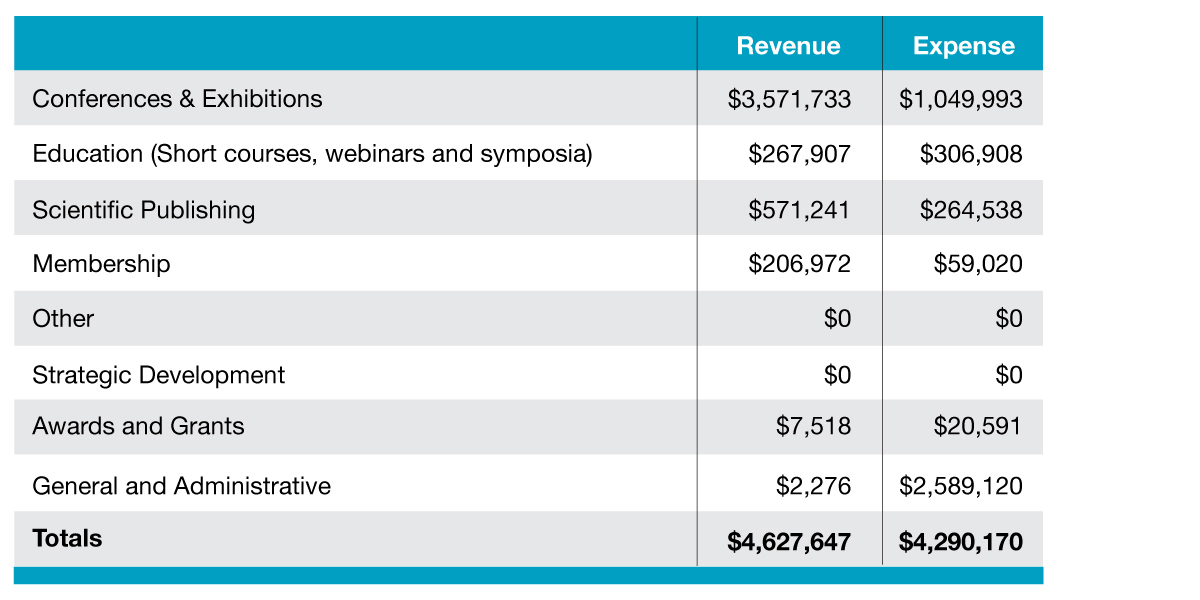 The operating revenue/expense does not include investment gains/losses. Those are reflected in the fund balances and are not part of operations.
These figures are generated from final audited financial statements from Clifton Larson & Allen (CLA).
Where the Money Came From

Where the Money Went

What We're Worth
SLAS had net assets of $9,752,671 of which $7,518,717 were designated as reserves by the SLAS Board of Directors.
We Celebrated You
You, our members and SLAS community, are the heroes of the last two years. We thank you for your extraordinary effort, doing what you do in your day jobs as well as your contributions and engagement with SLAS.
Stay involved! We've got more for you to discover!
June 21, 2022